Syracuse Basketball: How the Orange Survived Louisville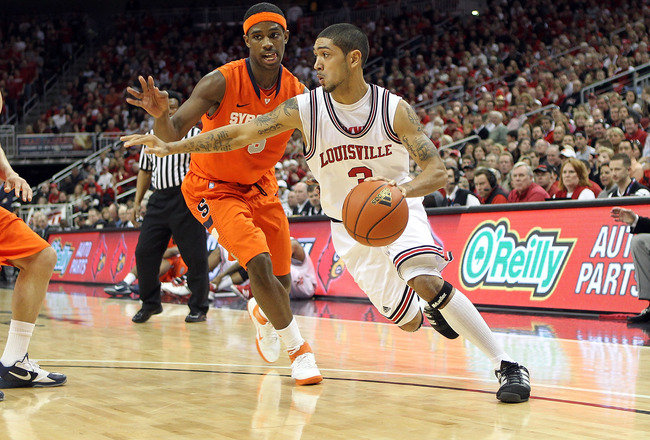 Andy Lyons/Getty Images
It wasn't pretty, but the Syracuse Orange snuck out of Louisville with a road win at the KFC Yum! Center.
Jim Boeheim's crew overcame 34 percent shooting (including 1-15 from long range) to steal a 52-51 win from Rick Pitino's Cardinals.
Syracuse was outrebounded. Kris Joseph was in foul trouble. The Orange were whistled for 18 fouls on the night.
So how did these fellas win this game?
Here's a breakdown of why Syracuse left Louisville victorious.
Took Advantage of Peyton Siva's Foul Trouble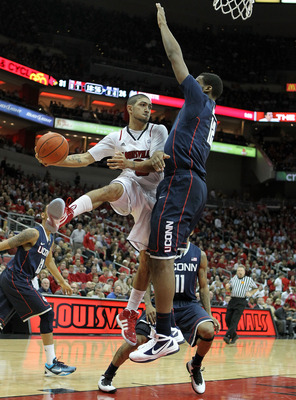 Andy Lyons/Getty Images
Louisville's agile guard Peyton Siva was wheeling and dealing early on, getting anything he wanted for the Cardinals. But his party was interrupted by a few ill-advised fouls.
With 6:30 left in the first half, Siva committed his third foul of the game and headed to the bench until partway through the second half.
During the end of the first half, Syracuse was able to negate the effectiveness of the Louisville guards while Siva was sitting.
Even though Syracuse had racked up more fouls as a team, it was Siva's foul trouble that helped keep the Orange in the ballgame in the first half.
Everyone (Including Guards) Crashed the Offensive Glass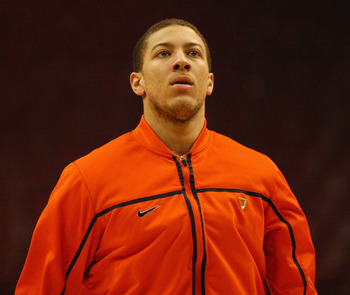 Chris Chambers/Getty Images
It's been well-documented that Syracuse isn't an elite team on the glass.
One thing the Orange needed to improve on was offensive rebounding, especially the guards.
Dion Waiters, Brandon Triche and Scoop Jardine all crashed the boards against Louisville. Triche was a handful for Louisville's guards and grabbed some crucial offensive rebounds that led to second-chance points. He showed his versatility and athleticism.
In all, Syracuse's guard trio grabbed seven offensive rebounds and 15 total rebounds. Without their help, the Orange would have been obliterated on the glass collectively.
Syracuse Limited the High Post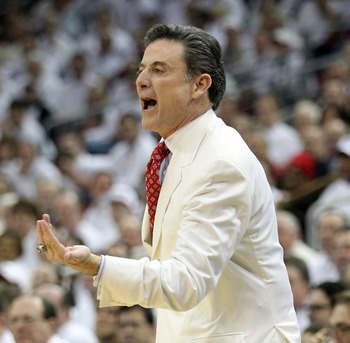 Andy Lyons/Getty Images
Like several other teams, Louisville tried to utilize the high post to create inside-out ball movement against Syracuse's 2-3 zone.
A couple of times, Louisville was able to hit cutters and find outside shooters. But Syracuse got wise and dared the Cardinals bigs, namely Gorgui Dieng, to shoot.
Whenever Dieng caught the ball in the high post, the Orange defense gave him a wide berth and concentrated on the shooters and cutters. They let him shoot, and time after time, Dieng missed open jumpers.
This helped limit the amount of damage Louisville could do on its possessions.
'Cuse Locked Down Kyle Kuric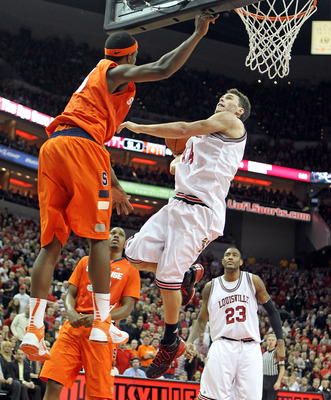 Andy Lyons/Getty Images
Louisville sharpshooter Kyle Kuric entered Monday's game averaging 13.2 points per game. He's the Cardinals' most reliable outside shooter, and he was coming off a 17-point outing against West Virginia.
Syracuse locked him up for nearly the entire game. Sometimes, the corner defender (Kris Joseph, C.J. Fair or James Southerland) would cheat up in the zone just to keep an eye on Kuric.
Kuric never got in a rhythm, as he went 1-8 from the field and finished the game with three points. If he knocked down just a couple more threes, the game would have taken on a different complexion.
C.J. Fair Stepped Up Again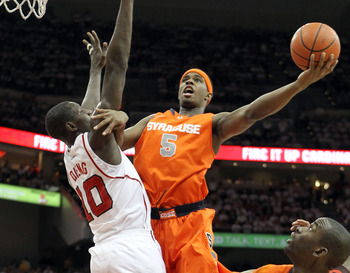 Andy Lyons/Getty Images
C.J. Fair had a phenomenal game Saturday against Connecticut, and he followed it up with another solid performance against Louisville.
He was active in the paint and positioned himself for some nice lobs and finishes. Fair proved again that he has the best hands and instincts of all the Syracuse forwards.
His outside shooting was off, but he made up for it with points in the paint.
A 13-point, five-rebound effort included 3-4 shooting from the charity stripe.
Boeheim must love the production he's getting off the bench from Fair.
Orange Won Turnover Battle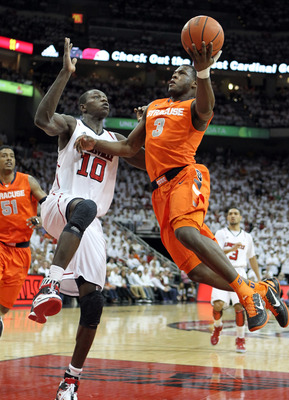 Andy Lyons/Getty Images
Lousville lost the turnover battle to the Orange, who came up with some critical steals to turn the tide in their favor.
While Syracuse's eight turnovers were distributed among several players, Peyton Siva and Gorgui Dieng accounted for 10 of the 16 Cardinals turnovers. Each had five giveaways, and none were more damaging than Siva's passing turnover in the closing seconds of the game.
The turnover disparity also manifested itself in fast-break chances, as Syracuse had more transition opportunities than Louisville throughout the game.
Keep Reading

Syracuse Basketball: Like this team?