Chicago Bears' 2012 Offensive Starters: First Look Statistical Predictions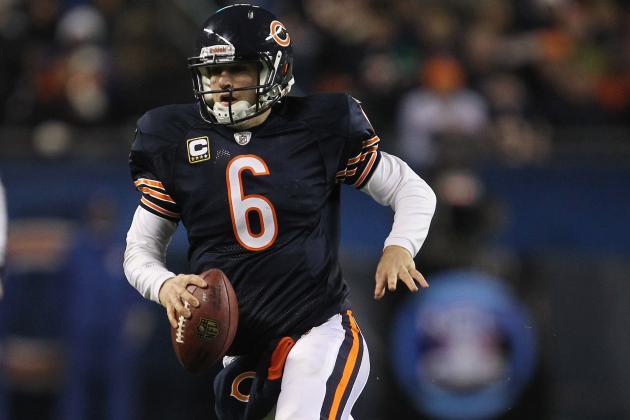 Jonathan Daniel/Getty Images

There are many things that have not yet happened in the 2012 offseason. The NFL Draft, free-agent signings and to a lesser extent, training camp. However, predictions of all sorts never leave a fan's head no matter what time of the year it is.
This article's content will likely change over the course of the offseason. Some of it will change because opinion's change over the long break from football, but the main reason is because the Bears will definitely add some players to their roster between now and the time the season begins.
It could interest some Chicago fans, though, to read about what the current skill position starters on the offense might produce in 2012 if the roster featured no new faces.
This writer will most likely create new predictions once free agency is over and then after the draft is completed, but for now let's see how Earl Bennett and Johnny Knox might look come 2012.
Begin Slideshow

»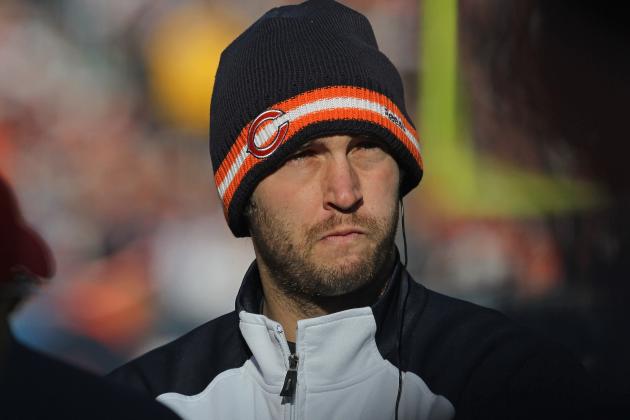 Jonathan Daniel/Getty Images

317-520, 3,914 yards, 24 TD, 14 INT, 36 Sacks
Jay Cutler had a pretty good year for the Bears in 2011 before he went down with an injury. He passed for 13 touchdowns and seven interceptions in 10 starts for Chicago last year, and he was given tons of praise for surviving an onslaught of sacks early in the year.
In 2012, Cutler will look to have more weapons to throw to on the Bears' offense, as well as still having Matt Forte behind him. However, if there are no new additions through the draft and free agency, look for Cutler to have a normal year, compared to the rest of his time in Chicago.
24 touchdowns would be the most he's had since his first year with the Bears. Also, 14 interceptions would be his lowest total he's ever had in a full season (tied with his 2007 season with the Broncos). His 3,914 yards would net him a 7.6 yards per attempt, which is the same number he had for the Bears in 2010.
Overall, Cutler should have a good, healthy season in 2012. He could have an even better one if his offensive line and wide receivers improved over the offseason, though.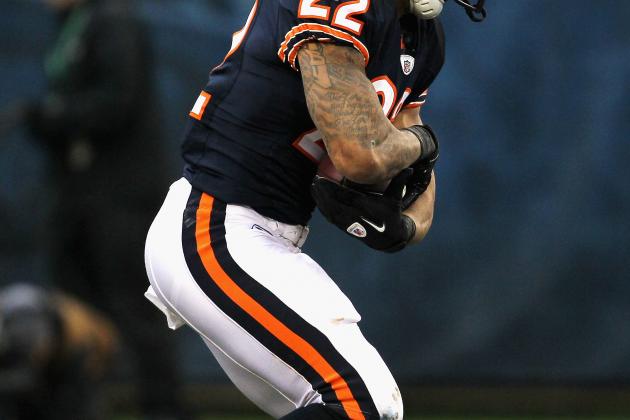 Jonathan Daniel/Getty Images

282 carries, 1,354 yards, 7 TD, 70 receptions, 680 receiving yards, 2 receiving TD.
If Matt Forte stays healthy in 2012, then he should be able to put up the gross numbers he should have put up in 2011.
Forte had a Pro Bowl year last season that was cut short due to injury. He ran for 997 yards and had a great 4.9 yards per carry. He seemed to be playing at the elite level Bears fans thought he would after his great rookie season. In 2012, Forte should continue his success.
The 1,354 yards, 70 receptions and 680 receiving yards would all be career highs for Forte. Also, 282 carries for Matt is a reasonable prediction since it would be the highest total he's had in his career outside his first year in the league.
I think Bears fans would be happy just seeing Forte in a Bears uniform in 2012, but if he can put up career numbers, they'll be even happier.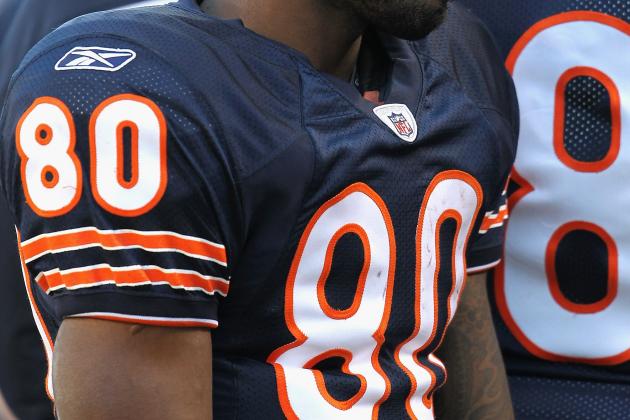 Jonathan Daniel/Getty Images

70 receptions, 1,088 yards, 7 receiving TD
Earl Bennett is a young (only 24-years-old) and talented wide receiver. He and Jay Cutler display great chemistry and Bennett played very well last year when Cutler was the starting quarterback.
If you take the four games where Bennett completed a game that Cutler started, Bennett would have been on pace for 64 grabs and 1,046 yards. Obviously, it's harder to do that over a full season than to just have been on that pace for four games, but it shows that even on a statistical down year for Bennett, in which he was hit by the injury bug, he still showed fans that he can be a good producer at WR if everything goes to plan.
He is not meant to be a No. 1 receiving option on a team, but if the roster went into 2012 the way it is, Bennett would be the No. 1 guy. If Cutler and Forte are healthy and no one's hurt on the offensive line, then Bennett would most likely finally put up the numbers everyone knows he is capable of.
He would get many targets because he would be the best receiver on the team, and he posted a 15.9 yards per catch average last season, so 15.5 yards per catch in 2012 is not unreasonable.
Also, Bennett would be the first Bears receiver to have 1,000 yards in a season since Marty Booker in 2002.
But Bennett will probably not start for the Bears next year. They will do everything in their power to bring multiple receivers to the team this offseason.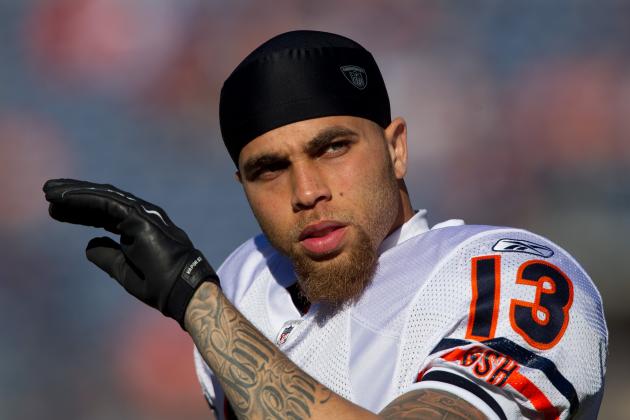 Justin Edmonds/Getty Images

54 receptions, 944 receiving yards, 6 receiving TD
Johnny Knox looked like a Pro Bowl talent for Chicago in 2010. He had 960 yards on only 51 catches, and a remarkable 18.8 yards per catch average. He was looking towards being the first Bears' 1,000-yard receiver since 2002, but he just missed the milestone. However, he was looking like a good bet to be able to reach the mark in 2011 after another offseason of improvement.
Unfortunately, 2011 was not the year for Knox as he only caught 37 balls. While he did average another phenomenal yards per catch number with 19.6, he only had 727 yards in 14 games.
He did have an ugly-looking back injury at the end of the season last year and had to undergo surgery, but he is expected to make a full recovery in time for the 2012 season.
Knox's 2012 season should be pretty good if he remains healthy and Cutler is throwing the ball. He'll probably never be a guy who's going to catch 80 balls, but he provides good speed at WR and he can provide a deep threat and some yards after the catch. 944 receiving yards on 54 catches would give him another great 17.5 yards per catch average. Also, six touchdowns in 2012 would be a career high.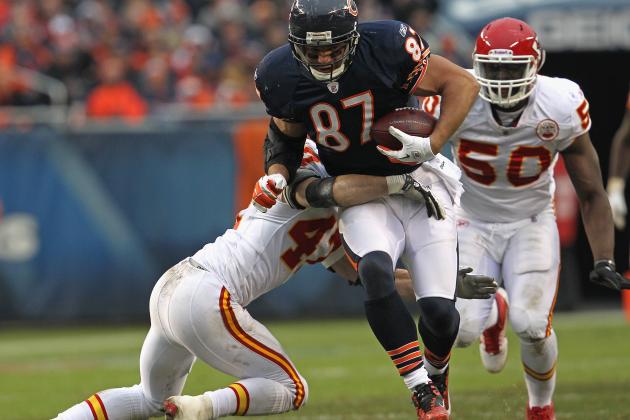 Jonathan Daniel/Getty Images

31 receptions, 341 receiving yards, 5 receiving TD
Kellen Davis is a good blocking tight end and has great size for the position, but he is not the best receiving option. He will most likely get more catches in 2012 because Mike Tice will feature him as a receiving tight end more than Mike Martz did, but until the Bears get a TE that is an above average pass catcher, they will never get big numbers from the position.
31 grabs for Davis is a little under two per game, which is better than last year, in which he recorded little over one reception per game. He will probably also be a red zone option again next year because of his great size. Bears fans can expect another solid touchdown total from Davis in 2012.
Obviously, all of these predictions are assuming no new additions are made to this Bears offense. It is interesting to see one man's opinion on the production the Bears could get from their current offensive players before free agency, trades and the draft. Also, it'll be interesting to see how these projections change once the roster changes.
As of now, the Bears offense could use a little more of a threat when it comes to playmakers at the receiver position and that goes for tight end as well. Anybody that can catch the ball would be a welcome addition to this Bears team in 2012.