Philadelphia Flyers: Present or Future; a Team at a Crossroads
February 13, 2012

The results of the last couple weeks have illuminated a few glaring deficiencies with the Flyers' roster.  So now, with two weeks to the trade deadline, the team, the organization and even the fans stand at a crossroads as to the correct path to take.  Do the Flyers go out and trade a young forward or draft picks for a rental defenseman to attempt to stabilize the back end?  Do they make a move for a veteran to help the depth up front?  Do they go after another goalie like Evgeni Nabokov (really Eklund)?  Or do they stand pat and build toward the future?
Personally, I believe the deficiencies in the team's roster are simply too great for a simple trade deadline addition to rectify.  So I am wholeheartedly against moving a young player or high draft pick for a rental player.  Instead I would look to the future with the team's young forwards and look to rebuild the back end.
No one likes to give up on a season, especially when your team is guaranteed to go to the postseason, but I'm simply going to offer my opinion of what I feel would be best for the team.  Some of you may agree with me, and I'm sure many of you will disagree and tell me I'm stupid, which is fine.
So without further adieu, and any more rambling…
Step 1: Do NOT go after another goalie at the deadline.
I'm simply putting this first to get it out of the way.  I'm only addressing this because Eklund over at hockeybuzz.com has mentioned the Flyers having interest in Nabokov several times.  Quite frankly, of all the insane things that I've heard this year, this one has to take the cake.  Yes, the Flyers' goalies have been wildly inconsistent all season, but under no circumstances should they, or would they, go after another goalie for the rest of this season.
This will not happen, no need to say anything else about it.
Step 2: Do not go after a "rental" player.
No Bryan Allen.  No Hal Gill.  No Tuomo Ruutu.  No Paul Gaustad.  Simply put, do not trade a young player or any draft picks for any player who will only be here for the rest of this season. Because I don't believe the team will compete for the Cup this year, any deal for a rental player will just turn out to be a waste of assets.  Not exactly the way to build an organization.
The only "rental" player being discussed who I'd look into is Niklas Grossman.  He's only 26, and if he could be acquired for cheap and signed to a reasonable extension, he'd be a great addition to the blue line.
Step 3: Get a feel for the worth of Carle, Coburn, and Meszaros.
Now I'm not saying that I'd move them, but I'd at least see what I could get for them.  I'm honestly not even sure what the price would need to be for me to be willing to move one or more of them, but with the market for defensemen it might be worth it.
Matt Carle will likely be lost to free agency, so if a contender wanted him at the deadline for a pick or two, I'd certainly consider it.  As for Braydon Coburn and Andrej Meszaros, I'd be willing to move one of them if the right price came up.  Personally, I'd prefer to move Coburn, as he just refuses to use his size properly and probably never will and is not going to be worth his $4.5 million cap hit beginning next season.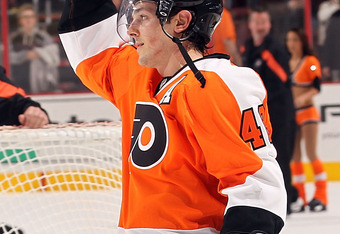 Nick Laham/Getty Images
Step 4: Get a feel for the worth of Danny Briere.
Yes, I know he's incredible in the postseason, blah, blah, blah; save it.  The fact is he's the highest-paid player on the team, and he's not worth it.  He also has a contract that runs beyond the 2014 offseason, which happens to be when Claude Giroux, Sean Couturier, Brayden Schenn and Matt Read will all be in line for new contracts.  The last thing I want to see is one of those guys leave because Philadelphia is stuck with a 37-year-old Briere, carrying a big cap hit.
Briere has also spent this entire season struggling to find chemistry with anyone on the team, and he can't be reunited with Scott Hartnell for obvious reasons.  Proof of his struggles comes from the fact that Schenn and Wayne Simmonds play better with Zac Rinaldo for a linemate rather than Briere.  Now, Briere has a no-movement clause, which makes moving him all the more difficult, but the one glimmer of hope is the aforementioned playoff success.  So the possibility exists of finding a contending team willing to bring him on in hopes of getting over the top.
Step 5: Forget about Shea Weber and Ryan Suter
Weber is great and Flyers fans love him on the team, but he's not going anywhere.  It's not going to happen.
As for Suter, even if he leaves Nashville, he'll make around $7-7.5 million a year on the open market.  And while he's very good, he's not worth that amount.  The difference between Weber and Suter is that while Suter is great, Weber is a franchise cornerstone.  Winning teams pay franchise cornerstones (Weber) top dollar; winning teams don't overpay for great (Suter) but not elite talent.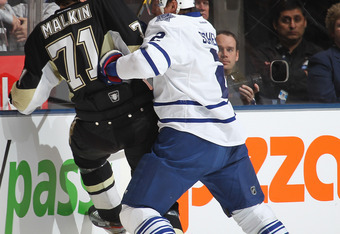 Claus Andersen/Getty Images
Step 6: Trade James van Riemsdyk for Luke Schenn plus

Now, if JVR doesn't come back from his concussion in the next week, there's no way this deal can go down until the offseason.  Also, like it says, I'd only do this deal if it is for Schenn plus; straight up the deal wouldn't be worth it, as JVR has the higher ceiling of the two.
Having said that, I believe Luke Schenn is the type of young defenseman the Flyers need.  He's a big, hard-hitting defender who can clear the crease, which apparently none of their current defensemen know how to do.  Though he does need to improve his skating and learn to be more disciplined and not take himself out of position going for the big hit.  As for what the "plus" would have to be, I'm not sure exactly, but I'd imagine a good prospect or high pick would have to be included.
As for losing JVR, I haven't soured on him as some fans have. I still believe he'll turn into a 30-goal-a-year player, but I feel the Flyers are loaded enough on forwards that they could withstand the loss.  With Hartnell and Simmonds already on the team and guys like Marcel Noebels and Petr Placek in the system, the Flyers have several talented power forward wingers in the system.
Step 7: Pray for "Amnesty"
This is completely in the hands of the owners, but I firmly believe that the new collective bargaining agreement will at least carry a one-time-use "amnesty" clause.  Enough of the owners want it, so it will get done.  An "amnesty" clause, for those that don't know, would basically allow teams to buy out at least one player's contract and not have it count against the salary cap.  If you're the Flyers, who do you think would be the best player to "amnesty"?  Now, if your mind immediately went to "Mr. Universe" himself, congratulations you win a gold star.  It would be a miracle if the Flyers could get out from under that absurd 9-year, $51 million albatross of a contract, but this offseason miracles just might happen.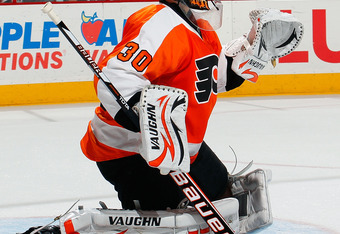 Paul Bereswill/Getty Images
Step 8: Make Sergei Bobrovsky the No. 1 goalie for the rest of the season.
Ilya Bryzgalov was brought in here this season to finally solidify the Flyers' goaltending situation.  Needless to say it didn't happen.  Yes, I know, the defense had been inconsistent at times and downright awful at others, but that doesn't excuse the "soft" goals that Bryz allows on a nightly basis.  Bryz was brought here to be the answer, he's not, so we pray for "amnesty" and move on.
Which brings us to Bobrovsky.  Is he the answer?  I have absolutely no idea, but you have to play him to find out.  Bob, like Bryz, has the maddening tendency to allow the "soft" goal from time to time.  But unlike Bryz, who is what he is, Bob is young and has the ability to improve and tighten up his game.  If the vast improvement on his puck-handling from last season to this is an indication, you have to love the kid's work ethic and willingness to learn.  Also Bob still plays with the disadvantage of speaking very little English, which limits the ability to communicate with his defenders; this will improve the longer he's in the country.
I could go on about other steps I believe would help this team moving forward but for now I'll end it here.