South Carolina Football Recruiting: Class of 2013 Prospects for the Gamecocks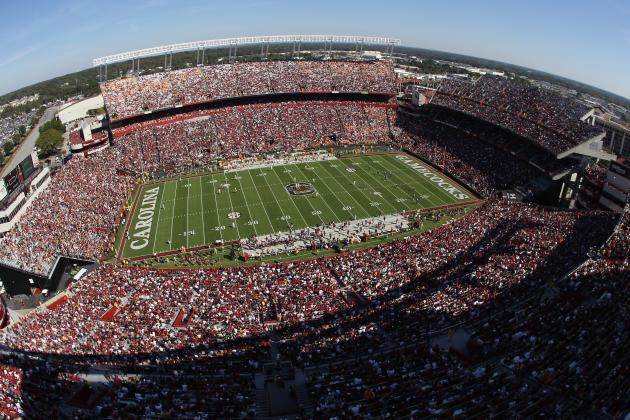 Streeter Lecka/Getty Images

The South Carolina Gamecocks have set their sights on several top players in the recruiting Class of 2013.
There are plenty of high-quality players in this class that South Carolina has already identified as potential recruits for the future. South Carolina recently held their Junior Day, and all reports were that the Gamecocks did a great job with the prospects who came to campus in early February.
The state of South Carolina appears to have a higher caliber of recruits than the 2012 class, so expect USC to hit the home state early and push for several players. They also made a lot of in-roads in the state of Georgia in 2012 thanks to defensive coordinator Lorenzo Ward, so the state of Georgia could be another area targeted heavily by the USC staff. North Carolina is also a strong state for recruiting for South Carolina, and there are several prospects in this class they are after there as well.
Let's take a look at a few of the top talents the Gamecocks would like to land in the recruiting Class of 2013.
Begin Slideshow

»
The Gamecocks' first target at the quarterback position is a good one.
Christian Hackenberg has seen his stock rise in recent months as he is up to 10 offers so far, including those from Florida, Tennessee, Penn State and Alabama.
The 6'4" signal-caller is the prototypical pro-style quarterback with a big arm and big frame. He's got the accuracy with enough touch, but can throw the ball in tight spaces as well. He doesn't seem to be as mobile as recent Gamecock quarterback targets, but he's someone you don't pass on if he reciprocates the interest.
This could be a chance for South Carolina to land a big-time quarterback recruit and, so far, the Gamecocks are right in the mix for Hackenberg. He fits what you would expect out of a Steve Spurrier quarterback, and he could be a big-time player for the Garnet and Black.
Tramel Terry has already had himself an interesting recruitment.
This one-time Georgia commitment backed off that pledge after an early commitment and considers himself "wide-open" when it comes to his recruiting.
This is one of the top recruits in the state of South Carolina, and you can bet the Gamecocks are rolling out the red carpet for Terry. He's up to 14 offers, including ones from Clemson, Georgia, Southern Cal, N.C. State and North Carolina.
Terry is a playmaker at the wide receiver position with his breakaway speed. He runs a 4.40 40-yard dash and can run away from defenders to get to the next level. He works well in space and is shifty with the football in his hands.
The favorites here are Georgia and South Carolina, at this point. It's unknown when Terry plans to make a decision, but he could wait awhile to make sure he doesn't end up committing too early like he did with the Bulldogs.
South Carolina has a great chance to land Terry, and a strong offensive showing in 2012 could tremendously help out the Gamecocks with this talented wide receiver.
There's another wide receiver in the state of South Carolina the Gamecocks are after.
His name is Mike Williams.
Williams has five offers so far from Clemson, South Carolina, Florida, Georgia and Notre Dame. He's the No. 2 receiver in the state behind Tramel Terry, but Williams plays the game a different way.
The first thing you'll notice with Williams is his size. He stands 6'4" tall and weighs 205 pounds. He's not classified as a "burner" on the field, but he's a guy who is very athletic.
Williams knows how to use his size to his advantage and seems to know how go up for the jump ball. He has some ability to elude tacklers and gain the extra yardage.
His two favorites seem to be the Gamecocks and the Clemson Tigers, but South Carolina may have an edge; Williams grew up a Carolina fan.
There's no timetable for his announcement, but he's definitely a recruit to keep an eye on for the Gamecocks.
South Carolina was Larenz Byrant's school of choice growing up.
They have to be considered one of his favorites from here on out, but the Gamecocks will need a strong effort from new recruiter Shawn Elliott to ultimately land this top prospect from Charlotte, N.C.
Bryant is up to 14 offers with teams like North Carolina, South Carolina, Clemson, Michigan and Georgia all trying to pick up his commitment.
This two-way starter in high school should play defense at the next level. He finished with a 144 tackles, so he can definitely get the job done.
Bryant just seems to have a nose for the football. He's always in the right place to make the play and can come up with the big hit.
It looks like the Gamecocks have fallen behind in his recruiting, but there is plenty of time to make up ground, and Bryant is definitely a candidate to replace some experience for the Gamecocks in 2013.
Marquez Grayson is one of the top running backs in the country and one of the top players in the state of North Carolina.
South Carolina would love to bring this talented running back to Columbia. They've certainly got the weapons on campus to showcase what they can do with a great running back.
Grayson has offers from five schools, including Virginia Tech, Virginia, Clemson, South Carolina and East Carolina. He had a solid relationship with former running backs coach Jay Graham, so the Gamecocks will have to work hard to hold that top spot for Grayson to come to South Carolina.
Grayson looks to be an all-purpose back. He seems to have legit speed to make him capable of getting past the front line of defenders, and he has the vision to find the hole and make the cut to gain extra yardage. Grayson also appears to have nice hands out of the backfield and could be a threat in the vertical game as well.
Clemson and South Carolina look to be the leaders here, but we'll have to wait and see how his recruiting goes. Grayson looks like the type of back who would fit in well with what the Gamecocks have done with their running game. He could be the perfect fit in Columbia in 2013.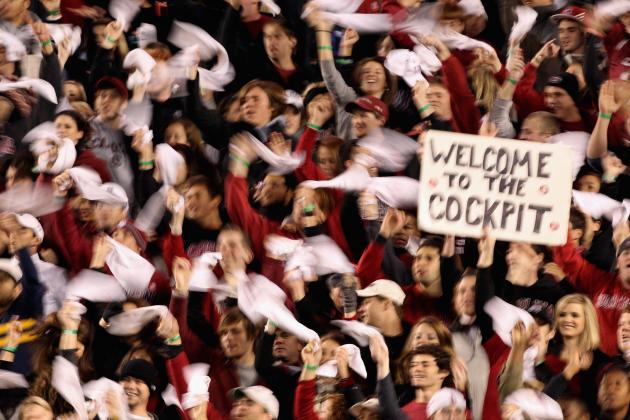 Streeter Lecka/Getty Images

The Gamecocks are in the mix for a number of recruits for the 2013 class. The ones listed in previous slides are just some of those standouts, and there are plenty more.
Here's a rundown of a few of those recruits:
Bryce King, C
Brian Walker, CB
Michael Hill, DT
Robert Nkemdiche, DT
Reuben Foster, LB
David Williams, RB
Quinton Powell, LB
Foster is already committed to the Alabama Crimson Tide, but he has some interest in the Gamecocks. Foster and Nkemdiche are considered the top two prospects in the country, and Alabama is in the running for Nkemdiche as well. At this point, just being on the list is good enough for the Gamecocks.
Brian Walker is the type of corner South Carolina would love to have. He's a shut-down corner, but the Gamecocks have fallen a few spots on his favorites list. USC definitely has the defense for a player like Walker, so he's definitely a guy to watch for the Gamecocks.
Bryce King is a center prospect from the same high school as South Carolina commitment D.J. Park. King was a potential South Carolina commitment a few weekends ago, but withheld committing. It's certainly safe to say the Gamecocks are out front for King.
David Williams is a running back from up north in Pennslyvania. South Carolina has made in-roads thanks to quarterbacks coach G.A. Mangus, so look for South Carolina to be a factor here. It'll be interesting to see where Williams falls on the running backs board with USC's early interest in Marquez Grayson.
Michael Hill is a big defensive tackle prospect from Pendleton, S.C.. His location alone leaves him a strong prospect for the Clemson Tigers, but the Gamecocks will work to battle Clemson until the end.
Quinton Powell is another linebacker prospect for the Gamecocks. His current size of 6'2" and 195 pounds could give him the ability to play in the secondary for the Gamecocks if he were to come to USC. He hails from Florida, so it'll be a tough sell for the Gamecocks to beat out the Florida schools, but they've got a good chance here.