Jonathan Brookins Talks Dana White, Diaz's Suspension, UFC on FUEL and More
February 14, 2012

Rules were made to be broken, right?
Well, if they weren't, UFC featherweight Jonathan Brookins (12-4) wouldn't be where he's at today.
In a recent interview, Brookins told Bleacher Report of his not-so-normal journey that led him to the premier stage of mixed martial arts.
"I went to a smaller school out in Missouri and after three years of college, I felt like it wasn't for me. I got expelled from school for some silly stuff. I kind of checked out mentally from school when I found myself on the other end of being expelled," said Brookins. "I didn't argue too much, I packed up my car and drove to Florida.
"I didn't have a college education, but I knew how to wrestle. I saw this thing called mixed martial arts was on the rise and at the time it was Season 4 of The Ultimate Fighter. I knew my talent could be used in an MMA gym. I met a guy named 'Krazy Horse' Charles Bennett. He came from nothing and he's been all over the world," stated Brookins. "He's fought in Japan and had a lifestyle that I could get down with."
Speaking of breaking the rules, Brookins weighed in on the recent failed drug test of UFC welterweight Nick Diaz.
"You know, I don't make the rules. I could take my stance on marijuana policies all day. But, if they want to suspend you for Gatorade, they can. If that's the case, then you don't drink Gatorade, it's that simple," stated Brookins. "It's all about what they say and you have to follow that."
Brookins, a martial artist who wants to be remembered for playing by the rules, often stands out for one specific reason.
His hair.
"I've probably had like six haircuts since high school. Well, maybe 10, but I've always grown my hair out," Brookins said, laughing. "I was one of those kids who always grew it out because the short curly hair doesn't look good."
"As far as dreads go, I've locked my hair up a couple times because it keeps the hair out of my face. I dread it up sometimes so it's more manageable," laughed Brookins. "I owe it to the counterculture and the long-haired hippies from back in the day."
Brookins, who took home The Ultimate Fighter Season 12 crown, is coming off his first loss since November of 2008, where he fell to Jose Aldo at WEC 36.
Brookins believes his defeat could have been the best thing that's happened to him.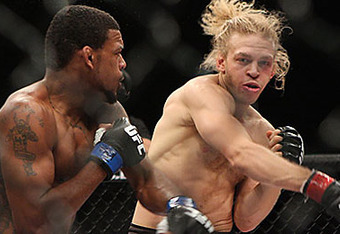 "I was able to shake it off pretty easily and move forward. I wasn't in the right mindset entering that fight so [Erik Koch] did me a big favor by knocking some sense into me. I regrouped pretty fast and didn't lose too much wind from my sails," said Brookins. "So, I actually felt some relief after that fight."
The free-spirited featherweight is now set to take on Vagner Rocha in just a few short hours at UFC on FUEL at the Omaha Civic Auditorium in Omaha, Neb.
"I really like the matchup because I respect the guy a lot. He's tough all around, he's fought plenty of guys in his career. He's way more well established in jiu-jitsu than I am," stated Brookins. "So, I'm going to go out there and have a lot of fun."
"I want my flow to dictate where the fight goes. I'm one of those dudes who can't call a fight either way because I hate to be wrong," said Brookins. "I think I got some skills to surprise him in any which way."
While Brookins enjoys life as a mixed martial artist, he equally enjoys his life outside the Octagon where he holds a deep passion for music, arts and photography.
"I'm a huge music lover. I think fans should go to my Website and see some of my music and check it out. Come to my Website and rock out with me," laughed Brookins. "I don't have a lot of good beats of my own yet, but I do make a lot of videos."
"I love to edit and shoot my own stuff and a lot of the beats that get used are ones that my friends made. I love photography and the arts," said Brookins. "I'd love to share that stuff with people who like watching me fight."
As Brookins continues to progress and grow as a fighter, his main goal isn't like the majority of his fellow fighters.
While Brookins would like to someday become a world champion, he's equally concerned with getting respect from authority figures in his life.
One of these include UFC president, Dana White.
"I want to earn Dana White's respect. It's huge and important for me to accomplish. I want the respect of my bosses and authority figures," said Brookins. "I find the respect from my peers comes easily, but I fall short when it comes to authority."
"I'm too free-spirited and fall short sometimes. I want Dana White to be proud of me as a fighter. I don't think he knows who I am," stated Brookins. "If he saw me I think he'd ask who I was."
Brookins confidently ended by stating:
"But, I'll change that."
For additional information, follow Garrett Derr on Twitter .