UFC on Fuel 1: Diego Sanchez on Drugs, Jesus, Tebow, and Punching His Pops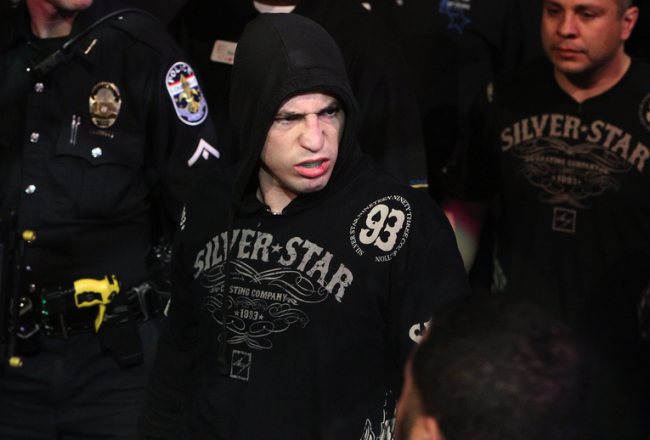 (Photo by Josh Hedges/Zuffa LLC/Zuffa LLC via Getty Images)

Diego Sanchez wasn't right at the 2009 World MMA Awards. A winner for "Fight of the Year" for his bout with Clay Guida, Sanchez took the stage, looking a little wobbly. Drunk out of his mind, just a couple of weeks after a horrendous beating at the hands of B.J. Penn, he gave the kind of incoherent acceptance speech that would have made Mariah Carey proud.
Sponsor Bad Boy was not amused. Soon they weren't a sponsor anymore at all. For Sanchez, it was just the beginning of a slide that would cost him much more than a sponsor. He lost his focus, lost a custody battle when paternity tests proved the child he had grown to love wasn't his at all, and lost a battle with drugs and alcohol. In the end, he lost the battle over his own soul.
"I got sucked in real deep to the fame. The money. Even the drugs and alcohol," Sanchez said in an interview with Bleacher Report. "I was one of those stubborn people who had to learn the hard way. For a long time, I was living my life my way and not God's way. I wasn't living it by his rules, I was living it by my own rules. And that didn't get me anywhere. I got to the point where I had no hope."
Finally, and perhaps worst of all for an athlete with a limited window for earning big money, he lost everything he had. Already spending more than he could afford, Sanchez put his trust in the wrong people. An amazing athlete who has won "fight of the night" bonuses on five occasions, Sanchez had nothing to show for his almost ten years in the cage.
"'Go big or go home.' I used to say that. I was addicted to that. The lifestyle, the fame. The girls. The parties. And with that came a lot of people who didn't really care about me," Sanchez said. "They were just leeches. Just very bad people. I had to learn a lot. I was very gullible.
"I trusted the wrong person with finances and the guy ended up breaking my bank. I lost my money in Ponzi schemes. If it wasn't enough to be wasting a lot of it, one of my best friends totally done me dirty and wiped me out. After that happened to me, I was humbled. I moved to the mountains of New Mexico, got on the grind, and started training again."
The Ghost of Johnny Tapia
Sanchez certainly wouldn't have been the first fighter to fall into despair after a high profile loss. Some only make the journey back to sobriety after years of abuse— some never return at all. Diego knows the stories. Especially the story of Johnny Tapia, a boxer who caught Sanchez's eye as he watched his rise to prominence in his hometown of Albuquerque, New Mexico.
"I lived in a mobile home, a trailer park. We get together all the little kids, and I had this pair of boxing gloves I'd gotten from the flea market. We would throwdown, man," Sanchez remembered with a laugh. "I'd say 'Johnny Tapia,, Johnny Tapia' and I'd impersonate him and hit myself in the face. I'll never forget."
Tapia fought like a pitbull. Coming forward with vicious punches, he would stand up straight and jut his chin out after he got nailed or between rounds, seemingly taunting the world—is that all you've got? When Diego was just 12 years old, Tapia won his first world title right there in Albuquerque. Tapia was from the streets, a poor kid who lost both of his parents to murder. If he could make it, there was hope for anyone.
"When I got a little older, 12 or 13, my dad would come out and put the gloves on. He'd take it easy on me. But I had been practicing so much, I cracked him a good one one time," Sanchez said, barely holding back a laugh, mimicking his shaken father. "He said 'Hold on. Hold on. Let me sit down here for a second. You got me a good one.' And I remember thinking 'Yes!'"
Johnny Tapia is a 1999 Fight of the Year with Ayala
They were good times, but darkness was just around the corner. If life was never simple for Diego Sanchez, that's doubly true for Johnny Tapia. He fell into drugs and the wild life, spending time in prison and in the hospital after a suicide attempt followed consecutive losses to arch rival Paulie Ayala.
"Things were different for me than for Johnny. Because I never got into cocaine. My thing was just marijuana and alcohol, the vanity of traveling and living the rock star life," Sanchez said. "But I've pulled myself out of that hole. I'm fighting Jake Ellenberger, one of the best guys in the welterweight division. I'm keeping my dream alive, doing the best I can for me and my family. There's always going to be challenges, and that's life. But I'm 30 years old. I have a family now. I'm doing things a lot different."
Reborn
Longtime fans will remember Diego from the first season of The Ultimate Fighter. A restless spirit, Sanchez would sit outside in a thunderstorm, attempting to capture chi from the universe. Wacky was the word commonly used—but more than a little lovable. Those days are long gone.
"I've gone through some stages. When I was younger, I was really open," Sanchez said. "I was very curious about the world. I got interested in energy from yoga. Yoga and meditation....Then I did Tony Robbins, where I walked the burning hot coals for 20 feet without burning the soles of my feet...When I hit rock bottom, when I needed to grow up and be a man, to make real decisions, I dedicated myself to Jesus Christ. I'm walking that walk now. I don't need no Tony Robbins. I don't need no chi. I've got the blood of Jesus Christ flowing in my veins."
The energy is still there, merely redirected to a more serious life as he fights with renewed purpose. Now the fight isn't merely taking place in the cage. It's a fight for souls.
"Now, my main job is the ministry. I speak at churches. I'm involved in the youth programs," Sanchez said. "I get in front of the church and speak, do little sermons. I share my testimony. That's where my heart is. The platform God has given me is the UFC. And fighting. All the fans that I've accumulated over the years."
And what would a UFC title mean to this one man mission?
"It would be tremendous. It would be like Tim Tebow winning the Super Bowl," Sanchez said, before athlete mode took over. "But I'm just taking it one fight at a time. I'll take it one fight at a time. And I know a win over Jake Ellenberger (Wednesday night at 8 PM EST on Fuel TV) will put me in a good place. I've got to climb to get to the top like everybody else."
This article is
What is the duplicate article?
Why is this article offensive?
Where is this article plagiarized from?
Why is this article poorly edited?