NBA: Injuries to Kyrie Irving, Anderson Varejao Good for Cleveland Cavaliers?
February 14, 2012

Kevin C. Cox/Getty Images
After playing well for large parts of the season's first couple months, it appears the basketball gods have decided enough is enough for the Cleveland Cavaliers.
First it was Anthony Parker and Boobie Gibson. Then Tristan Thompson. Now Kyrie Irving and Anderson Varejao have all been bit by the injury bug, as the Cavaliers have lost their grip on the eighth seed in the Eastern Conference.
Now, while it's unfair to expect a young Cavs team to make the playoffs this soon, one can't help but have enjoyed the ride for the season's first two months. Wins over the Dallas Mavericks, Boston Celtics and inspiring play from Irving, Varejao, Alonzo Gee and others helped make the Cavaliers watchable again after an abysmal 2010-2011 campaign (seriously, do you remember those 26 games?)
With upcoming games against the Indiana Pacers and Miami Heat, and no Varejao for the foreseeable future, Cavaliers fans may once again get a rotten taste in their mouths.
Could it get as bad as last year?
No, but if a new batch of swine flu hit the Cavs locker room and they were forced to pull fans onto the court to play, it might not be as bad as last year.
Being the eternal optimists as we are in Cleveland, there are some positives that could come out of slowly slipping out of a playoff race and watching key players being helped off the court. I'm here to highlight some of them for you.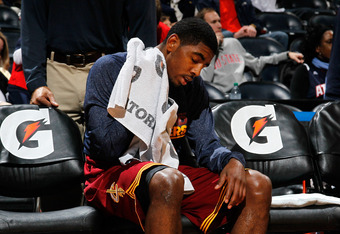 Kevin C. Cox/Getty Images
Reason for Optimism No. 1: Back to the Plan!
The Cavaliers plan for this season should have been as follows:
1. Play hard, but not hard enough to not get a top-five pick.
2. Learn what you can and develop the young guys like Irving, Gee, Thompson, Omri Casspi, Ramon Sessions, Semih Erden, Samardo Samuels and Christian Eyenga.
3. Trade off Parker, Sessions and Antawn Jamison for draft picks and young talent.
And of course
4. Let Ryan Hollins' contract expire.
Thanks to a better-than-expected start, the Cavaliers currently sit in eighth in the draft standings, a spot where they would acquire a very good player—but probably not a franchise-changer like Irving. While some argued whether the Cavs should abandon the plan and shoot for the playoffs, that debate should now be over. Sell off the veterans, collect some more young players and draft picks and shoot for that top-five draft pick!
Reason for Optimism No. 2: Trade Value Increase for Ramon Sessions

If there's a bright spot stemming from Irving's concussion, it's that Sessions has had a chance to shine.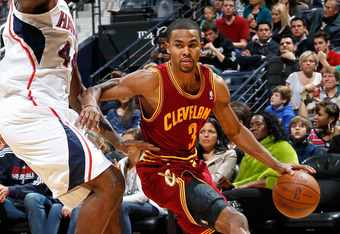 Kevin C. Cox/Getty Images
In three games at the Cavaliers starting point guard, Sessions put up averages of 18.3 points and 12.3 assists. The Los Angeles Lakers are working out Gilbert Arenas, so you know they'd be desperate for production like that from a point guard.
Since Sessions can opt out of his contract after this season, the Cavaliers should trade him before the deadline. And his recent string of impressive games will have certainly increased the bidding for Ramon's services.
Reason for Optimism No. 3: More Playing Time for Young Bigs

With Varejao likely out at least six weeks, the Cavaliers now have a merry-go-round of young, undersized or nonathletic centers to choose from.
First up in the starting lineup has been Semih Erden, registering zero points and three rebounds in 13 minutes. Samuels followed off the bench with six points and seven rebounds in 20 minutes, while rookie Thompson registered two points to go along with eight rebounds and two blocked shots in 19 minutes.
Erden is scheduled to start again against the Pacers, as he boasts the best size of the three at 7-feet to counter Indiana's 7-foot-2 center, Roy Hibbert. Expect to see a healthy dose of Samuels and Thompson as well. Remember, J.J. Hickson started at center for the Cavs last year for large stretches despite only standing 6-foot-9; so size won't necessarily be the deciding factor when it comes to splitting up minutes down the stretch.
I would like to see what Samuels could do in a starting role with consistent minutes, with Thompson getting a healthy 25 minutes off the bench. Erden hasn't shown me anything worth giving him big minutes thus far. 
Conclusion
So while injuries are never pretty, the Cavaliers do have the chance to use them to their advantage for developing young players, while increasing the trade value of others. 
While Irving will likely return against the Pacers, Sessions should continue to get healthy minutes off the bench to keep his production and trade value high. Varejao will be missed, but it will be important to see who fights to win the starting job while he's gone. 
The Cavaliers are back on the original plan, and that may actually be a good thing.