NHL Trade Rumors: Possible Trade Deadline Scenarios for the Anaheim Ducks
February 13, 2012

Jeff Gross/Getty Images
The Anaheim Ducks are in a bit of a strange situation. The team is 12-3-3 since January 1st and since that point, they have been one of the league's best teams. They have even kept pace with the Detroit Red Wings (14-4-1).
However, the question of whether or not it will be enough to make up for an absolutely abysmal start under then head coach Randy Carlyle, is uncertain.
It may have been better for Anaheim, as an organization, to be completely out of the playoffs as it would give them a clearer path to travel during the trade deadline. Teams who are completely out of a playoff spot will typically unload some of their veteran players for draft picks, and begin to prepare for the next season.
Anaheim's issue is that if their improved play continues, they will be able to put themselves in playoff contention before April. But, not before the trade deadline passes on February 27th, which will make their own definition of a "smart trade" very difficult to discern.
The team is now only nine points out of a playoff spot, and have opened up a season long road trip taking three out of a possible four points in their first two contests.
If the Ducks are going to tank, they had better tank soon. Otherwise, GM Bob Murray's hands will be tied while he waits to see if his team is going to pull off the miracle turnaround.
Nonetheless, if the Ducks find themselves any closer to a playoff berth next week (say 5-6 points out), expect them to play the deadline conservatively involving only a few players. Here are some possible scenarios.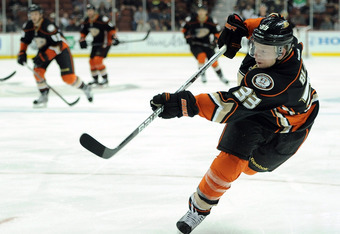 Harry How/Getty Images
Visnosky isn't the Ducks most valuable defenseman; however, he did lead the league in points among defenders last year then was hampered by an injury for a large part of this season. He's got a lot to offer, and could grab Anaheim a third or fourth round draft pick should the Ducks be expected to miss the postseason, or someone to shore up the third line if a playoff run seems probable.
Jason Blake
Unknown to the average hockey fan, Ducks' prospect Emerson Etem is currently lighting up the WHL with 51 goals and 89 points in 50 games. The consensus is that he's ripe for the NHL, and Anaheim could be looking to make room for him to play on the second line next year.
That would mean the exodus of one or more of Anaheim's aging second liners. While the Ducks are unlikely to move Teemu Selanne or Saku Koivu, Jason Blake still has some scoring upside and could be on the move. Anaheim won't get much more then a late round draft pick for him, despite his ability to still put up goals and points. Even at 37-years-old, he would be a valuable addition to a contender looking to add depth.
Matt Beleskey
Beleskey has had flashes of value and solid play in Anaheim. We could see him move to a team lower then the Ducks in the standings, possibly for a number five or six defenseman. This scenario would make Anaheim a "buyer" which doesn't seem suited for a team who has had such a poor season. Although, if the Ducks continue to progress towards playoff contention, they may look to shore up and make a final push, as the second half of their season has been nothing but positive.