Oakland A's: What the 2012 Roster Could Have Looked Like (If They Had Money)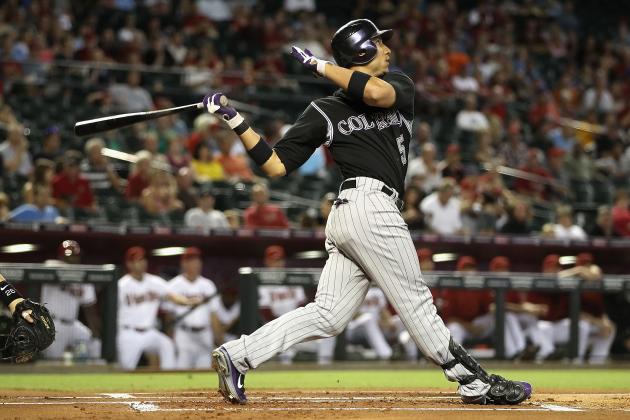 Christian Petersen/Getty Images

Over the years, the Oakland A's have parted ways with some serious talent. Sometimes this was just trading a prospect they underestimated for a veteran they ultimately overvalued; but generally it was due to budgetary reasons. If the A's had the payroll of, say, the New York Yankees or Boston Red Sox, it's possible that their currently weak lineup could've been filled with multiple All-Stars.
I obviously have hindsight on my side, but just to play devil's advocate, I thought it would be interesting to see just what the A's might've looked come 2012 Opening Day if payroll wasn't an issue. Now keep in mind, players who you thought would've been on here had to be left off, because they themselves were in deals that brought over other guys on this roster.
But at the end of the day, it really is a testament to how good Oakland's research and scouting department is that such a high number of great players were at one time donning the green and gold, even if they didn't last that long.
Here are your 2012 Theoretical Oakland Athletics.
Begin Slideshow

»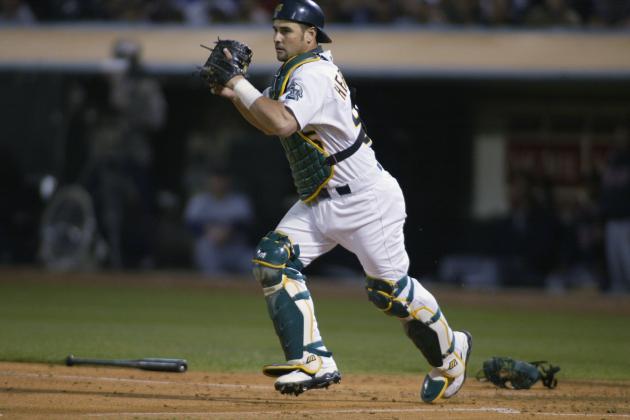 Jed Jacobsohn/Getty Images

After the 2003 season, the A's traded Hernandez to San Diego due in large part to financial reasons. Hernandez was coming off of a career year that saw him hit 21 home runs and 73 RBIs, leaving no doubt that the A's were going to lose him due to the amount of money they had given Eric Chavez that same offseason.
Since then, Hernandez has gone on to a long and steady career with multiple clubs. After leaving Oakland, Hernandez went on to average 13 homers, 58 RBIs and a .274 batting average. It's a level of consistency that Kurt Suzuki has yet to find in his five years with Oakland.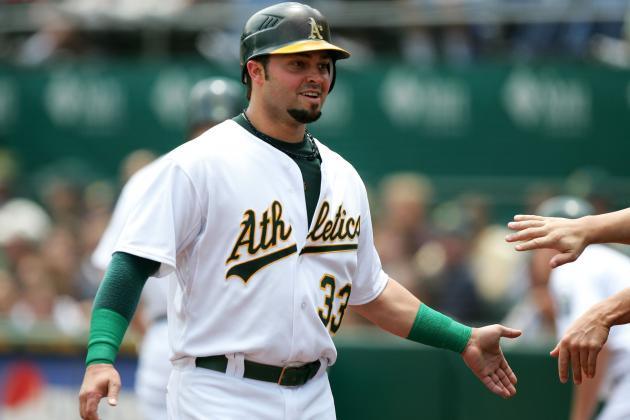 Jed Jacobsohn/Getty Images

It was really tempting to slide Carlos Pena in this slot and keep Gio Gonzalez in the rotation (Swisher was traded for Gonzalez), but ever since Jason Giambi left after the 2001 season, there's been a revolving door at first for the A's, and there's also a ton of depth at the starting pitcher position.
Though primarily an outfielder, A's fans will remember Swisher playing first a whole lot during his time in Oakland; and he did so rather well. In his career, Swisher owns a fielding percentage of .994 at first base. Compare that to the .996 career fielding percentage of current Yankee teammate, and four-time Gold Glove winner, Mark Teixeira, and it's pretty obvious that Swisher can hold his own defensively.
Offensively, Swisher has vastly improved since leaving Oakland. Now it certainly helps that he left the vast Oakland Coliseum for the hitter friendly Yankee Stadium, but even in Oakland, Swisher has shown the ability to consistently put up plus power numbers, hitting 35 home runs in 2006.
His glove and bat are great, but the part of Swisher's game that may be his best is his character. Regardless of where he's been, or what his production was, Swisher was always a fan favorite and a great guy to have in the clubhouse. Is it any coincidence that the A's have had little success in recent years when they lacked a strong veteran presence in the locker room?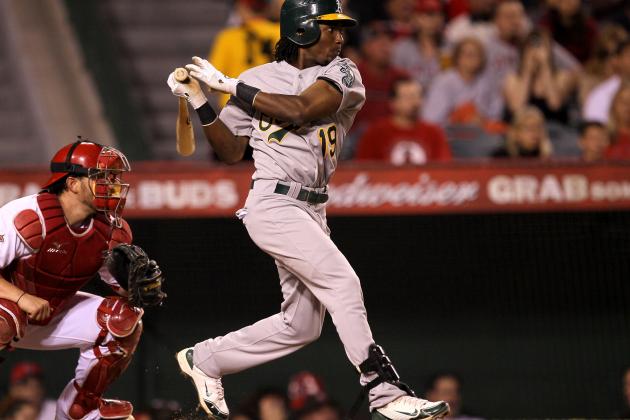 Stephen Dunn/Getty Images

If there was one bright spot for the A's last season it was Jemile Weeks. The young second basemen injected the A's lineup with a much needed jolt of youth and excitement.
Drafted by the A's 12th overall in 2008, the only question for the youngster is durability. Injuries slowed his progression while in the minors, including a torn hip flexor in his first year of pro ball. If Weeks can avoid the injuries, then look for the young switch-hitter to man the leadoff spot in Oakland for a long time.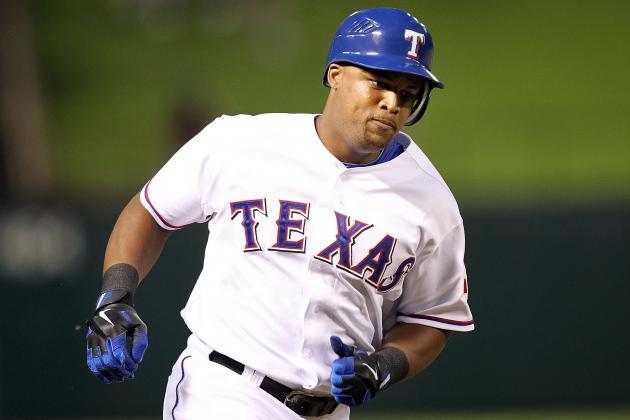 Ronald Martinez/Getty Images

I took some liberties with this pick but concluded that if the A's had the required payroll and were a contending team because of it, then they would've been successful one of the many times they attempted to sign Beltre.
If the A's had their way, then Eric Chavez would still be manning the hot corner at the ripe old age of 34, but unforeseen back problems forced Chavez and Oakland to part ways. Ever since then the A's have been chasing Beltre, it was even rumored that they offered him a five-year deal worth $64 million at one point.
Unfortunately for them, Beltre was reluctant to sign with the club twice. Once after the 2009 season, and again the year after, opting for top dollar and the chance to play with a contender. Had Beltre signed with the A's, it would've given them the right-handed power they desperately need in the middle of their lineup.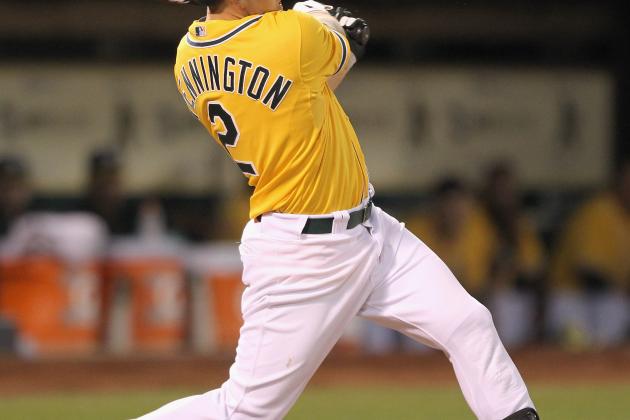 Ezra Shaw/Getty Images

This one was a tough choice. It was tempting to go after a savvy veteran like Orlando Cabrera, or Miguel Tejada for nostalgia purposes, but it has to go to Penny.
Both of those guys are long past their primes, and they probably only have a few years left apiece. Though not every Oakland fan's favorite player, Pennington has emerged as a reliable guy with an offensive game that's steadily risen each year.
For a guy who would hit in the nine hole, Pennington is a solid option.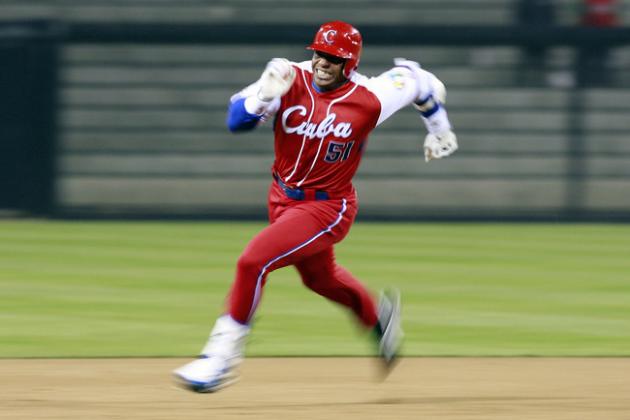 The newest member of the A's, Yoenis Cespedes can be a special player once he gets acclimated to the majors. Though an athletically gifted player, many believe that Cespedes' future lies not in center, but in one of the corner outfield spots.
If all goes right for the 26-year-old Cuban, then Oakland is looking at a five-tool game-changer. The Bo Jackson comparisons are obvious, both possess a long swing and stride that generates massive amounts of power. The only question is whether or not that long stroke will diminish Cespedes' ability to make consistent contact.
Even if Cespedes only goes on to hit .250 to .260, his power numbers and other tools will be well worth the money the A's invested in him.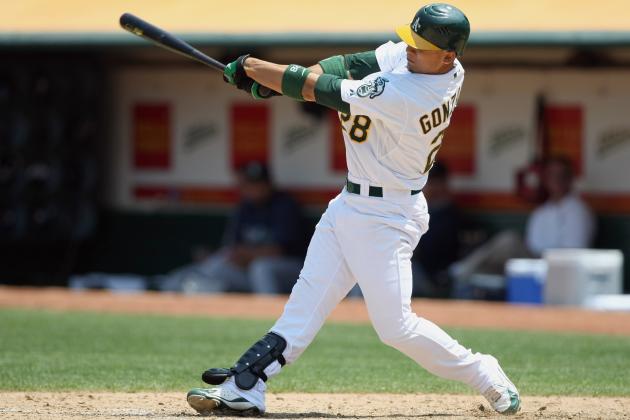 Jed Jacobsohn/Getty Images

In what turned out to be a nightmare scenario for the A's, Carlos Gonzalez has materialized into a star after they traded him to the Colorado Rockies for Matt Holliday. And in return for Holliday, all the A's received was essentially Michael Taylor and Shane Peterson, two outfielders who haven't quite lived up to expectations.
One could make an argument for Dan Haren over Carlos Gonzalez, but legitimate five-tool outfielders are rare occurrences. Right now you could probably count all the current five-tool outfielders on one hand. No. 2 starters, on the other hand, aren't as hard to find.
Still only 26, CarGo already has a Silver Slugger and Gold Glove Award to his name, as he quickly became a force to be reckoned with in 2010. Even in an injury-plagued 2011 season, Gonzalez managed to hit 26 home runs and 92 RBIs. Had he stayed in Oakland, there's no doubt he would've become the face of the organization.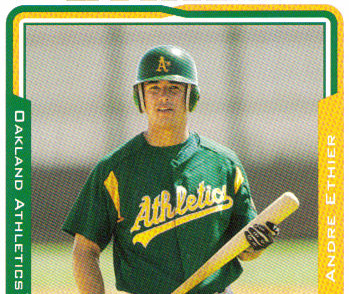 Many years ago, the A's had a promising young outfielder by the name of Andre Either, who while playing for the Midland Rockhounds went on to win the Texas League MVP in 2005, and emerged as the A's top prospect. Later that same year however Either was traded to the Los Angeles Dodgers in exchange for Milton Bradley.
The very next season, Either would emerge as an impact player for the Dodger's, going on to play in multiple All-Star games and winning numerous awards including a Silver Slugger Award in 2009 and a Gold Glove in 2011.
It's not that Either is an amazing player, he's just one of those great professional hitters who day in and day out gives you everything he's got and does all the little things right. Those kind of players are the ones who help you win championships.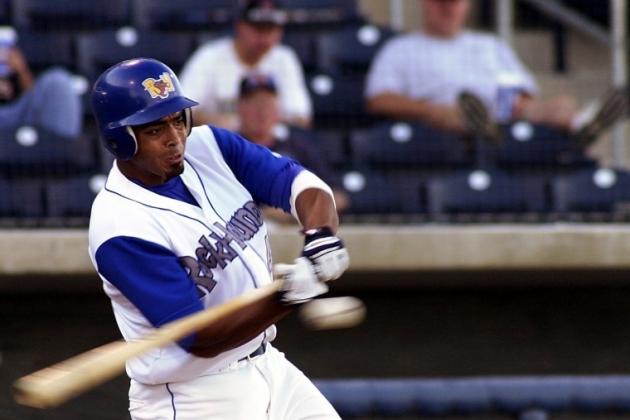 Nelson Cruz was in the A's system for four years but never actually reached Oakland. In 2004, he was traded along with Justin Lehr for infielder Keith Ginter. Ginter never amounted to much with the A's, spending most of his time there in the minors with Sacramento.
Cruz meanwhile would establish himself as one of the American League's premier power bats once given an opportunity in Texas. Since becoming an everyday player in 2009, Cruz has averaged 28 homers and 80 RBIs a year for the Rangers, as well as coming up huge for them when it mattered most.
In last season's playoffs Cruz was named the ALCS MVP as he put up a .364 average, six home runs, and 13 RBIs in the series. If given a chance with the A's, it's likely that Cruz would've put up those kind of numbers long before 2009, seeing as how Oakland's outfield has been predominantly weak and inconsistent since the Cruz trade.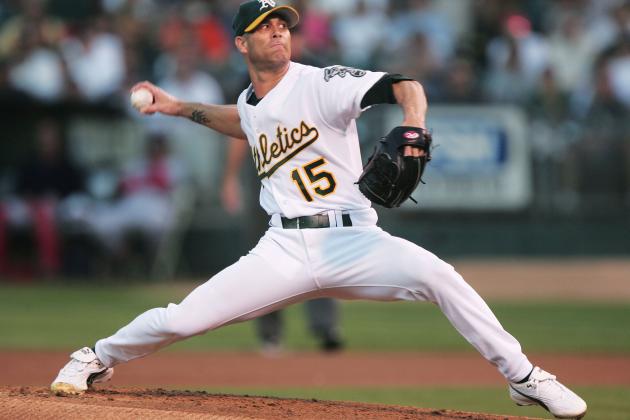 Jed Jacobsohn/Getty Images

Though 36, Hudson has been as good as anyone the past 11 seasons. The model of consistency, Hudson has finished a season with an ERA over 4.00 only twice in his 13-year career. Over the last two years, he racked up 33 wins and an ERA of 3.02. Not bad for a guy coming off Tommy John surgery that late in his career.
If the A's had money and were able to keep Hudson, he would've gone down as one of the all-time greatest A's pitchers, joining the ranks of Catfish Hunter and Rollie Fingers. Instead, the A's had to watch Hudson have major success with the Braves, while they watched the players they got in return from Atlanta have almost nonexistent careers in Oakland.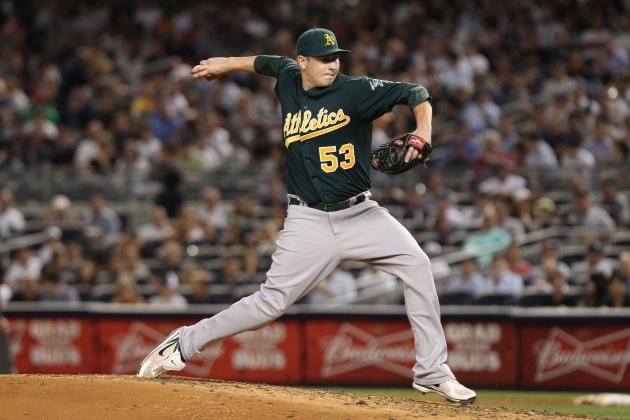 Nick Laham/Getty Images

During his brief tenure with the A's, Cahill showed plenty of promise. His sinkerball was regularly compared to that of Hudson, and many believed that's where his career was heading. Unfortunately, Billy Beane and company decided to part ways with Cahill this past offseason before any of that promise could be fulfilled in the green and gold.
Though Cahill's production dipped this past season, there's no question that he still possesses top of the rotation talent. At the age of 22, Cahill earned Cy Young consideration for a 2010 campaign in which he finished 18-8 and put up a 2.97 ERA.
Still only 23, look for Cahill to remind Diamondback fans of another sinkerballer they're familiar with, Brandon Webb.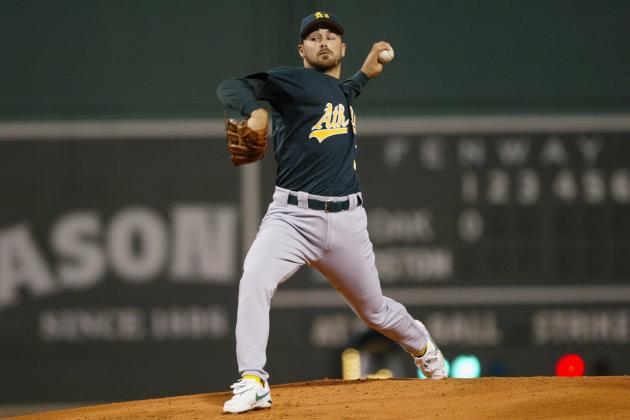 Doug Pensinger/Getty Images

Ted Lilly is an innings eater. The last five seasons Lilly has put up close to 200 innings in each, averaging 195 innings pitched per year in that span. You can never overvalue that kind of stability and veteran presence in a rotation.
That's also what's plagued the A's rotation in recent years, a lack of stability and veteran presence. They gambled, trying to find that in guys like Esteban Loaiza and Ben Sheets, but as a result they ended up losing a lot of money.
Not overpowering, Lilly knows how to pitch in the big leagues, which is why he's always a commodity when available. When you send Lilly out to the mound, you know exactly what you're going to get.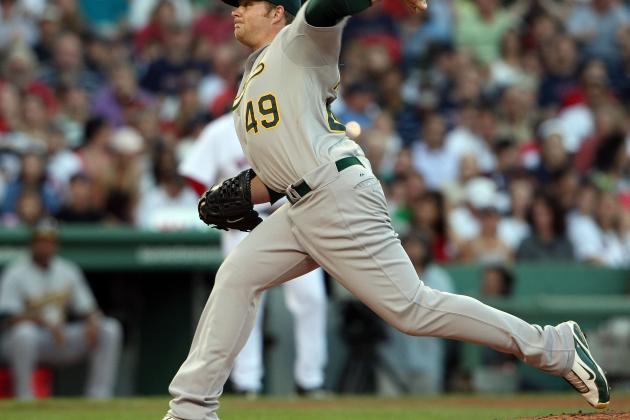 Elsa/Getty Images

Like Cahill, Anderson's best days are hopefully still ahead of him. Though his time with Oakland has been marred with injuries, when Anderson was on the mound he's been very good, finishing the 2010 season with a 2.80 ERA.
Coming out of high school in 2006, Anderson was highly recruited but opted to skip college. Instead he decided to sign with Arizona after being a second-round selection in that year's draft. Only a year later, Anderson found himself in Oakland as part of the Dan Haren trade.
Last season wasn't so kind to Anderson, however. He found his season significantly shortened by an elbow injury that required Tommy John surgery. His rehab will continue into the beginning of the 2012 season, but if he can bounce back and regain form, look for A's fans to forget about losing Cahill and Gio Gonzalez this past offseason.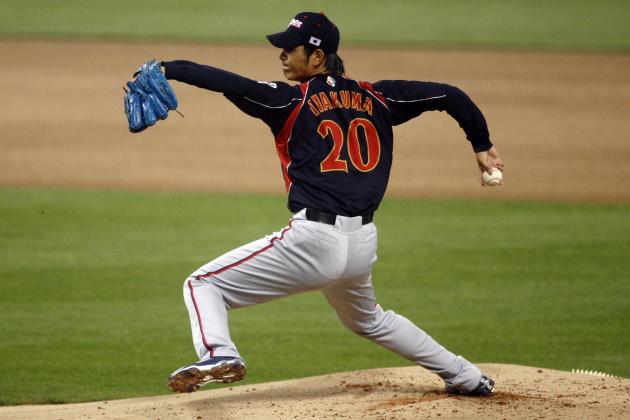 Donald Miralle/Getty Images

The final rotation spot was difficult because there are plenty of guys worthy of this spot. You could easily have a guy like Aaron Harang, Colby Lewis, Joe Blanton or Dallas Braden fill that No. 5 spot and be happy with the production they give you.
Iwakuma however has the stuff of a No. 3 or No. 4 starter. Possessing a good sinking fastball that sits in the low 90s and a very good splitter, his repertoire would work extremely well pitching to contact in the vast confines of the Coliseum.
Coming off a very good World Baseball Classic that was essentially overshadowed by Daisuke Matsuzaka, the A's won the rights to negotiate with Iwakuma when he first attempted to play overseas last offseason. Unfortunately, the two sides couldn't come to an agreement, and Iwakuma went back to Japan for one more year.
Iwakuma was able to reach an agreement with Seattle this offseason, so hopefully for the A's sake he actually turns out to be more Kei Igawa, than Hiroki Kuroda.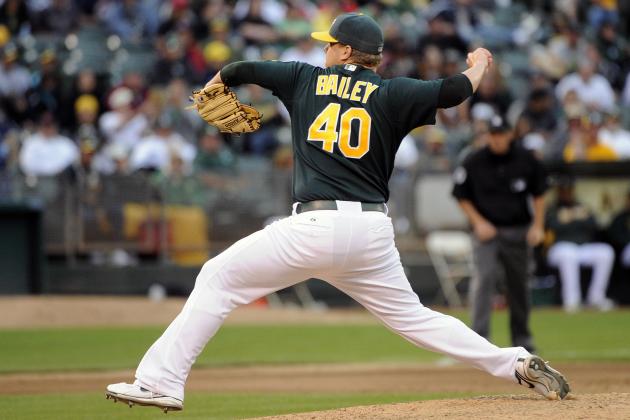 Thearon W. Henderson/Getty Images

Like the final spot in the rotation, there was a lot of competition for this position as well. As documented by the book "Moneyball," Billy Beane deems closers as easily replaceable so it makes sense that they'd go through so many quality closers so quickly. Guys like Huston Street and even Jonathon Paplebon (drafted by the A's in '02) can make a case for this spot, but there is a reason why the Red Sox opted to go after Bailey and not Street or Paplebon this offseason.
When healthy, Bailey can be a dominating presence on the mound. He has two overpowering pitches in his mid-90s fastball and his sharp cutter, and compliments them with a breaking ball he sneaks early in the at-bat to get ahead in the count. The only question with Bailey is whether or not his arm can hold up to the stress he puts on it with his hard throwing pitches. But when healthy, you have a pretty good chance at winning when leading after eight.