NFL Combine 2012: Kellen Moore and QBs Who Have to Prove Their Worth
February 13, 2012

Ethan Miller/Getty Images
The NFL combine is the difference in millions of dollars for some of these prospects trying to make one last impression.
With the Feb. 22nd festivities less than 10 days away, the dust is starting to settle on draft positioning, but nothing is set in stone until after the event. The stakes are high, and the difference between a second-round pick and a fifth-rounder is not incredibly large.
Here are three QBs who have big question marks heading in that can go one of two ways when the week is over with.
Kellen Moore, Boise State
He may have had one of the greatest records for a QB in college history, but he has a lot to prove. NFL scouts are weary of a guy that is only 5'11" and 191 pounds.
With the ridiculous size of linemen at the professional level, his lack of visibility in passing lanes could spell doom for Moore.  Nothing is worse than having a pass battered down at the line of scrimmage.
He has to prove height won't define his NFL career.
What Moore has going for him is accuracy. He completed 74 percent of his passes as a senior as one of the most precise passers in recent history.
Russell Wilson, Wisconsin
He had the opportunity to pursue a baseball career but ended up sticking with football. Was it the correct choice?
Another QB with size issues (5'11", 200 pounds), Wilson has to prove he can excel with in an offense that features lots of deep passes.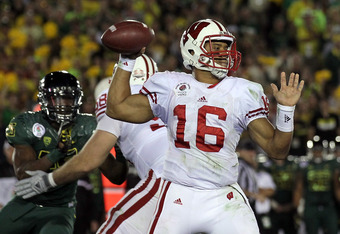 Stephen Dunn/Getty Images
Wisconsin provided Wilson with an offense that was a lot of quick-release throws, where he didn't really have to process the defense. While throwing 33 TDs and only four INTs is terrific, that doesn't necessarily translate to good decision-making skills in the NFL.
His throws at the combine are going to be heavily scrutinized, as will his arm strength on throws downfield.
Nick Foles, Arizona
Foles is the opposite of the other two on this list—he has great size (6'5'', 240 pounds), but his team played poorly in 2011.
Foles has proven to play particularly well when the pressure is on, and scouts are beginning to take notice. He has all of the physical tools to be a starting QB in the NFL, but he has the ability to vault up to the second round if he can put it all together at the combine.
Foles is slowly rising up draft boards, and I wouldn't be shocked to see Foles be the talk of Indy.