Suarez-Evra Saga: FA to Take No Action Against Either Club, but Should They?
February 13, 2012
Shaun Botterill/Getty Images
In the wake of the handshake that never was, outrage at Luis Suarez's actions has been loud and plentiful.
Present and former players, pundits, coaches and owners have condemned the Uruguayan Liverpool striker for refusing to shake the hand of Patrice Evra, the French United defender who accused him of making racial remarks toward him on the pitch in October.
The scene led to extreme tension between the two squads that resulted in a halftime tunnel brawl and commotion at the final whistle, when Evra celebrated his club's victory by dancing in front of Suarez.
Despite these wild happenings, the Football Association has decided not to take disciplinary action against any party due to their actions Saturday.  Whether this was the correct decision is questionable, though.
Immediately after the match, Kenny Dalglish gave an interview supporting Suarez.  On Sunday, Dalglish made a new statement condemning Suarez and his actions and apologizing for his own comments.
Some may ask for Dalglish to be punished, but I rather feel for the manager.  He claimed in the same post-match interview where he supported Suarez that he did not see him snub Evra's handshake.  Further, given that Suarez had told him that he would shake Evra's hand, it must have been confusing and a tough position for the manager.
Hence, I find Dalglish's apology more than suitable to exonerate him.
Similarly, I see Suarez's apology after the match to be enough to pardon his actions.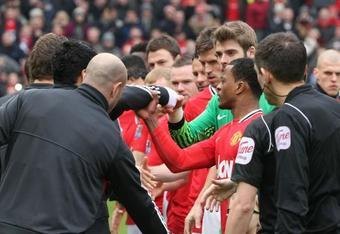 After all, what did Suarez do in this instance?
Let's not lose focus on the fact that this is all over a handshake—there have been numerous instances of players refusing to shake hands with other players.
Also, look at the situation from Suarez's point of view:  he has claimed on numerous occasions that he did not intend to offend Evra or make him feel uncomfortable with his comments.  Clearly, he does not believe his comments in October to have been inflammatory.
In any event, he is wrong no matter what because he did insult Evra.  However, given that he was suspended eight matches and labeled a racist, it's understandable that he would view it as a sore subject and hold a bit of animosity toward Evra.
Yes, Suarez should have shaken Evra's hand, but he apologized for it.
It was just a handshake—no punishment is the right call.
On the other hand, I see Evra as lucky to escape without punishment.
Most have glossed over his antics at the full-time whistle, claiming that they were understandable given the circumstances.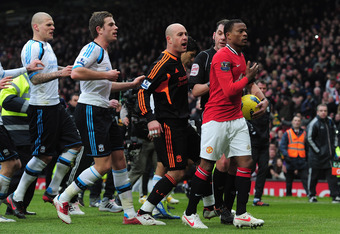 Shaun Botterill/Getty Images
However, I see no circumstance in which intentionally dancing in front of an opponent is justifiable, especially given that his "justifiable circumstance" was a mere lack of handshake.
Evra's actions were the grossest form of unsportsmanlike behavior.
Even his manager, Sir Alex Ferguson, claimed in his post-match interview that Evra's actions were not right.
Ferguson also took the high road in calling Suarez "a disgrace" and claiming that "he could have caused a riot" (hilarious given his history defending his own players' actions).
However, Evra's actions were much closer to doing so.  They clearly could have incited a brawl had the referees not been quick to extinguish the flames.
To top it off, the French defender has not apologized or expressed any remorse for his actions.
The FA have made up their minds and feel that refraining to take action is the best course for this matter.
This will not stop the media from painting Luis Suarez as the villain of the piece.
However, Patrice Evra will seemingly get off lightly on all fronts.