Vanderbilt Commodores vs. Kentucky Wildcats Recap
February 13, 2012

Joe Robbins/Getty Images
Kentucky 69, Vanderbilt 63 
The house was shaking in Memorial Gym for the prime time Saturday night game, but the home team did not prevail in this one.
Vanderbilt (17-8, 6-4) had a late surge in the second half but No. 1 Kentucky (25-1, 11-0) was too strong for the Commodores.
Vandy trailed by as much as 14 points in the first half and fell too far behind to climb back and win.
Kentucky's defense was impenetrable. Despite Vandy having the lead late in the game, the Dores had offensive struggles all night and came up short of storming the court.
Vanderbilt Dug Themselves Too Big of a Hole
The Vanderbilt Commodores shot a horrific 27.5 percent from the field in the first half, which ultimately led to their defeat. Festus Ezeli was 2-of-7 in the first half with four points, and Taylor only had one bucket in the first.
Kentucky shot an outstanding 53.3 percent and outscored Vandy 36-23 in the first half, creating a nearly impossible climb for the Dores to come back and win. 
Although VU was up by two with four minutes left to play, Kentucky's lead was too large and it shot the ball too far down the stretch for Vandy. The Dores went cold and failed to hit a field goal in the final four minutes of the game, which ended their comeback rally.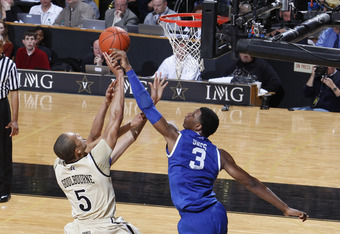 Joe Robbins/Getty Images
Kentucky's Shot-Blocking Ability is Best in NCAA

Anthony Davis' long wingspan and total body control landed him seven blocks against Vanderbilt, and only picked up three fouls.
As a team, Kentucky totaled 12 blocks in the contest, totally took away the lane for any of Vandy's guards and made it extremely hard for Festus to do work.
Jenkins and Tinsley found some penetration through the lane, but it ended quickly when the towering big men of UK were there to block their shots.
Also, Davis and Jones' ability to collapse on Ezeli made it extremely hard for Vanderbilt to get any post-play rhythm going.
Kentucky's Perimeter D: Shut Down Jenkins and Shut Down Vandy's Offense
The top scorer in the SEC, John Jenkins, was held to 3-of-9 from three point range and only had five second half points in the loss to No. 1 Kentucky.
The Wildcats' perimeter defense is possibly the best in the NCAA with their speedy guards heckling the outside shooters. With huge defenders in the paint in Davis and Jones paired with the pressuring outside defenders in Lamb and Teague, UK can defend any team.
As a team, Vanderbilt only shot 36.5 percent from the field and was never able to get into their rhythm of outside shooting. 
Although Brad Tinsley heated up late in the second half and created a surge for the Dores, the final four minutes scoring drought ended the late comeback attempt.