Chicago White Sox: What to Expect from the South Siders in 2012
February 13, 2012

Jason Miller/Getty Images
Brief 2011 Recap
This was a team that I projected to win the AL Central when I worked for Baseball Prospectus. Instead, the wheels fell off and the team never really got off the ground in any fashion. The offense scored 654 runs, and may be hard pressed to do even that again. This put a ton of pressure on what was and still is a pretty good pitching staff overall. Disastrous seasons from Alex Rios and Adam Dunn more or less doomed the club from the get go.
Brief 2012 Prediction
For a team that was "gutted" it still looks an awful lot like the '11 rendition. That group wasn't particularly good, nor should this one be. Even with moderate improvement from Dunn and Rios, the club still needs more production out of second base, catcher, and left field than it got last season. Don't count on it. As the season wears on, expect the team to sell off in an effort to get younger and give any viable prospects (such as Tyler Flowers) a chance to sink or swim with the big club.
Projected Starting Lineup

C- A.J. Pierzynski
1B- Paul Konerko
2B- Gordon Beckham
3B- Brent Morel
SS- Alexei Ramirez
LF- Alejandro De Aza
CF- Alex Rios 
RF- Dayan Viciedo
DH- Adam Dunn
Top Bench Options

C- Tyler Flowers
OF- Delwyn Young
UTIL- Brent Lillibridge
Projection Rotation
John Danks
Gavin Floyd
Philip Humber
Chris Sale
Jake Peavy
Projected Bullpen
Addison Reed
Jesse Crain
Will Ohman
Dylan Axelrod
Zach Stewart
Jhan Marinez
Matt Thornton
Top 101 Prospects (According to Kevin Goldstein, Baseball Prospectus)
#81. Addison Reed - RHP
Why the White Sox Will Contend in '12
If the Sox win the Central in '12, it'll be on the heels of an impressive pitching staff. From 1-5, the starting rotation is possibly the best in the entire division (top-to-bottom, that is). The bullpen is a good mix of up-and-comers and a few grizzled flamethrowers, and that group could be even better if Sale is sent back to the 'pen. For that to happen, though, Nestor Molina would have to grab the bull by its proverbial horns, and even that might only make sense if Peavy isn't healthy.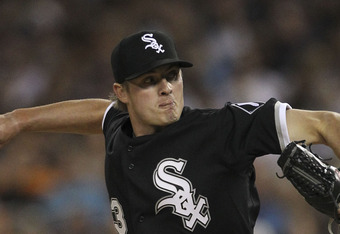 Leon Halip/Getty Images
Still, this is ultimately unlikely, as the offense isn't particularly good. Konerko had another career-year at 35, but will eventually slow down. There's virtually no offense for the club on the left side of the field, at least not the far left side. De Aza had a .920 OPS last season, but if you think that's legit I have some ocean-front property to sell you in Chicago.
Why the White Sox Will Not Contend in '12
Simply put, the club just doesn't have the horses. If the offense slips any further, this will look an awful lot like the Seattle Mariners of the last few campaigns, with stellar pitching staffs and no discernible pulse on offense. Konerko is probably a South Sider for life, but don't be surprised if Ramirez, Pierzynski or a starting pitcher are donning a different uniform after the deadline.
Final Prediction: Fifth, AL Central (out of five)
O/U Wins: 74.5