Josh Hamilton: 10 Reasons the New York Yankees May Sign Him Next Offseason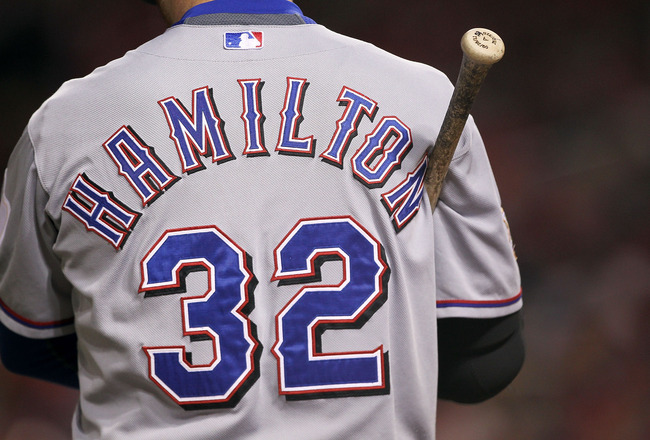 Ezra Shaw/Getty Images
Josh Hamilton is entering the final year of his contract with the Texas Rangers, and the New York Yankees are surely paying close attention.
Hamilton has had a roller-coaster career, battling drugs and alcohol immediately after being drafted in 2001 and eventually coming back to win an MVP award and appearing in the last two World Series.
Despite a recent relapse with alcohol, Hamilton is still one of the most promising and coveted free agents for the 2012 offseason, assuming he can continue his proven success in overcoming his addictions.
Here are 10 reasons the Yankees may sign Hamilton next offseason.
He's Honest About His Issues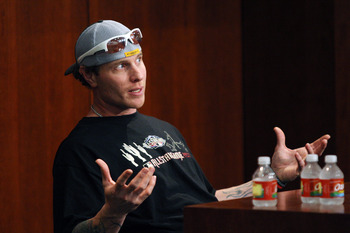 Layne Murdoch/Getty Images
Let's address the elephant in the room right away.
Josh Hamilton has a history of drug and alcohol abuse, which has nearly derailed his career. Recently, Hamilton has admitted to an alcohol relapse after three years of sobriety. Definitely an issue teams would prefer never to deal with.
What makes Hamilton different from other athletes in his fight for sobriety is that he is brutally honest with the media about his issues and displays commitment to continued progress. In such a difficult battle, what more could one ask for? He's no different from any other human with a history of addiction and abuse; it takes time to fix such an issue.
The New York Yankees, although they would prefer this weren't an issue, can rest assured that Hamilton's ability to address his own off-the-field issues reflects his on-the-field ability and consistency. Sure there are holes here and there, but Hamilton isn't the type to try and sugar-coat reality, something a few Yankees could learn from.
A Hamilton Signing Trumps a Beltran Signing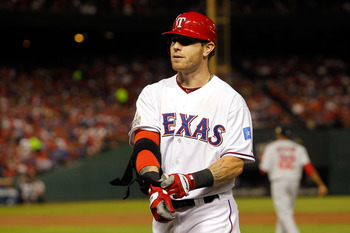 Tom Pennington/Getty Images
Recent rumors suggest the New York Yankees were looking to sign aging slugger Carlos Beltran as replacement for Nick Swisher. It is difficult to see the sense in such a move.
Beltran does hold advantages over Swisher in several statistical categories, but not by much. Beltran certainly does not bring the same charisma and clubhouse leadership that Swishalicious does day in and day out.
Hamilton may not solve the leadership void left by a Swisher departure, but from a production standpoint Hamilton is a major upgrade both at the plate and in the outfield.
The Pineda Trade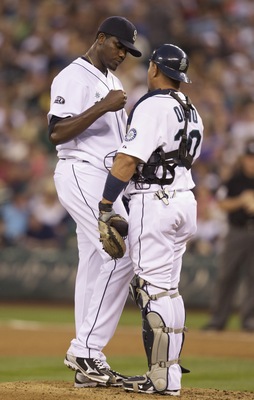 Stephen Brashear/Getty Images
The trade for Michael Pineda will save the New York Yankees some money over the stretch the remainder of his contract and any further extension. The second-year pitcher will cost significantly less than any big-name pitcher the Yanks would try to sign. No CC Sabathia or A.J. Burnett deals for this kid, yet.
That frees up a lot of money for the Yankees, which they can use on Josh Hamilton. Given Hamilton's risk factor, any contract offer will likely be around three years. Hamilton made $8.75 million in 2011, so expect the Yankees to offer between $12-$15 a year, or maybe even more to shut out competitors.
Albert Pujols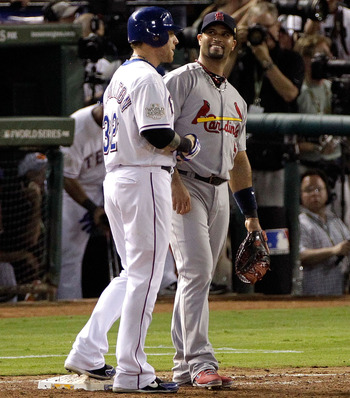 Rob Carr/Getty Images
The Los Angeles Angels increased their World Series playoff chances astronomically by signing Albert Pujols.
What does this mean for the New York Yankees?
It means that the best player in baseball and the league's most feared hitter is their league for the next 10 years. The Angels have been a consistent thorn in the Yankees' side during the playoffs, and the Pujols signing makes it even worse for the Pinstripes.
It is imperative the Yankees do everything they can to rest assure their lineup can out-muscle any potential AL playoff opponents, especially the Angels.
Likability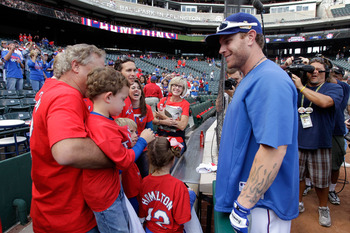 Rob Carr/Getty Images
The New York Yankees aren't a team with worries about attendance. The club averages around four millions fans a year at the stadium.
Josh Hamilton, although usually quiet and reserved and despite his off-the-field issues, is a pretty likable guy. The name Hamilton alone is probably enough to intrigue fans and sell a few more tickets. New York fans love the long-ball, and Hamilton will more than likely provide those.
There's also the memory of the home run derby back in the old Yankee Stadium in 2008, when Hamilton hit a record 28 dingers in the opening round. Who wouldn't enjoy that performance in pinstripes?
Age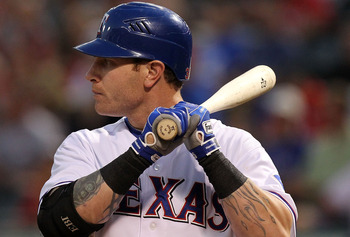 Ronald Martinez/Getty Images
At 30, Josh Hamilton has another five to six years of productivity left in him, assuming he stays healthy and away from the drugs and alcohol.
Given his track record of striving to better himself since he's been in the big leagues, he deserves the benefit of the doubt. Whether or not the Yankees offer him anything over three years, which is doubtful, remains to be seen.
There's a good chance he can help the team along for a good chunk of time.
A-Rod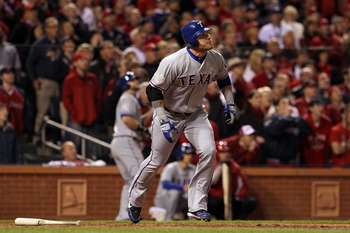 Jamie Squire/Getty Images
With an aging Alex Rodriguez, the New York Yankees need someone who can potentially fill in the everyday cleanup hitter slot in the lineup.
Chances are A-Rod will see more off time and DH-ing in the coming years, and his bat must be replaced by someone with identical power, and who better than Josh Hamilton?
Again, this is all assuming Hamilton stays on track, and few players can hang with the Texas slugger when he's in top form.
Defense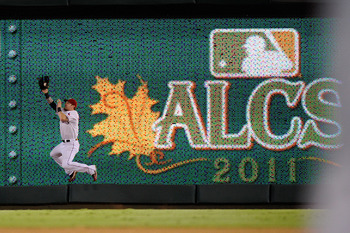 Kevork Djansezian/Getty Images
Not only would Josh Hamilton bring a great bat to the already powerful New York Yankees lineup, the man can flat-out play defense.
Hamilton has a .984 fielding percentage in the outfield and has a cannon of arm from any of the three outfield positions. He would be used primarily has a corner outfielder because of Curtis Granderson in center. An outfield of Granderson, Hamilton and Bret Gardner would definitely put the Yankees near the top of the best outfields in the big leagues.
Experience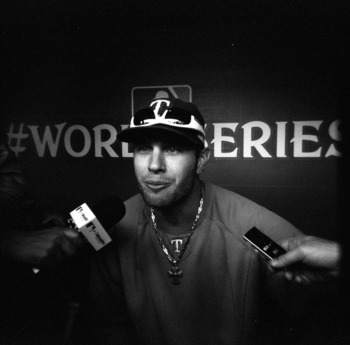 Ezra Shaw/Getty Images
Anything short of a World Series is a failure for the New York Yankees. Naturally, the club wants veterans with experience in winning and playing in the league's toughest competition.
Josh Hamilton has played in back-to-back World Series with the Texas Rangers in the last two seasons. Although they lost both years, Hamilton has been an integral component of recent Rangers success.
There is no doubt Hamilton is hungry for a championship and New York might be the place to do it.
Instant Gratification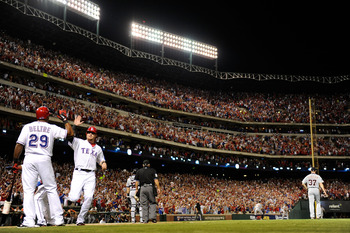 Kevork Djansezian/Getty Images
The New York Yankees are in a perpetual "win now" state of mind. Josh Hamilton brings an immediate improvement to the Bronx Bombers both at the plate and defensively.
A lineup reading Derek Jeter, Curtis Granderson, Mark Teixeira, Alex Rodriguez, Robinson Cano and Josh Hamilton is a nightmare scenario for any pitcher. Even with two aging stars there is absolutely no room to breathe for two-thirds of the lineup whose back end isn't too bad either.
Keep Reading

New York Yankees: Like this team?