Trio of Young Forwards Shine for the Los Angeles Kings
February 13, 2012

Ronald Martinez/Getty Images
If you've been following the latest six-game road trip for the L.A. Kings, you know it has been something of a disappointment.
With the trip coming to a close today and a victory in Dallas, the Kings claimed just five points of a possible 10, gaining little to no ground in the tight Western Conference. The Kings failed to score more than one goal in four of their six games (Go figure the two they scored more than one in, they won—its science). They also lost the service of center Jarret Stoll, and the impressive young defensemen Slava Voynov was sent to the AHL.
So what could we possibly have to be happy about in King land?
Well, there are three things to be happy about—and they are all under 22 years of age.
Rookies Jordan Nolan, Dwight King and Andrei Loktionov have had weekends to remember. Each potted their first goals of the season and/or careers, leading the Kings in a 4-2 charge over Dallas to close out the road trip Sunday evening.
The Kings have been in desperate need of secondary scoring, and they have yet to find it. But with Dustin Penner as a healthy scratch, Jarret Stoll injured and a risky move by Dean Lombardi to send down Voynov for forward depth—it gave way to new opportunities for Dwight King and Jordan Nolan to try their hand at the NHL.
King and Nolan, both 22, were recalled Friday—making season debuts in a 2-1 overtime loss to the New York Islanders.
King and Nolan were fortunate enough to play alongside Mike Richards. A privilege that young Jordan Nolan recognized quickly in his post-game interview with Kings' Insider Rich Hammond:
"Playing with him, it's a pretty special feeling. He's such a talented player and so well-known in this league. So, to come in and be able to play two games with him in this league, we have to bury those chances when he's setting us up.''
Nolan, the big 6'3" native of St. Catharines, Ontario and who is the son of former NHL player and coach Ted Nolan, did just that—scoring the game-winner on a beautiful no-look pass from behind the net.
Also towering at 6'3" on the other wing and chipping in on the game-winner himself with a nice-board-battle win, was Meadow Lake, Saskatchewan native Dwight King. King was fresh off his first-career NHL goal, tucking home a nice pass from forward Justin Williams earlier in the first period.
To keep the hockey blood-line theme, Dwight is the younger brother of 27-year-old D.J. King—a journeyman tough guy currently playing with the Washington Capitals affiliate in Hershey. 
The two big men did something we Kings' fans haven't seen almost all season. They kept it simple. They drove the net. They dumped pucks in and fought in the corners. They hit, they skated hard every shift and they played great in the defensive end. Nolan, in particular, foiled a glorious three-on-two chance in the slot for the Islanders' Frans Nielsen Saturday with a great back check.
It's a welcomed change to see such simplicity and work ethic equal success. And it seems to have sparked Mike Richards as well. 
Andrei Loktionov, has had a season that disappoints a lot of Kings' faithful. The gifted young playmaker entered the weekend with a donut in the goal column and only four assists. However, Kings coach Darryl Sutter has praised Andrei for his hard work—regardless of results.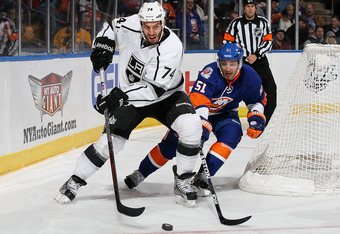 Jim McIsaac/Getty Images
The results did finally come, maybe in the flukiest of ways—but they came.
Loktionov benefited Saturday from having his stick in the right place at the right time, when a rebound shot from Kings' Dustin Brown hit his stick on its way wide of the net and deflected in. The goal would be the only goal of the afternoon.
Sunday brought no fewer flukes from the 21-year-old Russian. While cruising in front of the net, Loktionov took a puck off the shin from a shot by Kings' defensemen Jack Johnson that beat Kari Lehtonen.
Loktionov registered his first-two goals of the season without registering a shot. But confidence is key—and maybe this can get him going.
The simple theme in all three of these kids' good weekends is simplicity. Get to the net and good things happen. Work hard and it will pay off.
Perhaps the Kings should look no further than those types of plays and that mantra for the rest of the season, if they want to continue holding a playoff position.
It's also great to see the Kings' rich pipeline still at work, producing effective NHLers like King, Nolan and Loktionov. Hopefully this is the first of many successes from here on out for the young trio out west.