Report: Chicago Cubs Likely Out on Yoenis Cespedes, in Hard on Jorge Soler
February 13, 2012

Jeff Bottari/Getty Images
Following their signing of Gerardo Concepcion, MLB.com's Joe Frisaro reports that the Cubs are effectively out on Yoenis Cespedes, but willing to spend big on Jorge Soler.
The trio of Cuban defectors have riled up a lot of interest. Cespedes's scouting video and World Baseball Classic appearances have given the baseball world much to talk about, as there's a much larger familiarity. A fellow outfielder, Soler has been considered the consolation prize for teams unable to sign Soler.
Concepcion, a 19-year-old left-hander, was signed by the Cubs for a reported $7 million, with another potential $1 million in performance bonuses. Last season, Concepcion won the Rookie of the Year in the Cuban Serie A, a league considered to be of a talent level somewhere around High-A or an independent league like the American Association or old Northern League of the '90s and 2000s.
Soler, also 19, is seen as potentially having more upside than the highly-touted Cespedes, but as being further away. Due to the seven-year age difference, this is to be expected. However, Soler is seen as being a huge potential signing all the same.
Frisaro's report states that the Marlins have come out as the leading contenders to sign Cespedes. Jason McLeod, the Cubs' Executive Vice President of Scouting and Player Development, wants Cespedes to get at least 100 at-bats in the minor leagues before he comes to the major leagues, which may turn the Cuban defector away from the Cubs. He wants to be on a major league roster from day one.
As such, the Cubs are wisely turning away from Cespedes and preparing a massive offer to Soler. Frisaro's report states that multiple sources have the Cubs ready to spend a whopping $27.5 million on Soler.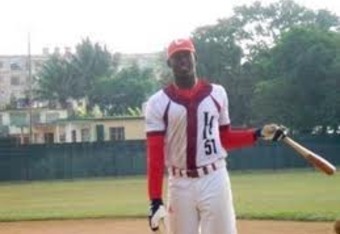 Bringing Soler into the fold would make much more sense than Cespedes. With an already full starting outfield in place, Tony Campana and Reed Johnson as backups and Dave Sappelt waiting in the wings at AAA with Brett Jackson, Cespedes wouldn't have a clear spot.
Soler, on the other hand, could develop and step in after a few seasons in the minors. While his price will be high, logic would easily point to the Cubs getting no less than seven years of team control on Soler. Once Soriano's contract is finally up, the hope would be that Soler will be ready to take over and perform.
It's still all a waiting game, but exciting nonetheless. With spring training right around the corner, rumors should heat up, and the pair of Cuban outfielders should have their contracts finalized very soon.
UPDATE: Cespedes signed a 4 year, $36 million contract with the Oakland Athletics on Monday.