USC Football's Junior Day 2012 and Top 2013 Recruits the Trojans Offered
February 13, 2012

A week ago I wrote about the latest scholarship offers extended to recruits from Trojanland.  Well, since then, Coach Lane Kiffin and staff have been busy.
On Sunday, February 11, USC held its Junior Day, where over 100 of the West's top prospects attended. A select few left Los Angeles with coveted invites to play for one of the nation's premier programs. And many of these future scholar-athletes are highly skilled prospects that USC football needs if they are to fill much needed vacancies on a restricted roster that depletes faster than other NCAA roster due to its sanctions and its annual 15 scholarships-a-year limit.
Top names to familiarize yourself with over the upcoming recruiting year are listed below, in order of priority.
Running back:
The big name to get an official offer was Justin Davis (ESPN.com). Davis is 6'1", 195 lbs. He holds offers from Michigan and Oklahoma among others top suitors. Heralding from Stockton, CA, USC hopes to keep this kid in state and land a top running back. Davis is an absolute must for USC and they showed it by asking him to become a Trojan.
Defensive Line:
Joe Mathis, 6'4", 250 lbs, from Upland, CA, also earned a scholarship offer to play for the Trojans (ESPN). Listed as a defensive end, Mathis could continue growing and move inside to tackle, the position the Trojans need to stock up on this year. It would be a bust, to say the least, if USC cannot secure the commitment from a kid who attends Upland High School.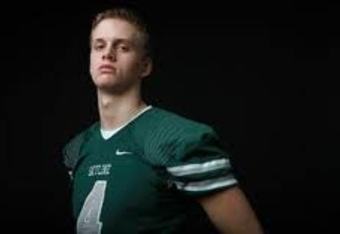 Defensive Back:  
Cornerback John Johnson, from Fresno, CA, also received an offer on Sunday. Listed at 5'10", 175 lbs (247sports.com), Johnson also holds scholarship offers from Stanford and Colorado State. 
Quarterback:
Max Browne (6'5", 204 lbs) made the trip from Skyline, Washington to participate in Junior Day. As anticipated, he received an offer from Kiffin and Co. (ESPN.com)
It's no secret USC wants to take at least one quarterback for its 2013 class, and Browne would be a huge get.
Will USC eventually sign all four of these prospect? Hopefully, yes. Three of the four are in California, with Max being the only one from out of state. Nevertheless, since all are in the west region of recruiting, USC needs to reclaim its monopoly of gathering the lion's share of the west's elite talent annually, leaving the rest of the Pac-12 to scavenge for the remains.
Notables who did not get offered but are still being recruited by USC are offensive tackle Nico Falah, 6'5", 270 lbs from St. John Bosco High. 
Also, Moreno Valley, CA wide receiver Demore'ea Stringfellow, 6'3", 190 lbs from Rancho Verde High School.
Overall, Junior Day was productive for the Trojans as they found key figures to pursue for its 2013 recruiting class.