Jake Ellenberger Talks Diego Sanchez, Fighting in Omaha, Title Shot and More
February 14, 2012

Growing up, UFC welterweight Jake Ellenberger (26-5) had it all—loving parents, an older brother, and even a fraternal twin.
However, it wasn't until October of 2009 when Ellenberger's life would change after finding out his twin brother Joe was diagnosed with paroxysmal nocturnal hemoglobinuria, also known as PNH.
Jake, the youngest twin by exactly one minute, recently sat down with Bleacher Report and shared his childhood upbringing and the rare disease that almost took his from brother away from him.
"Growing up with Joe was always really competitive. Basically every time we did something together it was a competition," laughed Ellenberger. "Needless to say, there was a lot of fighting and wrestling going on between the two of us."
"There was a lot of ultimate submission wrestling in the living room. When you're young, it wasn't cool to get along but we grew up and got a lot closer," said Ellenberger. "But it was definitely always competitive."
Jake, like the rest of the family, grew up knowing nothing about the disease called PNH.
But, just a little over two years ago, everything in the Ellenberger family would change as life stood still.
"When I found out my brother was diagnosed with this, it was definitely life-changing. You know, it was something extremely hard to deal with not just for us but our family," stated Ellenberger. "It was something that was really tough to even explain."
"If anyone can overcome this, it's definitely Joe. We believe strongly that God will only give us what we can handle. Joe's definitely moving forward and pushing through adversity," said Ellenberger. "I really admire that about him."
Through determination and a will to succeed, Joe was able to overcome the odds and continue training in the world of mixed martial arts with his brother.
However, if you had told Ellenberger years ago that he'd be fighting for a living, he would have said you're crazy.
"Joe and I both actually fought the same time on the same night for fun the first time," said Ellenberger. "We were just fans of the sport and thought it would be a thrill, so we decided to fight."
"We just kind of went from there. I was definitely our competitive nature and we got hooked to it. We loved it and wanted to do it more and more," shared Ellenberger. "Joe came out of college as a wrestler and I started training as well."
Ellenberger's success has led him to headlining UFC on FUEL TV, which will take place in his hometown of Omaha, Nebraska on February 15th.
"It's humbling for sure. It's really an honor anytime you can headline an event for the UFC. I've worked really hard to get to where I'm at today, and the UFC will take care of you for that," stated Ellenberger. "They will market you and help promote you if you're successful."
"It's awesome being in Omaha, where I was born and raised. Being around family, friends and familiar faces is always nice. I not only get to represent the sport, but the Midwest," said Ellenberger. "It's an honor."
When action begins in the final bout of the evening at the Omaha Civic Auditorium, Ellenberger will be taking on the scrappy Diego Sanchez (23-4).
"You know, a lot of people like to say someone's better at this and someone's better at that. But, I don't think anyone has an advantage anywhere when it's time to fight," said Ellenberger. "Both guys are training to win and do whatever they can to finish."
"I'm not looking past Diego at all. He's a warrior and he's well prepared. I'm not expecting an easy fight at all," stated Ellenberger. "I've done everything I can to prepare and I know I can come out on top and be victorious, but it won't be an easy fight."
As for the outcome of the fight?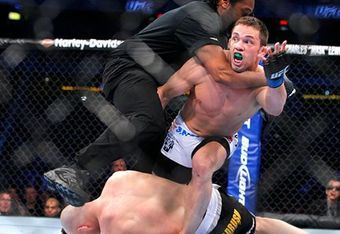 "It's really hard to say for this one. He's shown in the past he can stay in a fight for the whole length of time. I'm not really worried what he can do but what I can do. I'm definitely going to use my strengths in my stand-up for this fight.
"I always plan for the worst-case scenario," shared Ellenberger. "I'm preparing for a long three-round fight, but anything shorter, I'll be really happy with."
Many believe a win over Sanchez could be enough to earn "The Juggernaut" a title shot in his upcoming bout.
Ellenberger would agree.
"Yeah you know, it's definitely possible. I really haven't been thinking about that too much to be honest. It's definitely my goal and where I want to be. That's what I'm working for every day," stated Ellenberger. "I got Diego Sanchez in front of me, so I got to get through him and prove that I'm worthy of that title."
Whether Ellenberger earns his much-desired title shot with a win or not, he knows it will come when the time is right.
Until then, the rising star will continue to work hard and keep the drive that's allowed him to get to this point in his career.
With the help of others, Ellenberger believes the sky is the limit.
"Riley Ross has been my strength and conditioning coach for a long time. He's been a great friend of mine and has really helped a lot in my career," said Ellenberger. "Mark Munoz has also been not only a training partner of mine but a great leader in my life."
For additional information, follow Garrett Derr on Twitter .