Los Angeles Dodgers: 10 Players Most Likely to Make the Biggest Impact in 2012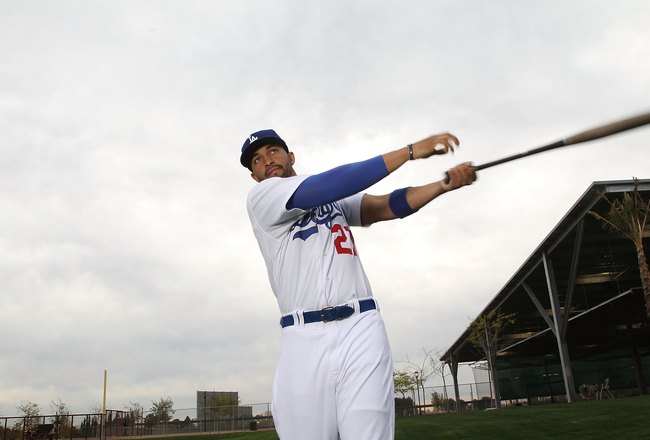 Jed Jacobsohn/Getty Images
When the 2011 baseball season came to an end, the Los Angeles Dodgers found themselves sitting 11.5 games behind the first place Arizona Diamondbacks with a record of 82 wins and 79 losses. They were essentially a .500 team and finished third in the NL East.
Needless to say, they did not make the postseason.
There are many reasons to remain optimistic about this Dodger ball club, though. First and foremost being the fact that they are young and talented. Sure, the ownership issue has not yet been finalized. That argument is neither here nor there, a fight for another day.
Today, the important thing is to look at the team that will be taking the field at the start of the 2012 campaign. There are several players who a primed and ready for a great season. Hopefully all of these players hit their strides early and often.
For now, here is a list of the 10 players that you will likely see have a big impact in 2012.
Matt Kemp, Center Field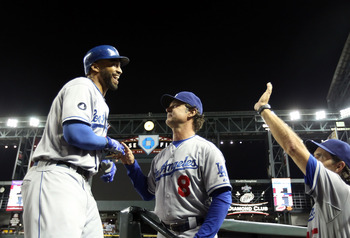 Christian Petersen/Getty Images
Ladies and gentlemen, can I please have your attention? I've just been handed an urgent and horrifying news story. I need all of you to stop what you're doing and listen...
Matt Kemp is really freakin' good.
So good, its scary. The man that many believe was robbed of the 2011 NL MVP award will be back with a vengeance this season and in my opinion, with a chip on his shoulder having lost out to an accused steroid user in Ryan Braun for the personal accolade.
Kemp's 2011 was off the charts. He brought home an All-Star game appearance, Gold Glove Award and Silver Slugger Award while finishing second in the MVP voting. He led the NL in runs (115), home runs (39) and RBI (126).
He is only 27 years old. The man is just hitting the prime years of his career. Expect great things from Kemp this season, including and NL MVP award.
Clayton Kershaw, Pitcher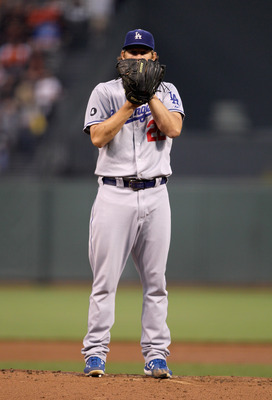 Ezra Shaw/Getty Images
Here's a quick math problem for you to solve: What does 21 plus 2.28 plus 248 plus 0.977 equal?
Answer: around two years and $18.5 million.
The 2011 NL Triple Crown winner continues to improve year after year, each season adding more wins while lowering his WHIP and significantly improving on his ERA. The 23-year-old Kershaw has unlimited potential moving toward the 2012 season.
In 2011, Kershaw led the NL in wins (21), ERA (2.28), strikeouts (248) and WHIP (0.977) in 33 games of service. He proved that he is a workhorse by throwing for 233.1 innings as well.
The Dodgers have something truly special in Kershaw. He'll be the anchor for this pitching staff and has solidified himself as big-league ace by all accounts.
Andre Ethier, Right Field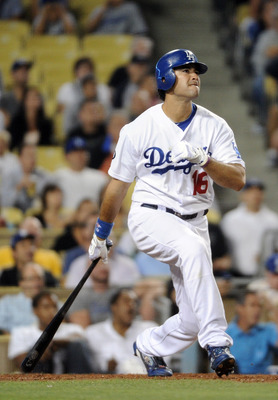 Harry How/Getty Images
It is hard to label Andre Ethier as a wild card considering his career statistics, but the fact of the matter is that he will retain that title until his bat shows up in 2012.
Looking obtusely at his 2011 statistics, he had a fine season by many accounts. That is how statistics have a way of lying to you.
Yes, Ethier had a solid .292 batting average and .368 OBP, his SLG was down, as was his OPS. His power numbers seemingly dropped off the table.
Of his 142 hits, only 41 of them were for extra bases. He had no triples and just 11 home runs. His RBI total of 62 was the second lowest in his career. The only time he drove in fewer was his rookie year of 2006, which saw him hit home 55 runners.
Ethier will be turning 30 years old heading into the 2012 season. This is a contract year for the slugger as well. If nothing else, he needs to up his value for the free-agent market.
Though the Dodgers would be wise to lock him up long term, one way or another the team will reap the benefits of a solid season out of Ethier.
James Loney, First Base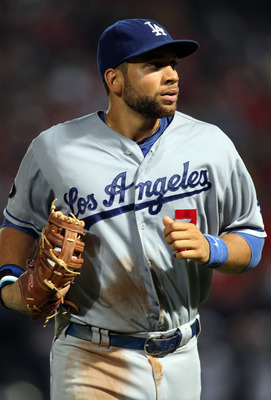 Joe Murphy/Getty Images
James Loney has already overcome one hurdle this winter, seeing his DUI charges dropped. With that in mind, he should have (theoretically) no off-the-field distractions to keep him from being productive this season.
Like Ethier, Loney is in need of a breakout season in 2012. While he has been fairly consistent throughout his career at the plate, the Dodgers need an offensive boost in order to compete this season. The obvious trend in baseball is the power-hitting first baseman.
While Loney has never proven himself as such, he could increase his value to the team by adding more doubles to his resume in lieu of his lack of home run depth.
Ideally, if Loney could bring 160 hits, 40 doubles and 15 home runs to the table in 2012, the Dodgers will be just fine.
Ted Lilly, Pitcher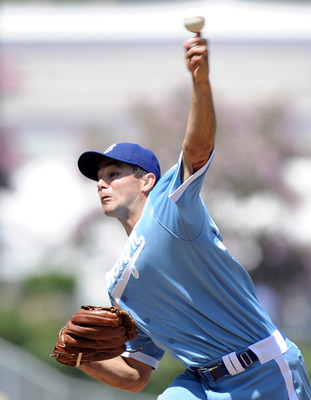 Harry How/Getty Images
Ted Lilly is a 13-year veteran looking to embark on his second full season in Los Angeles and improve upon his 12-14 record from 2011.
The 36-year-old put up a solid 3.97 ERA and an impressive 1.157 WHIP.
Lilly gives the Dodgers veteran depth as their No. 3 starter with 200-inning capabilities historically. True, he has not hit that margin since 2008, he always floats around 200 innings of service.
If Lilly can put together a performance similar to his 2009 All-Star season consisting of 12-9 record with a 3.10 ERA and 1.056 WHIP, the Dodgers would be very well served.
Chris Capuano, Pitcher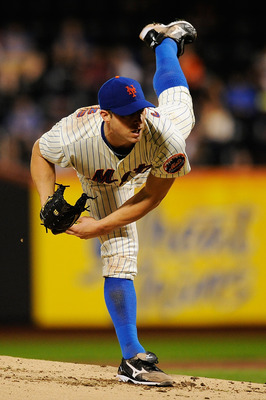 Patrick McDermott/Getty Images
Chris Capuano, the Springfield, Massachusetts native, signed a two-year deal with the Dodgers this winter with a third year as a mutual option.
Capuano gives the Dodgers three left-handed pitchers in their starting five.
After proving that he can be an asset to Major League clubs last season pitching in 33 games for the New York Mets, posting a record of 11-12 with a 4.55 ERA and 1.349 WHIP, Capuano is primed to bring his services to Los Angeles.
After having not one, but two Tommy John surgeries, Capuano has shown limited capabilities since 2006. If he can even sniff what he did back in 2005 (18 wins, 3.99 ERA, 1.384 WHIP on the back of 219 innings of work) the Dodgers will be beside themselves with joy, especially coming from their fifth starter.
Aaron Harang, Pitcher
Denis Poroy/Getty Images
Aaron Harang comes to L.A. via free agency after an impressive bounce-back 2011 outing for the San Diego Padres. Last season, Harang posted a record of 14-7 with a 3.64 ERA and 1.365 WHIP. Not too bad considering Harang was on the shelf for one month with a fractured foot.
When the Dodgers signed Harang, the loss of Kuroda seemed less significant. While Kuroda had a better ERA (3.07) and WHIP (1.213), he also had more losses with a 13-16 record.
Harang is a workhorse and consistently pitches over 200 innings per season. That kind of arm is exactly the kind of guy the Dodgers needed to round out their rotation.
There is no reason to think Harang will have any type of significant drop off in 2012.
Matt Guerrier, Relief Pitcher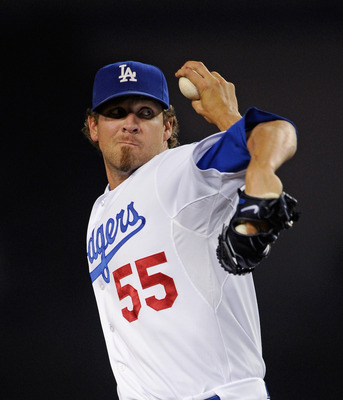 Kevork Djansezian/Getty Images
Matt Guerrier was a solid stopper in the bullpen for the Dodgers in 2011. The longtime Minnesota Twin appeared in 70 games for the Dodgers, posting a record of 4-3 with one save and 12 games finished with 13 holds.
With the added arms of Chris Capuano and Aaron Harang into the starting rotation, Guerrier will likely have a larger impact in 2012. He is capable of keeping games close bridging the gap to the closer.
As Guerrier gets more comfortable in the National League, his numbers will become better and better. In his first season in the NL, he posted one of the highest ERA's in his career at 4.07 with a slightly elevated WHIP of 1.266.
The team should expect him to settle down and bring that ERA back south of four and a WHIP in 1.150 range.
Mark Ellis, Second Base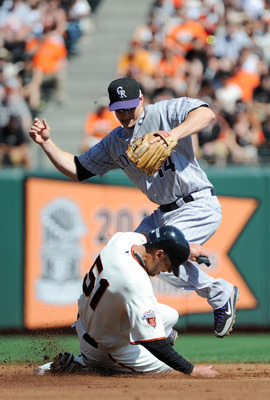 Thearon W. Henderson/Getty Images
The National League proved to breathe life into the career of Mark Ellis.
While Ellis has been a mainstay in the Oakland A's lineup since 2002, last season he was traded to the Colorado Rockies and literally came to life.
Ellis boosted his batting average, OBP, SLG and OPS significantly in just eight additional games.
Have a look:
| | | | | | | |
| --- | --- | --- | --- | --- | --- | --- |
| | G | AB | AVG | OBP | SLG | OPS |
| OAK | 62 | 217 | .217 | .253 | .290 | .544 |
| COL | 70 | 263 | .274 | .317 | .392 | .708 |
The signing of Mark Ellis could be a gamble, but the upside to a solid defender at second with some pop in his bat and the ability to get on base is well worth the $2.5 million the Dodgers are going to pay for his services in 2012.
Don Mattingly, Manager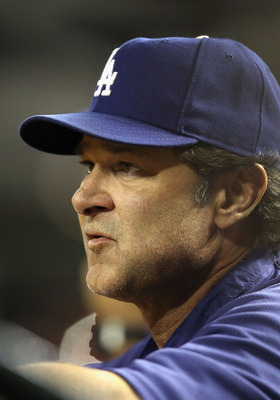 Christian Petersen/Getty Images
It is no secret that Don Mattingly's job could very well be on the line early in the season. With new owners coming in, they could very well want to replace Mattingly by bringing in a sexier name and former Dodger.
If the team starts slow, Donnie Baseball's tenure in LA could be over.
The key is for him to get the team starting hot and carry on that play throughout the season. Mattingly is capable. He is passionate about baseball and about this team in general.
Only time will tell.
Keep Reading

Los Angeles Dodgers: Like this team?