Michigan Football: Why the Wolverines Can Contend for a National Title in 2012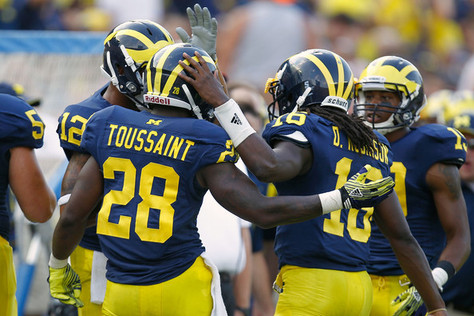 What Brady Hoke did for the Michigan Wolverines in 2011 has many fans exhilarated, and for good reason. In Hoke's first season, he led the Wolverines to only their fifth 11-win season in program history, the first win over Ohio State in seven years and the first BCS victory in 12 years.
With that said, there is no reason to believe that Hoke, who just landed a top-10 recruiting class, couldn't lead the Michigan Wolverines to a national championship in 2012.
Hoke's entire staff that he assembled going into 2011 remains intact (primarily Al Borges and Greg Mattison), his players are a year more experienced, and he has more depth coming in from his 2012 recruiting class.
It will certainly not be an easy ride for the Wolverines, with games versus Alabama (to open the season), Notre Dame, Michigan State, Nebraska and Ohio State. The Wolverines, though, have the potential to bring the first national championship back to Ann Arbor since 1997, and here's why.
Begin Slideshow

»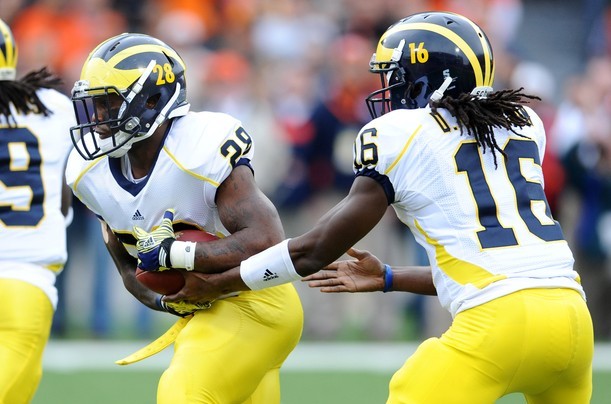 Who else would it begin with, really?
For the first time since the duo of Gordon Bell (my distant cousin) and Rob Lytle in 1975, Denard Robinson and Fitzgerald Toussaint both eclipsed the 1,000-yard mark in 2011.
The big surprise, however, was the breakthrough of Toussaint. Going into the 2011 season, and even into the first few weeks, offensive coordinator Al Borges was still quite undecided on who the feature back would be in the Michigan offense.
Toussaint was splitting time with Vincent Smith and Michael Shaw in the first few weeks of the season, but was still putting up pretty good numbers. His production really exploded, though, in the Wolverines' game against Minnesota, in which he rushed for 108 yards on 11 carries and a touchdown.
In his final three games against Illinois, Nebraska,and Ohio State, Toussaint rushed for 450 yards on 76 carries; that is averaging six yards a carry against some of the best defenses Michigan faced all season.
The Maize and Blue have found their feature back.
In having a moderate change to an alternate offensive philosophy, Denard Robinson did very well at times. Of course, the junior QB had his struggles at times, but there is no doubt that Robinson is one of the most spectacular athletes in the game of college football.
With Robinson and Toussaint having another year of experience under their belts, this Borges-led offense will be in great hands in 2012.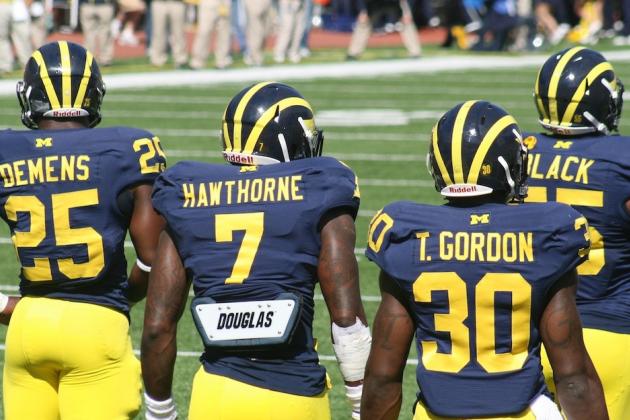 Brady Hoke and defensive coordinator Greg Mattison are quickly making Michigan what it used to be known for: defense.
Michigan had the 110th-ranked defense in the 2010 season, and in 2011 the Wolverines finished with the sixth-ranked scoring defense in the nation. The astonishing thing is that it was essentially the same personnel that made this extraordinary leap in just one season.
Who knew one guy would be able to improve a defensive group that in one year looked as if they didn't know where to line up at times to being the sixth ranked scoring defense in the land? Greg Mattison did just that.
In 2012, the Michigan defense should remain very solid. Unfortunately, with the graduations of defensive tackles Ryan Van Bergen and Mike Martin, depth may be an issue in the defensive trenches. Craig Roh is the only returning starter on the defensive line; he recorded four sacks in 2011. Jibreel Black is likely to be opposite Roh on the defensive line. The interior will be led by Will Campbell and Quinton Washington.
Senior Kenny Demens leads a fierce and upcoming corps of linebackers, though. He is followed by Jake Ryan and Desmond Morgan—both had phenomenal freshman seasons. Brandin Hawthorne will likely make a big contribution as well.
The Wolverines have excellent depth at linebacker.
In the secondary, the only player the Wolverines lose is Troy Woolfolk. Jordan Kovacs returns for the Maize and Blue to lead an experienced secondary along with J.T. Floyd and Thomas Gordon. Blake Countess will be a sophomore after having an extraordinary freshman season with 36 tackles and six passes broken up.
This defense has a lot of experience on it, and with Hoke and Mattison it will be one of the most disciplined defenses in the nation. As we all know, defense wins championships.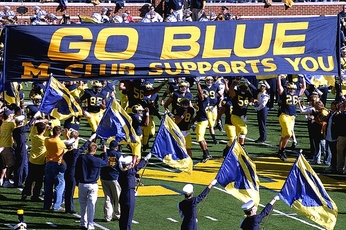 Brady Hoke and his staff didn't waste any time assembling this team into a legitimate powerhouse, and that goes without saying.
With a consensus top-10 recruiting class, there are going to be several players that not only make an immediate impact for the Wolverines, but add some great, much-needed depth.
Defensively, Hoke and Mattison understand that with such an experienced defense, it was time to hit the recruiting trail hard for defensive talent.
The Wolverines landed the No. 5 corner in the country in Terry Richardson, the No. 9 outside linebacker in Royce Jenkins-Stone, three top-25 inside linebackers and three top-25 defensive linemen.
Michigan is set on the defensive side of the ball for years to come. Rich Rodriguez's pathetic excuses for a defense will soon be a very distant memory.
Offensively, the loss of wide receiver Junior Hemingway is quite a blow. Hemingway was at many points in 2011 a bailout for Denard Robinson. Now receivers like Roy Roundtree, who had quite a disappointing year in 2011, and Jeremy Gallon must really step it up.
Although offensive skill players weren't exactly a point of emphasis in this year's recruiting class, fortunately Hoke was able to land two talented receivers in Jehu Chesson and Amara Darboh. Chesson stands at 6'3" and Darboh stands at 6'2", so size at the receiver position won't be lacking much.
Between the talent the Wolverines already have on both sides of the ball and the great recruiting class put together by Hoke and his staff, Michigan is primed for another big year—and potentially a national championship run.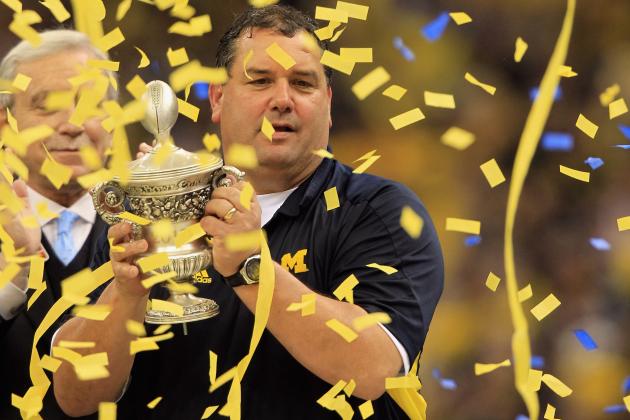 Matthew Stockman/Getty Images

Brady Hoke made what was a three-year nightmare under Rich Rodriguez all better in one season. Hoke had 11 wins in 2011, which is only four fewer than what Rodriguez had in three years at Michigan.
Before he even ran out of the tunnel with the Maize and Blue on Sept. 3, 2011, against Western Michigan, he showed the Michigan faithful he was serious about the job when he went out and nabbed Al Borges and Greg Mattison.
In his welcoming as Michigan's head coach, you could hear the commitment in his voice, the understanding of the richness of the Michigan tradition. He talked about how important it was to win the Big Ten Championship every year because "that's what's expected of Michigan." He talked about how important it was to beat Michigan's rivals every season, especially OSU.
After his speech, he led Michigan to an 11-2 season, a victory over Ohio State and a Sugar Bowl victory.
Sure, it's going to be a tough path to the national championship game in 2012—it always is. If there is one man that can lead his team there, though, it's Brady Hoke.