NCAA Tournament 2012: 10 Teams That Need to Finish Strong to Get in the Dance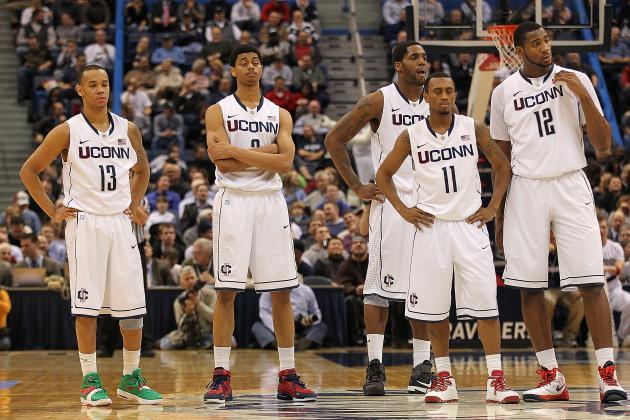 Jim Rogash/Getty Images

Selection Sunday is only one month away.
The next four weeks are vitally important for many teams if they are going to have a chance of making it to the 2012 NCAA Tournament.
This is the time of the year where so many teams play themselves into or out of the Big Dance.
Quality wins are a must. Taking care of business at home and on the road is essential.
Here is a list of 10 teams who need to finish the 2011-12 season strong to make sure they are dancing come March.
Begin Slideshow

»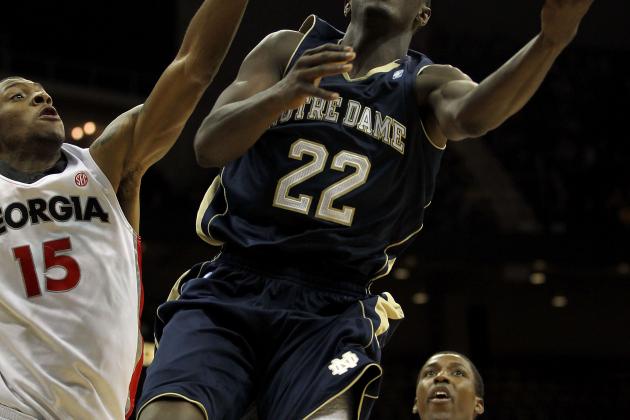 Jamie Squire/Getty Images

After Tim Abromaitis went down with a season-ending injury, many college basketball fans and commentators wrote off Notre Dame's 2011-12 season.
The Fighting Irish went 11-8 to open, and it looked like this was going to be a lost year.
But then, ND won six games in a row, starting with upsetting No. 1 Syracuse and following that up with wins over No. 19 UConn and No. 15 Marquette.
Jerian Grant (pictured), Eric Atkins and Jack Cooley have turned into a formidable outside-inside attack.
Out of the Fighting Irish's six remaining games, only a road contest against Georgetown on Feb. 27 would appear to be a challenge to this gutsy group.
Mike Brey's bunch has the chance of finishing out what would be a surprising season by going into the NCAA Tournament.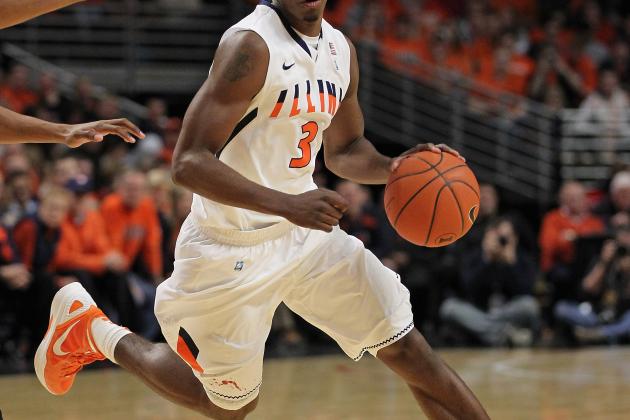 Jonathan Daniel/Getty Images

This has been a good news/bad news season for Illinois.
They started the season 10-0 and ready to take on the world.
Since then, the Fighting Illini have gone 6-9 (5-7 in the Big Ten), losing six of their last seven games.
But, in this stretch of mediocrity, Bruce Weber's bunch beat Ohio State and Michigan State.
Junior guard Brandon Paul (pictured) is doing a little of everything by leading the team in scoring (15.2 PPG) and assists (3.2 APG), and second in rebound (4.9 RPG).
Illinois still has road games against Ohio State and Wisconsin and a home matchup against Michigan.
Getting a quality win or two would surely help U of I's cause come Selection Sunday.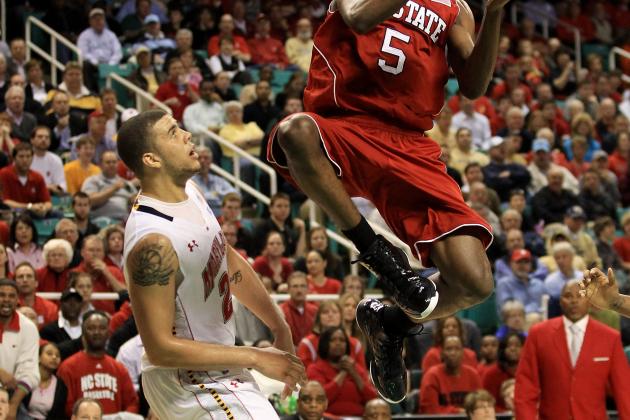 Streeter Lecka/Getty Images

Mark Gottfried is leading the Wolfpack in the right direction.
In 2010-11, NC State went a disappointing 15-16, only winning five games in ACC play.
With six conference games to play, North Carolina State has already surpassed last year's records by going 18-7 (7-3 ACC).
Unfortunately for the Pack, the last part of their schedule includes games at Duke and home games against North Carolina and Florida State.
Even if they win their final three games against Clemson, Miami and VT, NC State needs a "big win" to beef up their Selection Sunday résumé.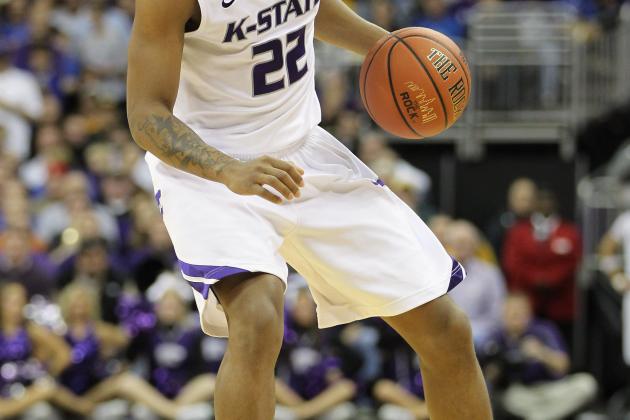 Jamie Squire/Getty Images

Junior guard Rodney McGruder is the Wildcats' leading scorer (14.6 PPG).
K State (17-8, 6-7 in Big 12) needs him and everyone else to step up as they enter a brutal part of their schedule.
After losing to Kansas, the Wildcats need to pick up an upset in one of their remaining road games against Baylor or Missouri.
Frank Martin's mob has their work cut out for them.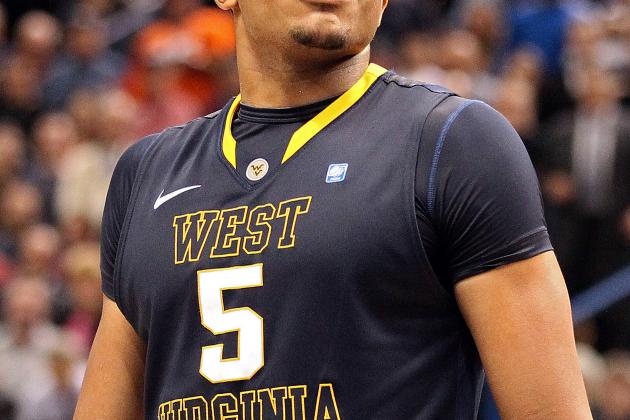 Jim Rogash/Getty Images

Three weeks ago, West Virginia was 15-5 and building momentum in the early stages of their Big East schedule.
Since then, the Mountaineers have gone 1-5, losing four of those games by a total of 15 points.
This has had a serious impact on their NCAA-generated RPI.
In just one week, they went from a Ratings Percentage Index of 25 to 41.
Kevin Jones (pictured; 20.6 PPG, 11.2 RPG) is a double-double beast (17 on the season). He's the kind of player that a team can ride for a long time.
Bob Huggins' squad has three of their last five games on the road, including Pitt and Notre Dame, as well as a home contest against Marquette.
If the ninth-place Mountaineers don't win at least three or four of these final five games, they will have to pull off some major upsets in the Big East Tourney just to make the Dance.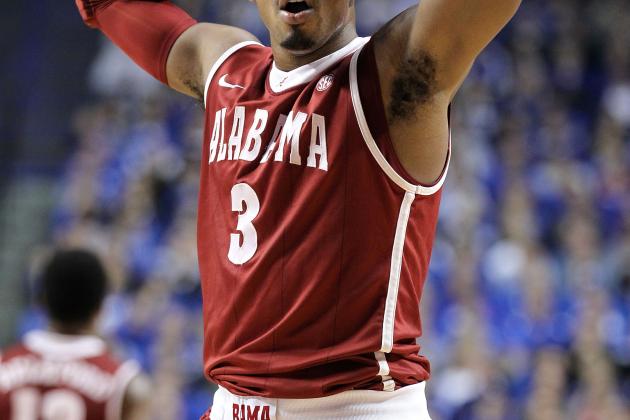 Andy Lyons/Getty Images

Alabama's season has been one of ups and downs.
They opened by winning their first seven games. Then, the Crimson Tide lost three of their next four.
'Bama followed that up with five consecutive wins, four successive losses and then three more wins.
But now they are facing challenges that go far beyond victories and defeats.
Head coach Anthony Grant suspended four key players before their last game against LSU, which they lost.
With these players' statuses being undetermined, freshman wing Trevor Lacey (pictured) may be counted on much more than he was just a week ago.
The Crimson Tide have home games against Florida, Tennessee, Mississippi State and Auburn, as well as road contests against Arkansas and Ole Miss.
'Bama's 31 RPI will remain strong as long as they pick up a handful of W's going down the stretch.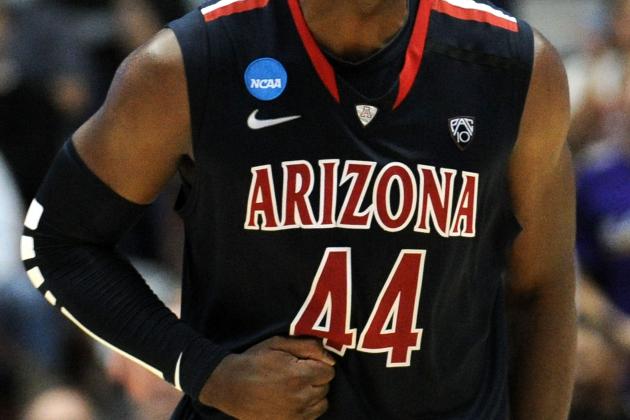 Harry How/Getty Images

The bar for Arizona was raised awfully high after last year when the young and inexperienced Wildcats made a surprising run to the Elite Eight.
This year, after the departure of Derrick Williams (Minnesota Timberwolves) and Momo Jones (transferred to Iona), the Wildcats are emerging (18-8, 9-4 in the Pac-12) as a late-season team to watch.
Junior forward Solomon Hill (12.5 PPG, 8.2 RPG) is a major catalyst on this year's team that plays three guards and two forwards most of the time.
This week's trip to play the Washington schools is crucial.
If the Cats can pull off an NW sweep, they will be in good shape finishing out the season. If they lose both games, then it's bubble city, baby. (Oops...didn't mean to slip into my Dickie V!)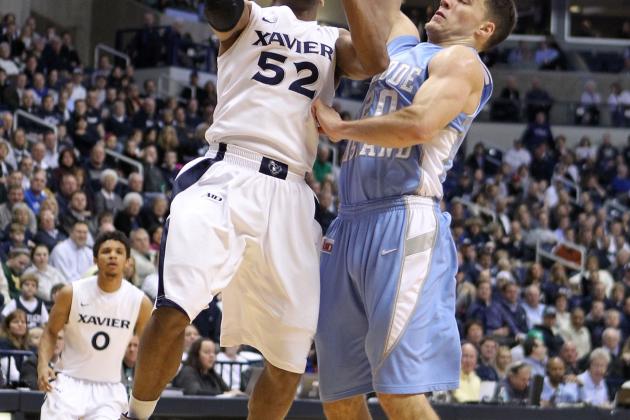 Andy Lyons/Getty Images

Xavier was the early-2011-12 season, mid-major darling, opening up with eight straight wins.
And then..."The Brawl" took place. The Musketeers and their crosstown rivals, Cincinnati, literally squared off with players on both sides being suspended.
Ever since that time, Xavier has not played like the same team.
Instead of standing tall as a part of the Top 25, Xavier is tussling with a 16-9 record and currently sitting in fourth place in the Atlantic 10.
The Musketeers' RPI is falling (57 currently; 53 last week), and that's not a good thing to say in February.
Tu Holloway (pictured) is still one of the best scoring PGs in the country (16.6 PPG, 3.5 RPG, 5.6 APG), but even he will have to step his game up considerably if Chris Mack's crew is going to be dancing in March.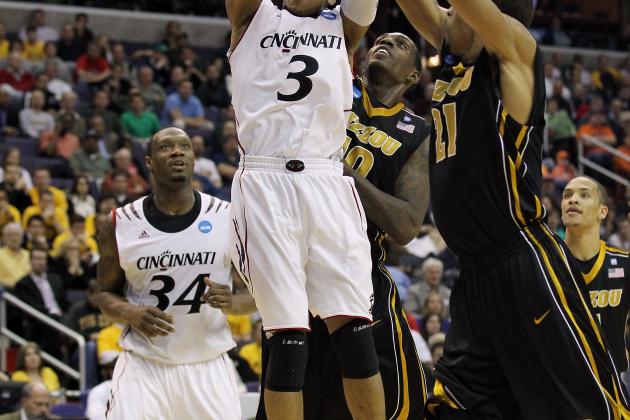 Nick Laham/Getty Images

On the other side of "The Brawl" were the Bearcats of Cincinnati.
They've actually played better after the smoke cleared and the dust settled.
Cinci is 12-5 since they squared off against Xavier, but their problem is that their RPI is an awful 92.
As much as they've somewhat improved as the season has gone on, they are still being impacted by a mind-boggling, RPI-destroying home loss to Presbyterian in November.
Dion Dixon (pictured), Sean Kilpatrick and Yancy Gates are the kind of trio that could carry their team through the stretch and into the Big East Tournament, and somehow grab the Selection Committee's attention enough to get an at-large bid.
The Bearcats just have a lot of climbing to do in a short amount of time.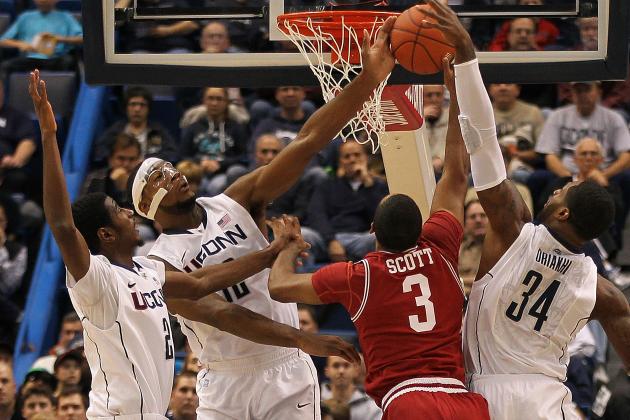 Jim Rogash/Getty Images

When this season began, did you even think that it was possible for this UConn team to be in "must win" territory with a month to go until Selection Sunday.
After the Huskies added an elite-level recruiting class to a talented returning team, many college basketball fans and commentators penciled Connecticut in for a trip to the Final Four in New Orleans.
But Jim Calhoun's crew (15-9, 5-7 in the Big East; 10th place in the conference) has been struggling as of late, losing six of their last seven. And Calhoun's own health condition is in question, as he is on an indefinite medical leave of absence.
The talent and firepower are here. Jeremy Lamb and Andre Drummond are future NBA lottery picks.
Shabazz Napier and Ryan Boatright can light it up with the best of them.
It just seems that they can't get it all in sync lately.
The good news for the Huskies is that four of their last six games are at home.
Two crucial home matchups to watch will be Feb. 18 against Marquette and Feb. 25 against Syracuse.
Six times in NCAA Tournament history has the reigning champ not made it to the Tournament the following year.
Could this year's UConn team make it seven?