Alabama Football: 7 Things Holding the Tide Back from a Repeat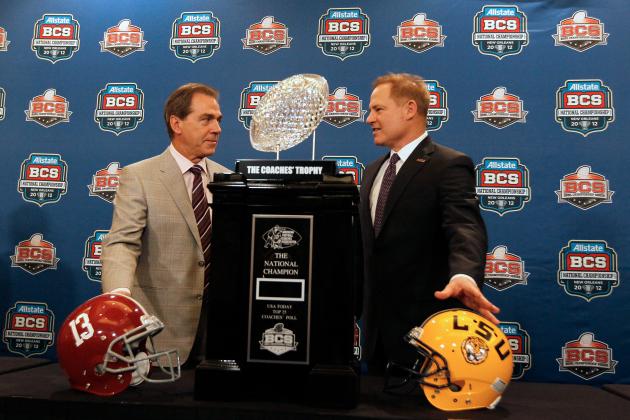 Kevin C. Cox/Getty Images

To say that Alabama has no shot at repeating as national champions would be a foolish claim. That doesn't mean that the odds are not stacked against them, however, because they are.
From the competition they face to the personnel turnovers, the Tide's chances of winning the national championship in 2012 are a whole lot less likely than their odds in 2011.
One thing is certain about 'Bama's odds. I'd boldly wager there are about 100 or so FBS teams that would trade their chances for the Tide's in 2012.
Here are seven things that could (not will) make 'Bama's repeat hopes a pipe dream.
Begin Slideshow

»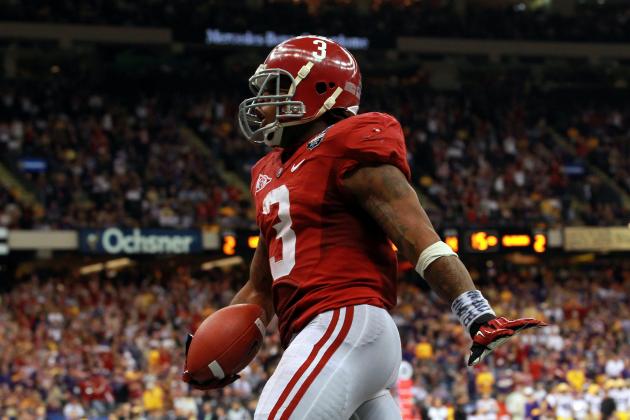 Ronald Martinez/Getty Images

First and certainly not least, there are the personnel turnovers. With great success comes great personnel losses. Teams like Alabama lose a lot of juniors early to the NFL, but at least it helps with recruiting, right?
The team is losing seven starters on defense and multiple key backups, such as Nick Gentry.
Fortunately for the Tide, safety Robert Lester will be returning next year, ensuring that all three pieces of the defense will have solid, experienced leaders.
There will be growing pains in the defense next year that could cost the team a game or two.
Offense isn't seeing as big a turnover, losing only five starters. Trent Richardson is the only loss that will hurt, as the other positions have outstanding replacements.
The offensive line is returning four starters and only lost William Vlachos.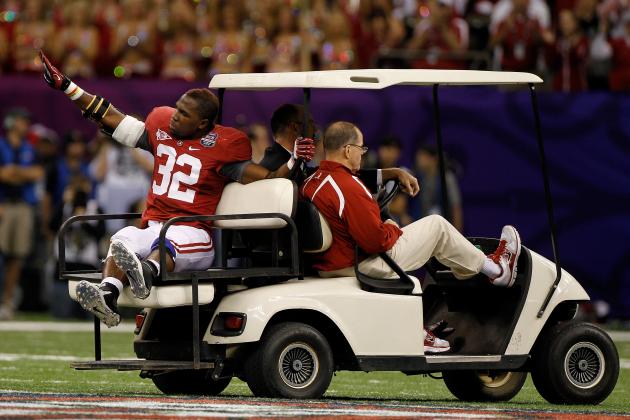 Chris Graythen/Getty Images

Of all the injuries that occurred last season, there are several that could have painful, lingering effects in 2012.
Cyrus Kouandjio and his brother Arie both had season-ending knee injuries. They both weigh over 300 pounds and at that size, it can be very difficult to make a full recovery in less than a year.
Eddie Lacy's turf toe should be fully healed by next year, but it's a condition that is notorious for chronic relapses.
Linebacker C.J. Mosley suffered a dislocated elbow and a dislocated hip in 2011. Dislocated joints have a much higher risk for becoming dislocated again. Hopefully he doesn't experience this, as the defense is really going to need him.
There's also Will Lowery, the Tide's primary nickel back. He tore his ACL against Georgia Southern. He has a very short amount of time to recover from it and will certainly miss all of the spring practices and possibly a good portion of the fall practices—or more.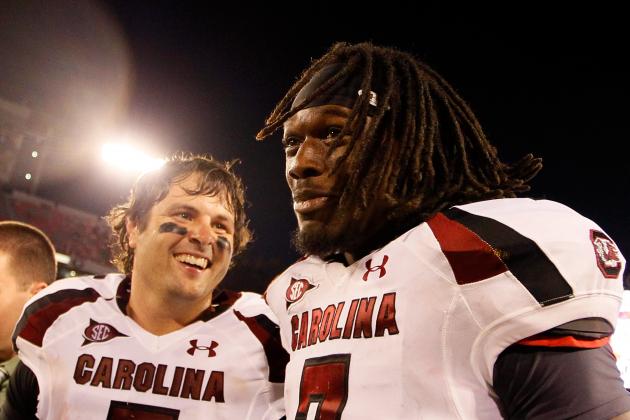 Kevin C. Cox/Getty Images

A lot of critics said the SEC basically sucked this year. They were right. The conference was very top-heavy this year, with Alabama, LSU and Arkansas being about the only quality teams.
All the other teams were rebuilding and struggling.
Next year will be a different story, specifically in the SEC East with Georgia, Florida and South Carolina. Alabama doesn't face any of those teams in the regular season but could easily meet them in the SEC Championship Game.
The SEC is going to be quite tough next year.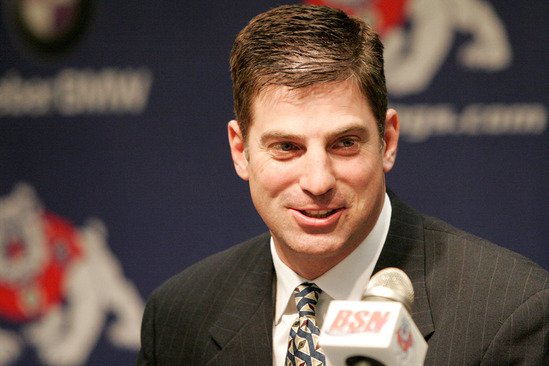 Doug Nussmeier.
The Crimson Tide needs to make a seamless transition from Jim McElwain to the new offensive coordinator, Doug Nussmeier.
McElwain was criticized quite often for his play calling, but he got the job done and the team won two national championships and a Heisman Trophy.
Nussmeier seems like a great choice, but how well will he transition from the porous defenses of the Pac-12 to the nightmarish, suffocating defenses of the SEC?
He needs to make a splash in his first year.
The team also lost linebackers coach Sal Sunseri, one of the most underrated coaches on the team.
The linebacking corps has been the biggest strength of the team for years. How will they fare without Sal while trying to replace Courtney Upshaw and Dont'a Hightower?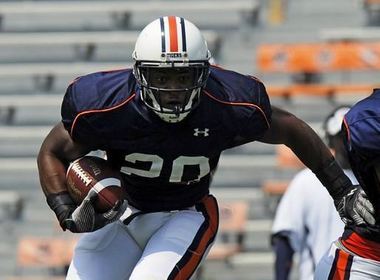 Ex-Tide player Corey Grant.
It's not popular to mention this, but Alabama is certainly at risk for some personnel losses due to transfers.
When a team is as deep as Alabama, there will be some stud benchwarmers getting restless.
Hopefully, Nick Saban and crew will be able to keep all the boys in crimson jerseys. If not, depth issues could abound in 2012.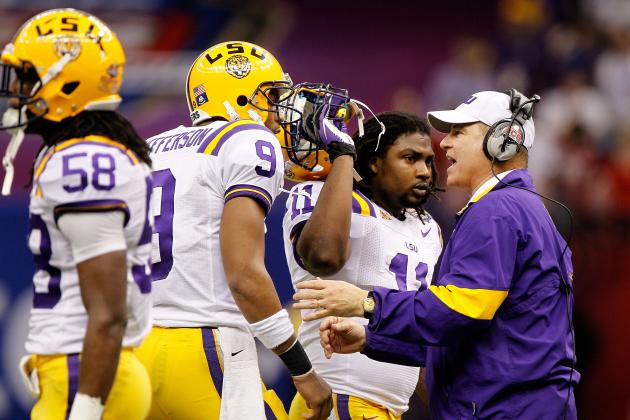 Chris Graythen/Getty Images

Alabama may have embarrassed LSU in the national championship game, but expect the Bayou Bengals to come back in 2012 with a vengeance, and probably with a real quarterback this time around.
Both 'Bama and LSU will be beating the crap out of the SEC next year, but another regular-season loss to LSU will certainly crush any repeat hopes.
Alabama has to face LSU on the road, and the history of games played means nothing. Both teams have a habit of beating each other on the road, but that has absolutely no effect on the 2012 showdown.
The worst part is that LSU has a bye week before the game while Alabama must face Missouri, Tennessee and Mississippi State in a row before they play LSU.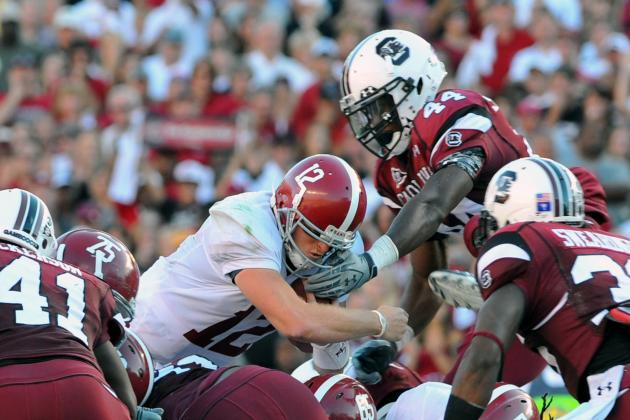 Al Messerschmidt/Getty Images
South Carolina hit the bullseye back in 2010.
Every team circles Alabama on their calendar and puts a little too much preparation into their game plan for the Tide.
Nothing paints a bigger target than two national championships in three years.
Everyone will be gunning for the Tide, especially the incoming teams, Missouri and Texas A&M.
Auburn could also pose a threat at the season's end. The Tigers will be upset-minded and they just might have a good team coming up that is returning almost all of their starters.
When someone's out to get you, you don't want it to be the SEC.