North Carolina Basketball: Why the Tar Heels Still Have Final Four Hopes
February 13, 2012

Grant Halverson/Getty Images
After beginning the season as an overwhelming favorite to win the 2012 National Championship, the North Carolina Tar Heels are now being cast aside as just another pretender. While the media has already minted Kentucky as the team to beat in March and April, UNC has the firepower to steamroll their way through the bracket and bring home the program's sixth championship.
With each month of the college basketball season, there seems to be a new reason why Roy Williams' club won't ever make it to the Bayou and the Final Four.
In November, the Tar Heels were handled comfortably by the UNLV Runnin' Rebels in Las Vegas, a team that people are now realizing are easily one of the top 10 teams in the country, and a threat themselves to win a title.
December saw North Carolina travel to Rupp Arena and lose to John Calipari's Kentucky Wildcats in a 73-72 thriller, where freshman sensation Anthony Davis blocked a John Henson shot to seal the victory. 
The near year gave fans another reason to doubt the Heels, when they suffered one of their worst losses in school history, a 90-57 trouncing against Florida State on the road. As if that week wasn't bad enough for the team, in the following game against Virginia Tech, Carolina lost their starting shooting guard Dexter Strickland for the remainder of the season with a torn anterior cruciate ligament. 
The final dagger for the media came last week at the Dean Smith Center, when Austin Rivers launched himself into Duke basketball lore with his buzzer-beating triple as time expired. Since the loss, the public has long forgotten about North Carolina, celebrating Kansas, Missouri, Syracuse, and Kentucky as the teams who look like front runners to win a championship.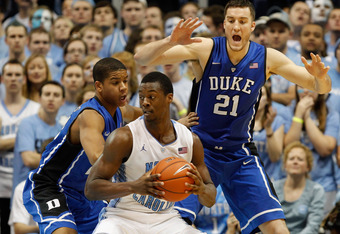 Streeter Lecka/Getty Images
The Tar Heels are now in a perfect position to start their quest for a national title, and there are several reasons why the Duke loss has awoken a sleeping giant who could crush each of their remaining opponents on the way to the Superdome.
Star forward Harrison Barnes has elevated his game to another level since the Duke loss. While he has been bashed for lacking a killer instinct and not showcasing all of his tremendous talents this season, he is playing his best basketball of the season at the right time.
He dominated the Blue Devils last week, a team known for their defensive prowess each year under Coach Krzyzewski. The 6'8" future NBA star scored 25 points on a variety of impressive moves throughout the game, showing that when he is honed in on an opponent, nobody in the country can stop him.
He followed that game with 14 points and 11 rebounds in UNC's 70-52 win over a ranked Virginia Cavaliers team. Keep in mind that Barnes is also still mending a sprained ankle that he suffered two weeks ago against Wake Forest.
Once his ankle is again at 100 percent, it will be scary for opponents who are trying to defend him. He now looks ready to carry North Carolina the rest of the season.
One of the key ingredients necessary for a team looking for a way to make it through the bracket in March is having an outstanding point guard. North Carolina has one in Kendall Marshall. While he may be overshadowed by the team's three frontcourt stars, he has been playing good basketball all season, and more importantly, he is a pass-first point guard.
He is averaging 9.6 assists each game, and knows exactly when each of Carolina's star players should be getting the ball. That is crucial for a team playing in close games in the NCAA tournament, which will happen at least two times.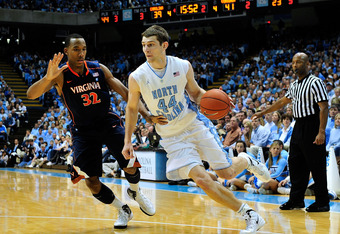 Grant Halverson/Getty Images
Veteran leadership is also key to teams who are daydreaming of taking home the ultimate trophy. Twin towers Tyler Zeller and John Henson have a combined seven years of playing experience at the college level, as well as a national championship and an Elite Eight appearance. The duo know what it takes to win in high pressure situations, and will shoulder the majority of the load after the brackets are released.
Freshman James Michael McAdoo is stepping up his game at exactly the right time for North Carolina, and will play an increasing role for the team the rest of the season. Although he is only playing between 15 and 20 minutes each game, he is highly productive in those minutes. 
Against Virginia on Saturday, he scored nine points and grabbed seven rebounds in 18 minutes, while getting to the foul line several times. He is a fresh body off the bench who is extremely active and brings a momentum boost when Carolina needs it most. Don't underestimate his value in the team's quest for a title.
What may be most crucial to the Tar Heels run for a seventh championship in program history is the play of sophomore Reggie Bullock. The 6'7" shooting guard is a streaky shooter who can get hot at any time from long range. He also brings more help rebounding the ball and has been effective running in transition for easy baskets. As he settles into the starting position with more experience, his game will only improve.
While naysayers will give countless reasons as to why the North Carolina basketball team will falter in the NCAA tournament, there are just as many reasons to believe they will make it to New Orleans. The team is a seasoned group of veteran leadership, professional talent, and energized youth, a blend that could spell doom for any opponent in their way over the last two months of the season.