Joe Ellenberger Talks His Rare Blood Disease, Titan Fighting 21, and Family
February 13, 2012

By now, many are familiar with rising star Jake Ellenberger who's on a fast track to the top of the UFC's welterweight division.
But if you're not familiar with his fraternal twin brother Joe, you will be.
Joe, the oldest twin by exactly one minute, will be squaring off on Friday, March 2nd at Titan Fighting 21 when he meets Jesse Zeugin in a lightweight showdown.
However, just a little over two years ago, Ellenberger was told that he may never fight again.
In a recent interview, Ellenberger told Bleacher Report of his rare blood disease that almost prevented him from having any physical activity for the rest of his life.
"In October of 2009 I was diagnosed with what's called paroxysmal nocturnal hemoglobinuria (PNH). I actually grew up never even knowing I had the disease. You know, I wrestled all the way through college and then began my MMA career," said Ellenberger. "I felt good and everything was going my way."
"When I got diagnosed with the blood disease the first thing they told me was the way people usually died which was from a blood cot in the brain, lungs or heart. So, that was a big worry for me," stated Ellenberger. "They put me on blood thinners right away and that prevented me from participating in anything physical."
"That was an extremely hard thing to hear. My doctors told me they didn't know if I'd ever be able to participate in contact sports for the rest of my life. I wasn't built for a desk job. I was engineered to do what I'm doing now," said Ellenberger. "That was a tough thing for Jake and I to handle."
Despite the small percentage of overcoming the odds, Ellenberger was determined to continue his career.
And, while his disease may never leave, Ellenberger continues to battle and doesn't miss out on an opportunity to be thankful for everything he's been given in his life.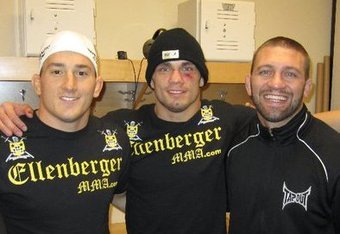 "I still have it but I'm doing a lot better. I'm on medication right now that protects my blood cells from dying. I still have a low red and white count compared to the average person," shared Ellenberger. "But, it's not so low to where I can't fight but it's definitely lower than the majority."
"It may put me at a slight disadvantage but I believe I make up that disadvantage through hard work," said Ellenberger.
Ellenberger continues to defy all odds and will look to bounce back from the first loss of his mixed martial arts career where he fell to Justin Salas in October of 2011.
"It was hard to lose my first fight but I think I was going through much more than that fight and losing. It was the first time I made 155 in two years so my body was much different than what it ever was before," said Ellenberger. "A lot of changes were being made before, during and after my fight in regards to my weight cutting."
"I think I'm a better fighter than he is but he was the better man that night. Justin's now getting the opportunity he deserves to fight in the UFC," stated Ellenberger. "I think I beat him 364 nights of the year but you can't take anything away from him."
Now slated to take on Zeugin in less than a month, Ellenberger is more than ready to get back to action and move closer towards his goal of becoming a world champion.
Ellenberger is more concerned with taking one fight at a time and letting the rest take care of itself.
"I like to think any fight that I sign I have the upper hand heading in. I have an engineered game-plan to win. He wrestled at a good Division II college so I know he's tough and he'll come to fight," said Ellenberger.
"I like to think my hands are a little bit better and faster. I think I can hit a little harder as well," stated Ellenberger. "So, I'll rely on my stand-up rather than my wrestling this time."
When asked if a win over Zeugin would be enough to solidify his reservation to the UFC, Ellenberger calmly stated,
"My goal isn't necessarily to be in the UFC, it's to be a world champ. There's smaller goals along the way that I'd like to accomplish and the UFC is one of them."
"I will be working towards that goal. I can only control the things I can control though. I'm not worried about that right now. The rest will take care of itself like it always does."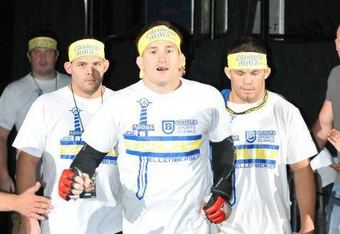 But, before Ellenberger can move closer towards arriving to the UFC, his younger twin brother will be squaring off with Diego Sanchez in the main event of the evening at UFC on Fuel TV I on Wednesday, February 15th.
Ellenberger wasn't asked whether or not he thought his brother and best friend would win but he did weigh in on the possibility of Sanchez being knocked out for the first time in his career.
"If Jake doesn't knock him out then rest assured, no one on the planet ever will."
As Ellenberger continues to progress in his career, he lives by one simple motto: "Training for Reigning."
"Mark Munoz is much better at explaining it than me but it's really just letting your training reign throughout entire life. I want it to show in my everyday life and not just in gym," said Ellenberger. "I'm letting it become my lifestyle."
"I want to make my life more efficient. You don't do things that are detrimental to your life or body. Never do anything to harm your existence," stated Ellenberger. "It's keeping your faith in God, lighting a fire in your heart and never giving up."
While Ellenberger has currently accomplished a lot over the course of his career, he realizes none of it would be possible without family.
"My family is really everything to me. My mom, dad and brother Adam have always been there to support me every step of the way. They've been a huge part of my life. My wife Vanessa has been there through thick and thin," shared Ellenberger. "Through the diagnosis and even before that."
"They've been there through it all and I wouldn't be who I am today without them."
To learn more about Joe Ellenberger, follow him on Twitter.
For additional information, follow Garrett Derr on Twitter .