NHL Trade Rumors: Lubomir Visnovsky and Defenders Sure to Be Moved
February 13, 2012

Jeff Gross/Getty Images
With the NHL trade mill getting hotter by the minute, there has been a serious focus by many teams to acquire defensemen.
With names like Lubomir Visnovsky and Jay Bouwmeester rumored to be on the move, the powers in the NFL could be shifted by the next few weeks worth of deals.
All of the following players will be on the move before the upcoming deadline, so watch to see which teams snag them and which organizations overpay.
Lubomir Visnovsky
With just 21 points in 41 games this season, the Anaheim Ducks have to be overly frustrated with the player that was an offensive machine last year when he had 68 points.
Anaheim is struggling to get things turned around and making a move that would send the offensive defenseman out may be the best way to not only shakeup the defense, but add something to the offense to spark the fire.
Teams like the Philadelphia Flyers will be dying to get their hands on a dual-threat like Visnovsky and may be willing to move a stellar young prospect.
Jay Bouwmeester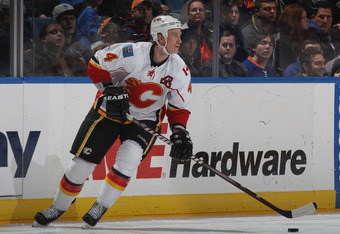 Bruce Bennett/Getty Images
With the Columbus Blue Jackets getting desperate to deal Jeff Carter, there may be a plethora of poor deals that have to go down before pulling this deal off would actually work.
The most likely deal to come to fruition will be the Calgary Flames cutting ties with overpaid defenseman Jay Bouwmeester. It's trading a mistake for a mistake.
As bad as both contracts are, each of these players would benefit from the change of scenery and each would help their new team more than their last.
Andy Sutton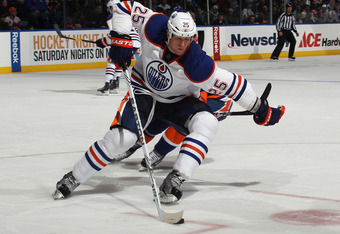 Bruce Bennett/Getty Images
While it's hard to understand how much the 36-year-old veteran has left in the tank, Andy Sutton will be a difference maker if a contending team can snag him off the market.
The Edmonton Oilers aren't going anywhere, so they will look to be sellers at the trade deadline once again. That means a team desperate for a defender could be sending another prospect to a team overflowing with potential.
Sutton may not be the flashiest defender on this list, but he is solid in his own end and isn't a liability. He is built for keep things in front of him and not letting his team down.
Check back for more on the National Hockey League as it comes, and check out Bleacher Report's NHL Page to get your fill of all things hockey.