2012 Big South Conference Tournament: UNC-Asheville Looks to Wear the Crown
February 26, 2012

Nick Laham/Getty Images
The Shakedown
It's the beginning to be the best story in college athletics, the cinderella story.
The Big South Conference has been nothing more than a doormat in the NCAA tournament the past few years but this year things could be different.
With conference tournament season right around the corner, its time to take a look at this year's pretenders and contenders in the Big South.
Who will wear the slipper, can anyone challenge Asheville, and what lower-seeded team has a chance to dance? Lets find out!
The Breakdown
1. UNC-Asheville 21-9 (16-2 Big South)
UNC-Asheville comes in to the Big South tournament as the overwhelming favorite. Asheville poses a major scoring threat lead by Matt Dickey (17.1 PPG) and J.P. Primm (14.9 PPG).
The Bulldogs are sixth in the NCAA with their average of 81.2 PPG. Despite being the favorite however, Asheville has been challenged throughout  conference play this year.
The Bulldogs lost to Charleston Southern on January 19th at home and have seven conference wins that were by single digits.  
2. Coastal Carolina 19-10 (12-6 Big South)
What looked to be a promising season in the Big South took a turn for the worse in February.
Coastal Carolina won just three games throughout February but has managed to grab the second seed. After being a favorite the past few years in the Big South, the Chanticleers will play a bit of the underdog role in this year's tournament.
Inconsistent conference play has most wondering if they can put together three wins in a row for a chance to dance. 
3. Campbell 17-14 (11-7 Big South)
The Campbell Fighting Camels may be the big challenge for the Bulldogs in the conference tournament. With a potential championship matchup looming, the Camels have plenty of confidence heading to Asheville for a chance to dance.
Campbell does have a road win at Iowa earlier this season that proves they can play with some pretty good competition. Campbell did lose the last three games, but have been working on resting players down the stretch.
I expect that Campbell will be ready in the Big South tournament. Campbell's last NCAA tournament appearance was 1992, where they lost to Duke 82-56.
4. Charleston Southern 18-11 (11-7 Big South)
Charleston Southern earned the fourth seed in the Big South tournament. The Bucs have won four out of their last five and seem to be putting things together at the right time. Charleston Southern also has impressive conference wins over Asheville and Campbell earlier this season.
If the Bucs can get past a scorching Liberty team, they could give Asheville fits in the semifinals.
5. Liberty 14-17 (9-9 Big South)
The Flames of Liberty sneak into the Big South conference tournament with the fifth seed. Led in scoring by seniors David Manaya and Jesse Sanders (12.8 PPG each), the Flames have the senior leadership to make some noise.
Despite a slow start in conference play Liberty has won seven of its last nine games and looks to carry that momentum into the tournament.
6. Winthrop 11-19 (8-10 Big South)
Winthrop is the most decorated team in the Big South. The Eagles made eight NCAA tournament appearances from 2000-2010. 2012, however, has been somewhat of a rebuilding year for Winthrop.
The Eagles have great upside and potential but have not proven that they can string together several wins at a time. It will be tough sledding for the Eagles if they have any hopes of getting past the quarterfinals of their conference tournament. 
7. Virginia Military 14-16 (8-10 Big South)
The VMI Keydets locked up the seventh seed for the Big South conference tournament. The Keydets' inability to win on the road will most certainly be their struggle in this tournament. VMI is 1-12 on the road this season.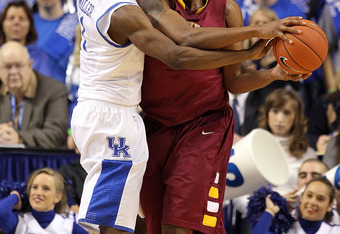 Andy Lyons/Getty Images
The Keydets would likely have to win three road games in a row if they wanted to make the NCAA tournament, something that I can almost guarantee will not happen.
8. High Point 12-17 (8-10 Big South)
The High Point Panthers have a major theme to their 2011-2012 season:  inconsistency. High Point has impressive wins over Coastal Carolina, Charleston Southern and Winthrop, but has lost to Radford, Gardner Webb and Presbyterian.
While that kind of play may give them an edge for an upset or two, it hurts their chances at a deep run in the Big South tournament.
9. Gardner-Webb 12-19 (6-12 Big South)
Gardner-Webb comes into the Big South tournament as the ninth seed. The Bulldogs have been surprisingly competitive this year within the Big South but haven't been able to lock up wins. Eight of the Bulldogs' t12 conference losses have been by six points or less.
If they can figure out their late-game execution, Gardner-Webb may find a way to make this tournament interesting. 
10. Radford 6-25 (2-16 Big South)
Radford owes a big thank you to Presbyterian for being the newcomer. A team that would not regularly be eligible for the tournament will grab 10th seed due to Presbyterian's eligibility in the Big South tournament.
I wouldn't count it as much a favor though, as Radford's road the NCAA tournament will more than likely end on the first night of the tournament. 
*Presbyterian 14-15 (8-10 Big South)
Not eligible for postseason play due to transfer to Division I.
The Takedown
First Round
No. 7 VMI over No. 10 Radford
No. 9 Gardner Webb over No. 8 High Point
Quarterfinals
No. 1 UNC-Asheville over No. 9 Gardner-Webb
No. 2 Coastal Carolina over No. 7 VMI
No. 6 Winthrop over No. 3 Campbell
No. 5 Liberty over No. 4 Charleston Southern
Semis
No. 1 UNC-Asheville over No. 5 Liberty
No. 2 Coastal Carolina over No. 6 Winthrop
Championship
No. 1 UNC-Asheville over No. 2 Coastal Carolina
Big South Tournament Champions: UNC-Asheville (24-9, No. 16 Seed in NCAA tournament) 
The Final Buzzer
Joe Lunardi has Asheville as a potential 16-seed in the NCAA tournament. One seeds beware, as this Asheville team has no fear taking on the top dogs. Asheville has been competitive against the likes of North Carolina State, UNC, UCONN and Tennessee this year.
While it is highly unlikely they would actually pull the upset, my prediction is that regardless who they are matched up with, it will be a 10-point game at the most.