New York Giants: Predicting Which Players on the 46-Man Roster Won't Be Back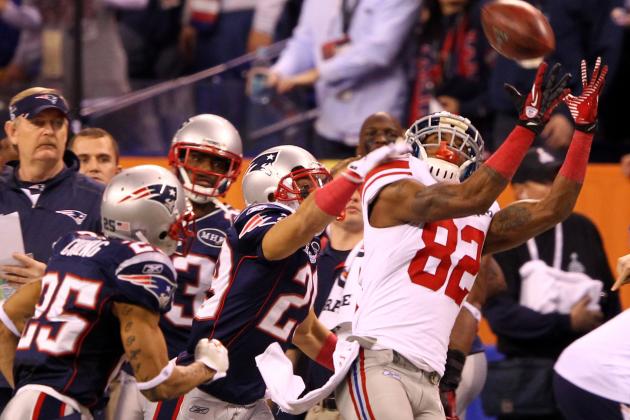 Al Bello/Getty Images

The New York Giants are in a bind after winning the Super Bowl; they have 24 players who are not under contract for the 2012 season and have to decide who to bring back.
Who gives them the best chances of repeating?
There are also a couple of players that are under contract but will probably miss the cut after training camp.
So who won't be back next season? Let's look at eight players who I believe will not make the team in 2012.
Begin Slideshow

»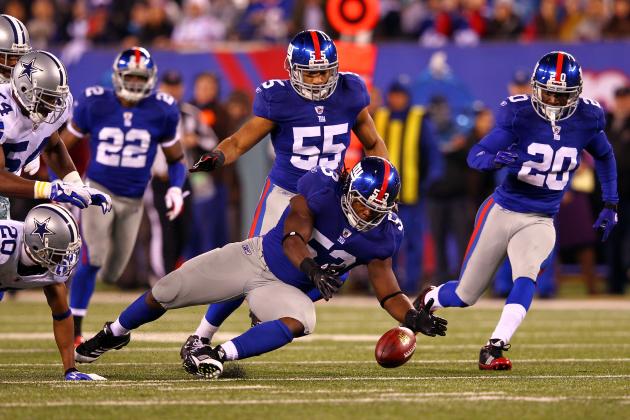 Al Bello/Getty Images

The Giants lost Jonathan Goff and Clint Sintim to ACL injuries prior to the 2011 season opener, paving the way for four rookie linebackers to make the roster.
Goff looked like he had a bright future with the Giants, but now that is in question. However, they have to like Goff better than Jones, especially when they signed Chase Blackburn to play middle linebacker after the blowout loss to the Saints, rather than letting Jones start.
Blackburn was not even with the team at the time, and the Giants trusted him more than Jones. The Giants will likely re-sign both Goff and Blackburn, leaving Jones on the outside looking in.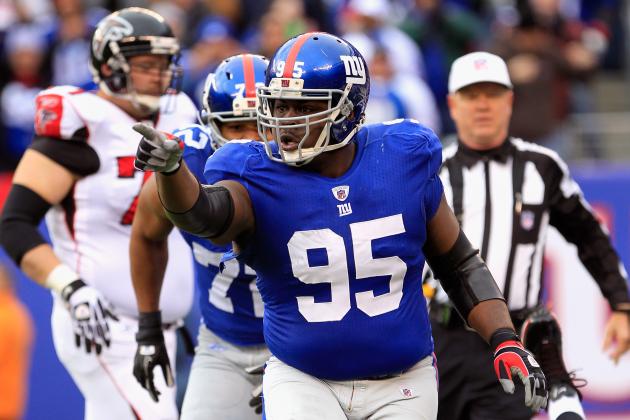 Chris Trotman/Getty Images

Rocky Bernard would not take a pay cut prior to last season, so the Giants cut him. Failing to sign with another team, Bernard came back a week later at a lower price.
It is clear he believes he should be paid better than he is, and on the heels of a Super Bowl win, some team might come calling.
Bernard is a free agent and the Giants have 2011 second round pick Marvin Austin coming back from a season ending injury; Bernard will likely not return.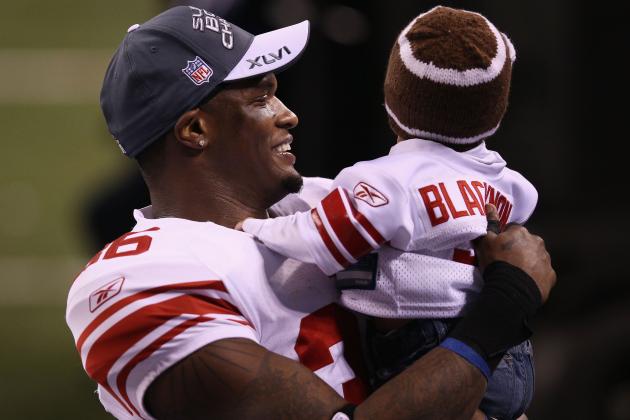 Win McNamee/Getty Images

Will Blackmon was a solid backup for the Giants during their run, but he is an unrestricted free agent that I do not see the Giants re-signing.
The Giants have way too many priorities that are above bringing a guy like Blackmon back, plus they have Bruce Johnson who could come back off his injury and is a good and younger backup.
Thearon W. Henderson/Getty Images

This all depends on the health of Clint Sintim, who the Giants thought could have had a breakout year in 2011.
Sintim tore his ACL before the season, and I believe Spencer Paysinger benefited most from that. He turned in to a good special teams player and occasionally saw the field as an outside linebacker, but if Sintim is good to go, like he says he is, then they'll keep him around.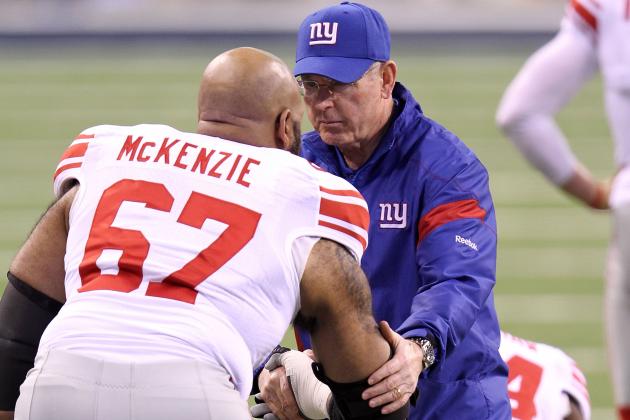 Andy Lyons/Getty Images

The Giants need to start getting younger along their offensive line. Kareem McKenzie will be 33 by the time next season starts, and he is an unrestricted free agent.
According to Pro Football Focus, McKenzie went from being one of the best right tackles in 2010, to one of the worst in 2011. Age will do that to a player, and it may be time for the Giants to get younger at the position.
James Brewer was a fourth round pick in 2011, and he could be ready to take over the position after a real, full off season.
McKenzie has been one of the most underrated lineman in the league in his time with the Giants, unfortunately it cannot last forever.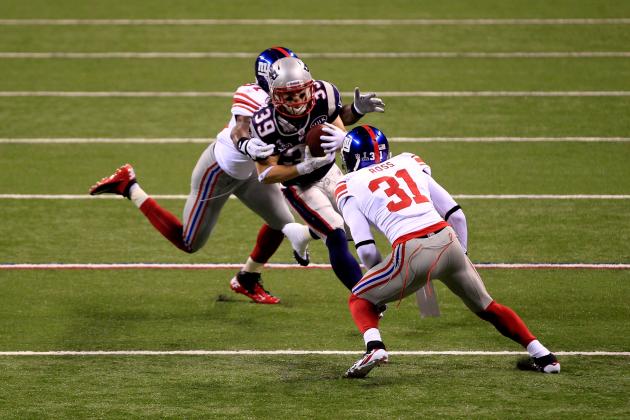 Chris Trotman/Getty Images

There are a lot of variables that go into letting Aaron Ross walk, one of them being how much money he thinks he deserves.
Ross did not play well in the regular season, save for a couple games, but elevated his play during the Giants' postseason run.
The Giants have to figure out which guy they will re-sign, but given the fact that he is an unrestricted free agent he could just collect a bigger pay check somewhere else.
However, Pro Football Focus has some pretty revealing stats on Ross that might deter him from getting paid.
In the regular season, Aaron Ross was sixth worse in completion percentage allowed, ninth in most yards allowed, and 10th in highest QB rating against.
He was not very good, and the Giants will most likely be willing to let him test the free agent market.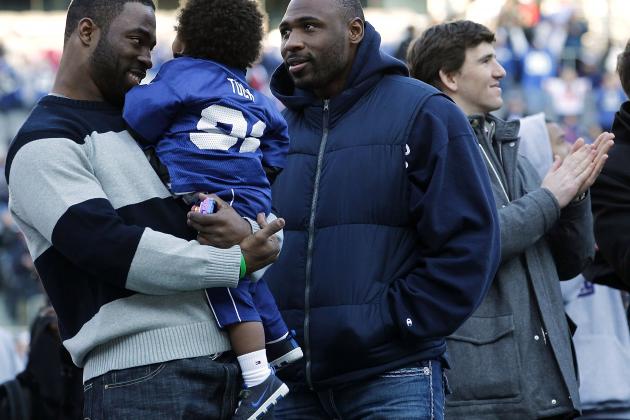 Jeff Zelevansky/Getty Images

Brandon Jacobs will probably be gone considering he is set to make a $500,000 roster bonus in March and is scheduled to make $4.9 million next year.
That is a bit much for a backup that turns 30 in July. Jacobs had an up and down season and ran hard in Super Bowl XLVI, but it is time to move on.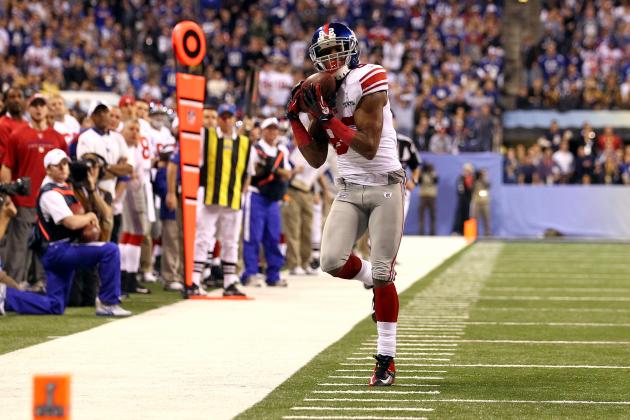 Al Bello/Getty Images

I truly believe the Giants will try to re-sign Mario Manningham, but given the fact that he is a Super Bowl hero for his spectacular catch on the game winning drive, he is set to collect a ton of cash.
The Giants will not over-pay for a third string receiver, though he is much better than that. Manningham will go to a team that will pay him and play him like a starter.