SEC Basketball: Crazy Saturday Means Kentucky, Then Everyone Else in SEC
February 12, 2012

Joe Robbins/Getty Images
Going into the day, the focus of SEC followers was on the game in Nashville on Saturday night, between Kentucky and Vanderbilt.
However, what transpired earlier in the day before this game made bigger waves throughout the SEC.
First, there was arguably the biggest upset in the SEC thus far this season. 
Georgia pulled out a 70-68 overtime win at No. 18 Mississippi State.  Kentavious Caldwell-Pope hit a three with a minute left in OT to put Georgia ahead for good, giving them the very unlikely win. 
At this time last week, Georgia had just one win in SEC play and rivaled South Carolina as the conference's worst team.  The Bulldogs from Athens—even after a win earlier in the week at home over Arkansas—were hardly expected to challenge the other Bulldogs in Starkville.
Shortly after that, there was another upset of a ranked team on their home court.  This one, depending on whom you talk to, may have upstaged the Georgia-Mississippi State stunner earlier in the day.
In Gainesville, Tennessee went in and not only beat No. 7 Florida, they pretty much dominated them. 
Tennessee won 75-70, completing a season-sweep over Florida.  The Vols have been the unlikely source of two of the Gators' three SEC losses.  Tennessee led by double digits most of the game, including a 16-point lead with just under five minutes left.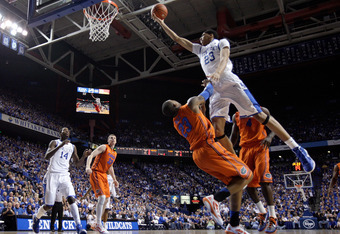 Andy Lyons/Getty Images
For a Florida team that had yet to lose at home this season, the result and overall performance was quite unexpected.  While the Gators played without their top two reserves, Mike Rosario and Will Yeguete, this was certainly a very disappointing showing for the team after a loss at Kentucky earlier in the week. 
With two of the league's top teams losing unexpectedly at home, the third surprise of the day was one that did not take place on the court.  However, its ramifications will likely be significantly greater than the other two. 
Alabama coach Anthony Grant announced late Saturday afternoon that he had suspended three of the team's key players—JaMychal Green, Trevor Releford and Andrew Steele—for an indefinite period due to a violation of team rules.  The announcement by Grant—who had already suspended the team's second-leading scorer and rebounder Tony Mitchell—was made shortly before the team took the court at LSU. 
Grant started four freshmen in the game along with the lesser-used junior Ben Eblen.  After an expectedly sluggish first half in which the Tide scored just 15 points, they fought back in the second half before falling by nine to the Tigers.
With the loss, Alabama is now 16-8 overall and 5-5 in the SEC.  If the suspensions are held up by Grant—something he seems more than willing to do—then the Tide's NCAA Tournament hopes will likely fade.  Barring a quick leadership development among the team's four talented freshmen, Alabama will have a tough time maintaining their current .500 record in league play.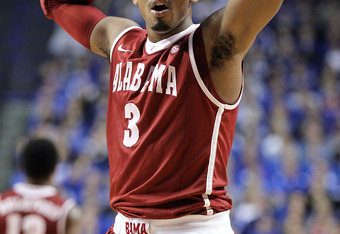 Andy Lyons/Getty Images
Players like Rodney Cooper—who had 28 against LSU—Nick Jacobs, Levi Randolph and Trevor Lacey should help lead Alabama to NCAA Tournaments in future years.  However, the situation they have been thrust into may be a bit too much for them to handle at this critical juncture in the season.
With the dust still settling on the day's whirlwind events, Kentucky went into Nashville and passed their challenging test against Vanderbilt. 
With four minutes to go, Vandy took a two-point lead on Brad Tinsley's jumper.  After that, Kentucky's defense took total control, as they so often do.  Anthony Davis stepped up with a couple blocked shots.  Overall, they held the Commodores to 0-of-9 shooting down the stretch and kept them off the scoreboard entirely. 
There may be no other team in the country that could do something like that.
Thanks to UK exerting their defensive might on Vanderbilt to seal the win, the SEC is now very much a Kentucky-then-everyone-else race.  The Wildcats are 11-0 and 3.5 games up on Florida, who is still in second despite their loss.  The Gators avoided a potential three-way tie for the second spot thanks to Mississippi State and Vandy losing. 
Florida has a tricky week ahead with games at Arkansas and Alabama, and after that a trip to Vanderbilt and a rematch with Kentucky.  That could easily open up opportunities for teams like Tennessee, Arkansas and Ole Miss—each 5-5 after their wins yesterday—to finish third or even second in the league. 
Thanks to what took place yesterday, it should be quite a roller-coaster ride over the next few weeks for any SEC team not named Kentucky.