Julio Teheran vs. Arodys Vizcaino: Who Will Be Braves' Best Long-Term Talent?
February 13, 2012

It has been well documented throughout the prospect community over the past couple of years that Julio Teheran and Arodys Vizcaino are both among the elite-pitching prospects in baseball.
While it has also been common practice among many to rank Teheran ahead of Vizcaino on offseason-prospect lists, there are some that have either begun to waiver over the size of the talent gap between the two—or has conceded that Vizcaino has the brighter future moving forward.
Immediate perceptions can sometimes be mistaken as reality. It's possible that both fans and experts alike were expecting more from Teheran as they watched him struggle during his brief five-game trial in the big leagues.
The fastball command that he has been praised for during his time in the minors escaped him when he got to Atlanta, giving up four home runs and issuing eight walks in only 19.2 innings.
Vizcaino took his call-up more in stride. After gaining bullpen experience over two levels in the minors, he made his debut for the Braves in that same role. Minus the five runs he gave up in a September 2 appearance against the Los Angeles Dodgers, he only allowed four runs in 17 innings—while striking out 17 batters.
Although their Major League Baseball debuts took different paths, that shouldn't have any reflection on future performance.
The biggest differential in determining who will be the best long-term talent for Atlanta is the future roles both players will take on.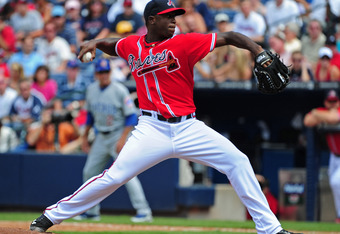 Scott Cunningham/Getty Images
It's easy to say that starters are more valuable than relievers, but that's not always the case.
Frontline and mid-rotation starters obviously bring more value to a team than any closer would, but back-end starters are not necessarily more valuable than a shutdown closer like Craig Kimbrel.
This is where the separation of who will be the best long-term asset for Atlanta begins and ends at the same time.
The Braves seem to have no intentions of moving Teheran to the bullpen in order to expedite his arrival to the big leagues. When asked about Teheran and fellow prospect Randall Delgado, Assistant General Manager and Director of Player Development Bruce Manno tells MLB.com:
"If you're going to have that idea with one of those young pitchers, you're really talking about an 11th man, or a long man. They would not get the work they need to continue to progress, with our bullpen as it sets up…"
Braves' General Manager Frank Wren has made it known that Vizcaino is headed back to the bullpen to begin the 2012 season and there are multiple reasons as to why he is a better fit as a relief pitcher than a starter.
He has two-plus pitches that are both ideal for the bullpen, a fastball that he can bump up to 96-98 mph as a reliever and a hard breaking curveball. The one pitch that is below average is the change-up, and that won't have a chance to develop if he is in the bullpen—where a two-pitch offering is more relied upon.
The starting pitching depth for the Braves is abundant, not only in the majors—but in the minors as well. With no immediate need for Vizcaino in that role, he is likely to remain in the bullpen for the entire season.
Once he establishes himself as an important member of what could be the best bullpen in MLB, the chances of him going back to the minors to work on his change-up and getting stretched out to start games could slowly get derailed.
Also, nagging injuries have plagued Vizcaino throughout his minor league career, including a lower back injury in 2009 and a partially-torn ligament in 2010.
As for Teheran, his road to being a full-time rotation member is only an injury or a Jair Jurrjens' trade away.
He has a plus fastball that sits 92-94 mph and touches 96, along with a change-up that some scouts already consider a 70 on the 20-80 grading scale. His breaking ball shows flashes of being another plus pitch, but he needs to establish more consistency with it.
Although Teheran is only 21 years old, his maturity and poise on the mound have many believing all he needs is some early season fine tuning at Triple-A Gwinnett before he ends the year making an impact on Atlanta's playoff chances in 2012.
When comparing two of the elite-pitching prospects in the game, it's difficult to find anything negative regarding their abilities. Teheran and Vizcaino will both be integral parts of the Braves' pitching staff in the future.
When deciding who is the best-long term talent for the Braves it simply comes down to the likelihood that Vizcaino remains in the bullpen as an ultra-set-up man for Kimbrel—whereas Teheran will be a frontline starter as early as the 2014 season.  
Jim Pratt is a Featured Columnist covering the Atlanta Braves for Bleacher Report, MLB contributor for MLBDepthCharts and BravesWire. Follow Jim on Twitter, @2OutSacBunt