NHL Trade Rumors: Rick Nash for Zach Parise is Smart for All
February 12, 2012

Jim McIsaac/Getty Images
While it seems far-fetched, the proposal of this star-for-star trade makes more sense than it initially looked like when I first saw it.
I hated this idea when the rumors broke about a possible trade of Columbus Blue Jackets star Rick Nash for New Jersey Devils star Zach Parise, but the more and more you analyze it, this is a move that could happen.
On one condition: Parise has to sign an extension with Columbus.
Eklund from Hockey Buzz is reporting about the rumor that came across his phone:
Was just woken up by a western conference scout (who worked for Columbus at one point) texting me "just heard a Parise for Nash rumor. Both NJ and Columbus are looking to replace their stars with stars and this is possible."
Despite the fact that Parise has said that he wants to test the open market if he doesn't get re-signed by the Devils, the team has remained adamant that they will not trade him at all.
Unless the Devils want to watch their best player walk for nothing, GM Lou Lamoriello needs to reassess the situation and get a star in return for the star he can't retain. That's where Nash comes in.
Nash has become unhappy in Columbus with their lack of a will to build a winner and the move would be a no-brainer for him. As much as the Devils have been lulled into their own stupor, Ilya Kovalchuk is 50 times better than anyone on the Blue Jackets besides Nash.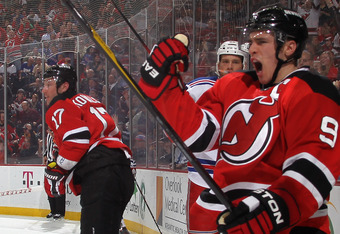 Bruce Bennett/Getty Images
With the Devils getting a star and Nash getting the new home he desired, the process turns to Parise and the Blue Jackets.
Columbus will want some sort of sign that says the New Jersey captain would remain with the Blue Jackets for longer than a few months. The prospect of free agency is exciting for players, but it really depends on what Parise is looking for on the open market.
If Parise wants big money, the Nash trade and the lack of big names would allow the Jackets to pay Parise as much as any team in the NHL.
If winning the Stanley Cup right now can take a backseat to making an enormous amount of money, staying in Columbus might not be the worst-case scenario for Parise.
While the deal is still off-the-wall, there is a chance that something this big could go down this season. Let's see if teams get desperate enough to pull the trigger.
Check back for more on the National Hockey League as it comes and check out Bleacher Report's NHL page to get your fill of all things hockey.