UFC on FUEL TV: Predicting KO, Submission and Fight of the Night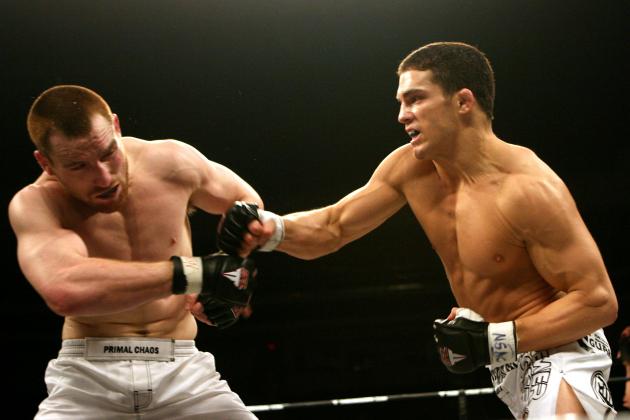 Ethan Miller/Getty Images
Jake Ellenberger and Pat Healy
Don't adjust your TV sets or your computer screens: UFC on Fuel TV 1 is coming to you this Wednesday, not this coming Saturday, live from the Omaha Civic Auditorium in Omaha, Nebraska.
"The Viper" T.J. Dillishaw starts the card off opposite Walel Watson (pronounced akin to "Y.L. Watson"), followed by a heavyweight bout between undefeated newcomers Stipe Miocic and Philip De Fries, and a middleweight bout between Aaron Simpson and Ronny Markes.
Co-headlining the card is an exciting Heavyweight tilt between Dave "Pee-Wee" Herman and Stefan "Skyscraper" Struve.
In the main event of the evening, Jake "The Juggernaut" Ellenberger returns home to Omaha on the heels of a September 2011 knockout win over Jake Shields. Standing between him and any hope of title contention is former UFC lightweight title contender and TUF 1 middleweight winner Diego "The Dream" Sanchez.
You already know what we're left to ask ourselves now, so let's kick back and take a swing at who's collecting the Submission, Knockout, and Fight of The Night bonuses in Nebraska!
Begin Slideshow

»
Stipe Miocic is undefeated in MMA, unbeaten in the UFC, and seemingly unable to put down for a knockout.
He draws fellow undefeated heavyweight prospect Philip De Fries in the cage. While De Fries has the potential to wrap up a nice "Submission Of The Night" bonus due to his explosive ground game, it's the striking aspect that could give De Fries his most daunting task.
Miocic has, in the past, put the pressure on opponents in the striking realm. In doing so, he would often cause them to throw wildly while landing effective and accurate punches and kicks of his own, but it's Miocic's right hand that has spelled the end for many a fighter inside the cage.
Unless De Fries exhibits some insane striking game that we don't know about, De Fries can expect himself to be the receiver and not the giver when it comes to the bonus winner for UFC on Fuel 1's "Knockout of the Night."
Dave Herman's not only one of MMA's most exciting fighters to watch at the heavyweight level, but also one of those guys that comes with the mindset of a finisher.
It doesn't matter who you are, where you've fought, your weight or reach advantage, how good your Jiu-Jitsu or Muay Thai is, because you're signing up to face a man who does not like going to decisions.
Seriously, the guy's only been to a decision once in his career (against Yoshihiro Nakai). He's been finished once, his only other loss was a disqualifying loss to Rameau Thierry Sokoudjou. He has 15 career wins by some form of knockout against five submission wins, including the Bellator 31 win against Michal Kita, which ended by omoplata.
What's that mean?
If Herman has a win by omoplata, two submission wins by rear naked choke and two submission wins due to punches, and he's going against a lanky fighter like Stefan Struve, who hasn't tapped to anyone not named Christian M'Pumbu, then Struve has a lot more to worry about than just Herman's heavy hands.
If Struve leaves anything open, Herman will go in on it and find a way to become the first man to force a tap from Struve inside the UFC Octagon.
Sorry, Stefan. Not every dude you fight can be a Pat Barry or a Christian Morecraft, buddy.
Then again, maybe Struve knows how to force a tap from Herman. Until fight time, we shall ponder.
Say what you want about Jake Ellenberger and his style of offense, which could actually tone the pace of the fight with Diego Sanchez, but let's not forget what brought Diego Sanchez this far into the sport.
Even though he changed his nickname to "The Dream," Sanchez's aggressive style of offense and menacing staredowns still convince fans that "The Nightmare" is alive and frighteningly well. Combining that with the wrestling Sanchez has, there's little doubt that Sanchez does have something inside of him that could give the hometown favorite some difficulty.
However, Sanchez can still be taken down at will if Ellenberger gets off first. If the fight sees Sanchez trying to lure Ellenberger into a sloppy brawl...well, "Diego The Dream" better make sure he's at least landing his shots cleanly.
Jake Shields might be able to tell Sanchez what happens if he doesn't, or maybe Ellenberger can help Sanchez figure it out in Omaha this Wednesday.
Either way, neither man will want to put on a boring show for the fans in Omaha for sure. In some form or another, an entertaining show is what fans are going to get come Wednesday night.