North Carolina vs. Virginia: Tar Heels Rebound from Duke Loss by Rebounding
February 11, 2012

Grant Halverson/Getty Images
Going into Saturday's game at Chapel Hill, the Virginia Cavaliers had lost four games by a combined total of 10 points.
A look overhead to the scoreboard at center court of the Dean E. Smith Center at the conclusion of this afternoon's game would show a margin almost double that as North Carolina finished on a 33-12 run to beat Virginia, 70-52.
The Tar Heels made only five baskets all day that weren't either layups, dunks, tip-ins or put-backs. 
In short, they rebounded from the shocker of a finish against Duke last Wednesday by rebounding the heck out of the ball today.
UNC's final rebounding edge was 52-32. They grabbed 23 offensive rebounds.
Virginia allowed a season-high 23 second-chance points as Carolina at times looked like they were running the pregame drill where everyone on the team puts the ball back up against the backboard and the last man in line slams it home.
Tar Heel 7-foot center Tyler Zeller led all scorers with 25 points. Mike Scott had 18 points for Virginia,
Scott had 10 of his 18 points in the first 7:04 of the game as UVA broke out to a 16-9 lead. 
The Heels would go to the locker room with a 35-32 advantage by closing the half on a 15-5 run over the final five minutes.
Joe Harris hit his only two baskets of the game, a pair of threes, to give Virginia a 40-37 lead early in the second half.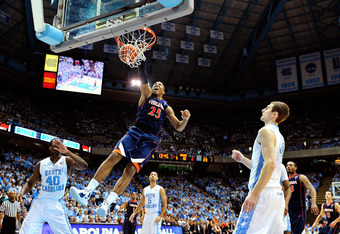 Grant Halverson/Getty Images
After Harris' second three-pointer the Cavaliers would make just five of their last 20 shots and the Tar Heels would methodically pull away.
North Carolina's interior men were just relentless on the boards, outrebounding UVA's front court 37-15 for the game. Their job was made somewhat easier by the fact that the Cavaliers' three forwards all had to deal with foul trouble throughout.  
For the game, coach Tony Bennett got only a combined 64 minutes from Scott, Akil Mitchell and Darion Atkins. 
Both teams were dreadful from beyond the arc. 
Virginia was 3-for-16 for the game. The Tar Heels missed their first nine attempts before Reggie Bullock hit the final three they'd take. The 20,000 Tar Heels fans erupted in an almost-mocking roar, as by then they were feeling confident of a victory.
The win allowed North Carolina to keep pace with Duke and Florida State, both also victors this afternoon. All three moved to 8-2 in the conference.
The loss again dropped Virginia two games behind the leaders at 6-4. That leaves them tied with Miami, also a loser today, for fifth place. 
NC State currently sits alone in fourth place at 7-3.
Virginia returns to action on Tuesday at Clemson. North Carolina is at Miami the following night.