Philadelphia Flyers Trade Rumors: Latest Updates Leading Up to Deadline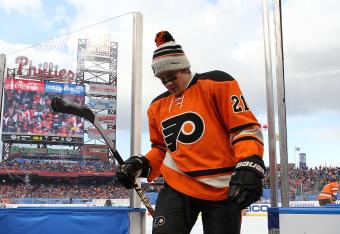 Bruce Bennett/Getty Images
The Philadelphia Flyers' recent struggles make it very clear that the team will not succeed in the playoffs without making a trade.
The team has lost five of its last six games, and they have not won consecutive games since January 12. Some nights the team's lack of effort is to blame, other times it is simply because the necessary pieces are not there.
Specifically, the team needs a defenseman and could possibly use the security of an NHL-level backup goaltender.
Chris Pronger's absence from the lineup means the team's only effective net-clearing defenseman is Braydon Coburn. Kimmo Timonen, Andrej Meszaros and Matt Carle are all quality defensemen, but they are not efficient in that area.
Andreas Lilja has been an all-around disaster. Initially the team's sixth defenseman, Lilja is now looked over as a healthy scratch with rookies Marc-Andre Bourdon and Erik Gustafsson playing.
Bourdon plays a physical style of hockey, but is a lower-liner who should not be counted on too much. Erik Gustafsson is capable of playing on the third line also, but is not a physical presence.
Furthermore, the absence of Pronger adds to the doubt regarding the future of Philadelphia's blue line. The team is already facing the uncertainty of Carle's impending free agency.
If Pronger's career does not go on (he is out for the remainder of this season with a concussion), the team will only have Coburn, Timonen and Meszaros for reliable defense. The team needs someone with the playing ability of at least a second-liner.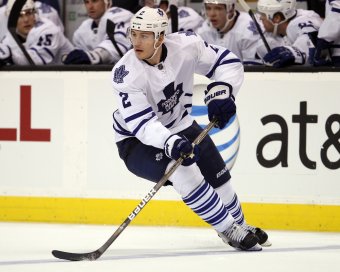 Elsa/Getty Images
One player that is tightly tied to Philadelphia rumors fits this description perfectly. Earlier this season, the Toronto Maple Leafs extended the contract of defenseman John-Michael Liles, leading some to believe the team was on the verge of trading another defenseman—Luke Schenn.
Schenn (the older brother of Flyers' forward Brayden) is capable of filling the Flyers' needs and is signed to a contract through the 2015-16 season. His cap hit is a pleasant $3.6 million, very manageable for the Flyers.
The player rumored to be on the move is concussed left winger James van Riemsdyk.
"JVR" has had a relatively disappointing season—though expected to break out after an impressive 2011 playoffs, he has scored 22 points in 37 games. The Flyers' abundance of forwards and van Riemsdyk's trade value are two reasons that he could be the one sent out.
His cap hit increases over this offseason from $1.64 million to $4.25 million.
Toronto GM Brian Burke denied these rumors, but said:
"I told Luke it's not a guarantee that he wouldn't be traded if something materializes."
Considering GMs have traded players after telling them they will not be traded, it sounds like Schenn could certainly be available for the Flyers.
If Schenn is not the answer for Philadelphia, other defensemen are definitely available.
The market for defensemen shrunk when Tim Gleason signed an extension with the Carolina Hurricanes. The same happened when Francois Beauchemin was locked up by the Anaheim Ducks.
Richard Wolowicz/Getty Images
Edmonton's Andy Sutton is likely off the market as well. Nick Kypreos of Sportsnet reported that the Oilers are closing in on a new contract with the 6' 6" defender.
Shea Weber and Ryan Suter of Nashville are probably not available, seeing as the Predators are well on their way to the playoffs.
Some top available defensemen include Gleason's teammate and upcoming free agent Bryan Allen, who also fits the shutdown role.
The best option for what the Flyers need could be the Montreal Canadiens' 6' 7" Hal Gill. He is not close to being as good of a player as Schenn, but could certainly provide the shutdown presence Philadelphia needs.
Gill is definitely capable of clearing the crease; nobody is getting by that man's frame in front of the net.
After defense, goaltending (as always) is a concern for Philadelphia. The team is not going to have a new No. 1 or No. 2; those spots will belong to Ilya Bryzgalov and Sergei Bobrovsky.
However, the team needs a third-string netminder they can rely on. Bryzgalov's recent illness showed just how serious the issue is. The Flyers needed to call up Jason Bacashihua from the AHL as a backup.
Michael Leighton, who spent time as the starter in the 2009-10 season, would have had to clear re-entry waivers in order to come up from the AHL.
If the Flyers run into a situation where Bryzgalov or Bobrovsky are injured in the future, they could be without a solid backup. Leighton might not clear waivers and Bacashihua is not exactly a player Philadelphia would feel confident using at the NHL level.
One rumored option is veteran Evgeni Nabokov of the New York Islanders. Nabokov is an upcoming free agent.
Philadelphia Flyers Featured Columnist Jason Sapunka is available on Twitter for updates.
This article is
What is the duplicate article?
Why is this article offensive?
Where is this article plagiarized from?
Why is this article poorly edited?

Philadelphia Flyers: Like this team?