UFC 146 Fight Card: Junior Dos Santos Returns on May 26 Against Alistair Overeem
February 11, 2012

Junior dos Santos, UFC heavyweight champion, should be healed and ready to return to the Octagon on May 26 for the first defense of his UFC belt.
Through his Twitter account, UFC co-owner Lorenzo Fertitta confirmed that the highly-anticipated heavyweight title fight between dos Santos and former Strikeforce champion Alistair Overeem will take place at UFC 146.
Coming off of a fight in which he dethroned former heavyweight champion Cain Velasquez despite competing with a torn meniscus in his left knee, dos Santos was forced to undergo surgery in December. Should dos Santos' bout with Overeem remain set for UFC 146, the Brazilian titleholder will have been out of action for more than six months.
Overeem, meanwhile, last competed against former heavyweight king Brock Lesnar in the UFC's annual New Year's event. Though many believed the former NCAA champion wrestler could negate Overeem's world-class striking by taking the fight to the ground, Lesnar was unable to work inside the kicks of Overeem and announced his retirement after suffering a knockout loss due to a body kick.
With the victory over Lesnar in his UFC debut, Overeem guaranteed himself a shot at the heavyweight title. Though there was a brief moment of concern that he would lose his championship fight due to an alleged misdemeanor battery in Las Vegas, UFC president Dana White recently told the media at the UFC 143 pre-fight press conference that Overeem shouldn't be in much trouble.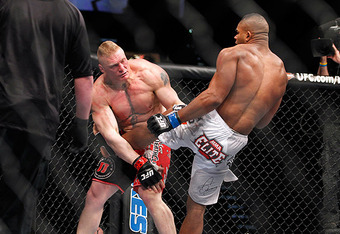 With dos Santos nearing full recovery and Overeem scheduled to appear in court in the coming weeks to settle his legal situation, the time is nearing for two of the best heavyweights in the world to throw down in what should be an exciting matchup between skilled strikers.
The May 26 event, UFC 146, is expected to be held at the MGM Grand Garden Arena in Las Vegas—the same venue at which Overeem earned his title shot by defeating Lesnar.
Aside from the heavyweight title fight between dos Santos and Overeem, which would appear to serve as the main event for the card, no other bouts have been announced.
Sean Smith is a Featured Columnist for Bleacher Report MMA. For the latest insight and updates on everything MMA, Follow Sean Smith on Twitter