Los Angeles Lakers Road Trip Experience: Caught in the Middle of Lin-Sanity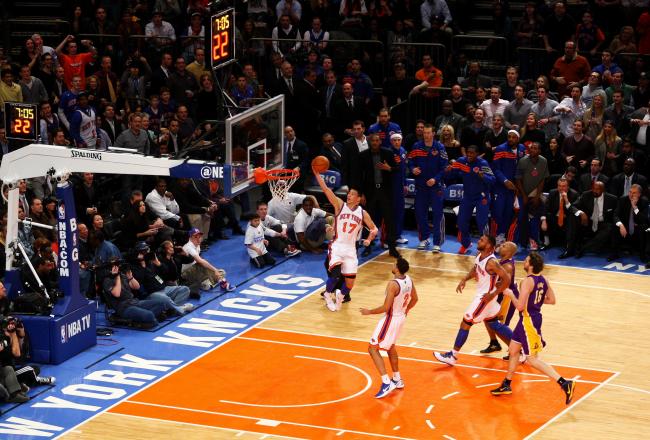 Chris Chambers/Getty Images
The Los Angeles Lakers Road Trip Experience is a four-part mini-blog documenting my journey to the East Coast to follow the Lakers. This is part-journalism, part-fanhood.
My journey will take me from Philadelphia to Boston, New York and Toronto. This is Part 3 of 4, which documents the Lakers' 85-92 loss against the New York Knicks at Madison Square Garden.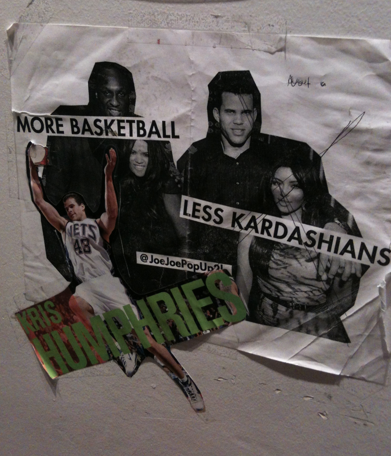 The bus I took from South Station in Boston arrived at Penn Station in New York at around 3:00 p.m. Like the TD Garden, Madison Square Garden is located directly above a train station.
Friday night's game between the New York Knicks and the Los Angeles Lakers was marked by one man and one man only: Jeremy Lin.
When I was in Boston the past few days, I became aware of the growing hype surrounding the Harvard kid who has become an overnight sensation in the Big Apple.
As game time approached, I noticed that Knicks team stores around MSG were already selling Lin T-shirts.
I finally entered Madison Square Garden and was awestruck by the uniqueness of the "World's Most Famous Arena." It's a dark arena; only the court is illuminated. The seats are dimly lit, providing a unique ambiance unlike any other.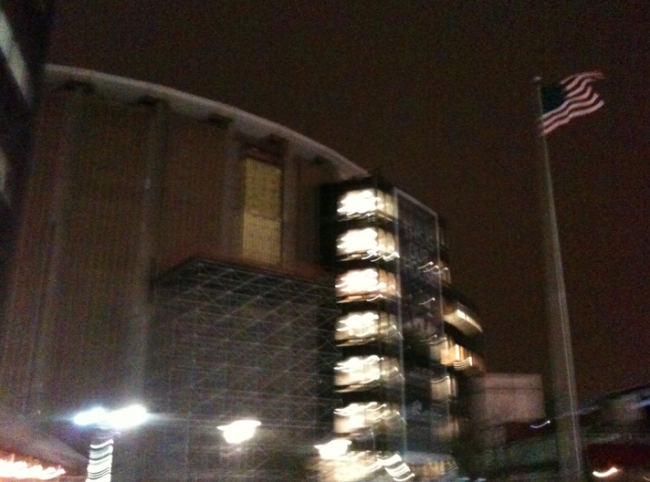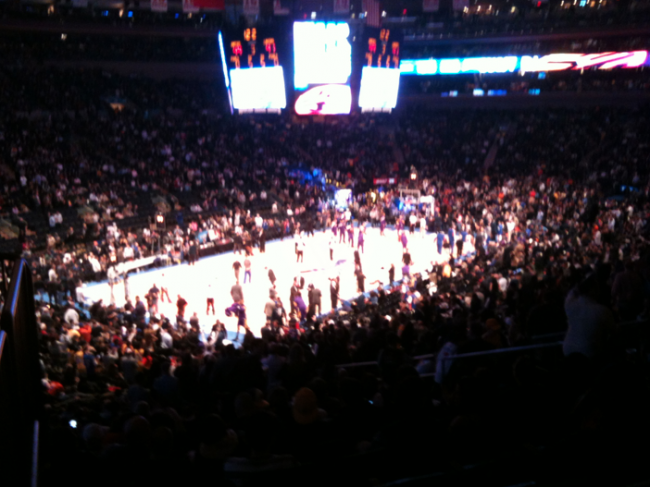 The ceiling of the arena also stood out; its wooden beams converged to the center. Finally, the scoreboard looked like a vintage relic. It wasn't a high-tech HD screen, it was a larger version of a traditional scoreboard that you probably saw at your high school basketball games.
These were just a few of the unique attributes that truly make Madison Square Garden the best arena I've ever been to.
I had a conversation with one of the ushers as I watched Pau Gasol and Andrew Bynum shoot around before the game. He mentioned that major renovations were taking place at MSG. They were going to add bridges that were going to go across the 400-level of the stadium above the Jumbotron. In other words, fans were going to be able to walk above the court and have an aerial view of the action; a feature that no NBA arena has ever had.
The usher then sarcastically said, "Let's just hope people don't fall down."
For an aging arena, MSG's constant renovations have made it a state-of-the-art facility.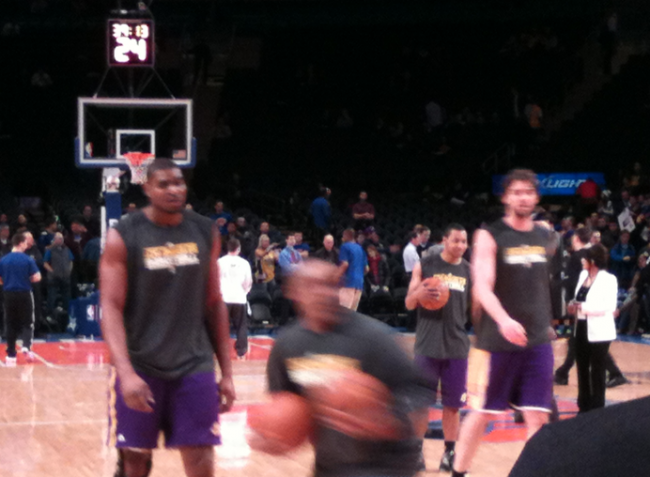 As the clock came closer to striking 8:00, it became clear that the Knicks organization was well aware of Lin-sanity. On the Jumbotron, they were having a Twitter contest presented by Delta Airlines. Whoever sent in the most creative Jeremy Lin pun, won a free roundtrip flight to a destination of their choice.
When the game started, Jeremy Lin went crazy, quickly scoring nine points and proving that his hot streak was far from over.
If Boston has the best trash talkers, New York has the loudest fans. The Garden was absolutely electric, and there was a buzz in the crowd every single time Lin touched the ball.
And when he would score on his dazzling layups, the house would come down each and every time. Fans would stand up and cheer with their fists raised toward the retired numbers of Patrick Ewing and Walt Clyde Frazier hanging from the one-of-a-kind ceiling at MSG, as if to say that, one day, Lin's No. 17 would belong there too.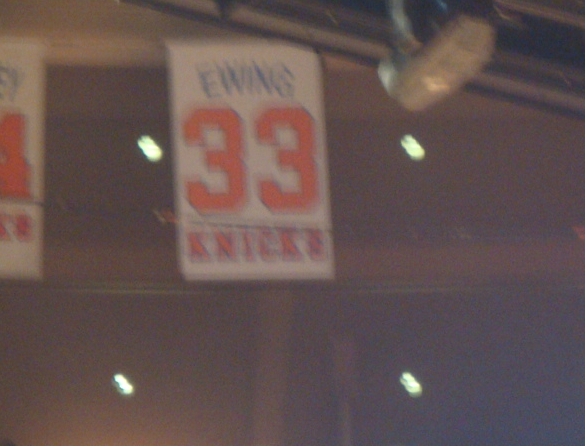 Every time Lin scored, the hype surrounding him increased by a magnitude of 10. The excitement he brought to the arena was unbelievably intense, but it was only about to get better in the second half when Kobe woke up from his little dry spell.
The game went into halftime and I decided to go buy some food. I bought a Bud Light and a hot dog, and it was an astronomical $16, but that's New York for you.
The second half was pretty much a shootout between Kobe Bryant and Jeremy Lin. It was an exciting exhibition of two determined athletes exchanging shot after shot.
In the third quarter, Kobe pulled off one of the most amazing plays of the night when he threw the ball off the backboard, caught it in mid-air and flipped it to Pau Gasol, who then drained the basket.
Jeremy Lin followed that up in the fourth quarter when he hit several key buckets, which made a Lakers comeback untenable.
The Knicks faithful responded with "M-V-P" chants. Despite the prematurity of the chants, one couldn't help but laugh and just say, "Wow!" It once again exemplified the passion of New Yorkers when it comes to sports.
Speaking of that passion, the entire arena came to their feet late in the fourth quarter when they showed Super Bowl champions Justin Tuck and Brandon Jacobs on the Jumbotron.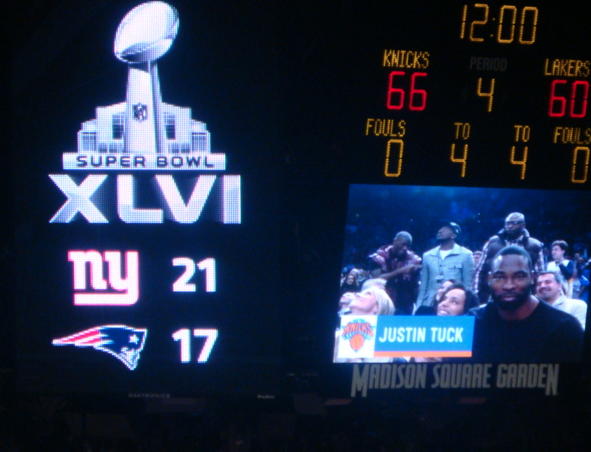 The Knicks ended up holding on and winning, and Jeremy Lin has seemingly, for the moment, become more popular than Eli Manning and Derek Jeter in New York.
Fans on the escalators were chanting, "Trade Carmelo!"
One other fan even saw my Lakers gear and shouted "You got Tebowed tonight!" at me.
This led me to ask myself whether these Knicks fans believe Lin is going to be the permanent solution for the team's point guard woes. It's easy to see why he could be so polarizing. He is the Tim Tebow of the NBA.
The feeling Lakers fans felt at MSG tonight might be very similar to the feeling Chicago Bears fans felt when Tim Tebow miraculously defeated them in overtime in the regular season.
It's just hard to explain how a guy who was in the D-League a few weeks ago put up 38 points against the Lakers on Friday night.
But then again, sports are hard to explain. They defy logic many times and that's why fans love them.
Despite the Lakers loss, seeing the passion and energy at a venue famous for its history and singular characteristics more than made up for it.
Now it's off to Toronto. But to get there, I have an 11-hour train ride coming my way.
See you all in Canada on Sunday.
This article is
What is the duplicate article?
Why is this article offensive?
Where is this article plagiarized from?
Why is this article poorly edited?

Los Angeles Lakers: Like this team?