NHL Trade Rumors: Why Capitals Should Part Ways with Mike Knuble
February 11, 2012

Patrick McDermott/Getty Images
Mike Knuble has been a productive player throughout his years in the NHL, averaging 52 points since the 2002-2003 season.
However, he's a declining 39-year-old right now and has dropped significantly in production.
Knuble was a healthy scratch on Thursday against the Winnipeg Jets and that has Chuck Gormley of CSN Washington thinking the Capitals are looking to deal him before the trade deadline.
Gormley wrote on Friday:
By making Knuble a healthy scratch on Thursday night, coach Dale Hunter ran the risk of not only alienating his veteran winger, but dividing his locker room. And that could mean a quick deal is in the works for Knuble, who is on a one-year, $2 million deal.
Knuble blossomed with the Boston Bruins nine years ago alongside Joe Thornton. That has Gormley thinking he could be dealt to the San Jose Sharks to reunite with his former teammate. The Sharks are indeed in need of a right winger to play alongside Thornton.
There's also the possibility of Knuble being traded to the Chicago Blackhawks or Detroit Red Wings.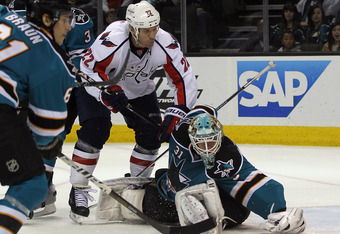 Bruce Bennett/Getty Images
Knuble only has 11 points this season for the Capitals and he's only been playing 14 minutes per game, so he's not going to get much of a return by himself—that's the argument against the Capitals trading him.
However, as Gormley notes, packaging him with a defenseman like Jeff Schultz and a draft pick or a prospect could net the Capitals what they really need: a tough, second-line forward.
The Capitals currently hold the No. 9 seed in the Eastern Conference and are just one point behind the Toronto Maple Leafs for the final playoff spot. While keeping Knuble could be helpful in terms of depth, adding a second-line forward would be a big step in the right direction. Plus, the Capitals can't expect the aging Knuble to be productive for much longer.
It's time for the Capitals to part with Knuble and move forward.