2012 NFL Free Agents: Why Lions Must Do Whatever It Takes to Keep Cliff Avril
February 10, 2012

Leon Halip/Getty Images
After a decade of being the butt of jokes in the National Football League, the humiliation of becoming the first NFL team to go 0-16 in the regular season and the ultimate humiliation of hiring Matt Millen as general manager on purpose, the Detroit Lions had a transcendent season in 2011, as quarterback Matt Stafford threw for over 5,000 yards in leading Detroit to their first postseason appearance since 1999.
However, if the Lions are going to take the next step and not only return to the playoffs but win their first game there in 20 years then one of the first and most important orders of business for Detroit is to keep defensive end Cliff Avril in the fold and not allow him to depart in free agency.
The 25-year-old Avril exploded into NFL prominence in 2011, anchoring the Detroit pass rush to the tune of 11 sacks and forcing six fumbles, the most by any player at his position in the league last year.
Avril has made it clear that he would prefer to remain in Detroit, even going so far as to say he'd be open to playing linebacker, and the Lions would certainly like to retain his services, so the issue isn't mutual admiration.
The problem is the Lions salary cap room (or lack of it) and the long-term deal at over $10 million a season that a defensive end of Avril's age and talent level can command on the open market.
That said Detroit needs badly to find room for that big deal, because defensive ends of Avril's age and talent level don't grow on trees, and with batterymate Kyle Vanden Bosch 33 years old and nearing the end of the line, Avril is easily the most important of the Lions free agents, as his departure would be far more detrimental to the defense than that of linebacker Stephen Tulloch.
If it costs Detroit Tulloch so be it. That's no knock on Tulloch, who played well last year, but both DeAndre Levy and Justin Durant have experience playing middle linebacker in the 4-3, so worst case the Lions could bump Levy back to MLB (he has more experience in the defense), Durant to WLB (his natural position anyway) and sign a journeyman for less than half of what Tulloch would cost.
And that's the worst case.
That frees up some cabbage for re-upping Avril, and the majority of the rest lies in the root of Detroit's salary cap issues.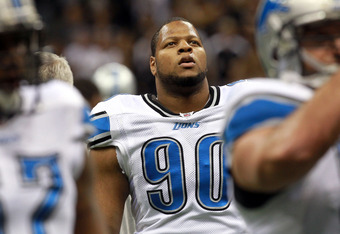 Ronald Martinez/Getty Images
Nearly half of Detroit's cap money is tied up in four players: wide receiver Calvin Johnson, defensive tackle Ndamustomp (sorry, couldn't help it) Suh, Stafford and Vanden Bosch.
There's not a lot of wiggle room with Matthew Stafford, who just re-did his deal last year to help with the cap, but Ndamukong Suh could go a long way towards rebuilding his image with the public were he to "take one for the team" and restructure a contract that has a salary cap figure of almost $13 million in 2012.
"Megatron" is in the last year of his rookie contract, and after his acrobatically rocking 96 catches for 1.691 yards and 16 touchdowns in 2011, performance escalators have pumped his 2012 salary and cap number to $22 million, so the Lions need to sit down with Calvin Johnson and work out a Mega-extension that's both more cap-friendly this year and keeps Johnson in Detroit long-term.
Then the Lions need to renegotiate Vanden Bosch's deal or show him the door altogether. KVB is still an effective pass rusher, but Lawrence Jackson has shown himself to be an adequate replacement, and even though Vanden Bosch just restructured his deal a year ago, $8 million bucks is just too much to pay him if it costs them Avril.
How it gets done isn't important, as teams (especially successful ones) have shown for years the ability to maneuver their way through choppy salary cap waters, but if the Lions want to join that crew then it needs to get done, because the Lions need Cliff Avril on deck.