Washington Nationals: Mike Cameron or Rick Ankiel on Opening Day Roster?
February 11, 2012

Patrick Smith/Getty Images
This past week the Washington Nationals announced the signing of Rick Ankiel to a minor-league deal.  Along with Mike Cameron, Ankiel gives the Nationals some depth (albeit aged depth) in the outfield heading into spring training.
While neither name will shake the Capitol building, both stand a chance of making the opening-day roster.
While general manager Mike Rizzo has not found his long-term option for center field, this spring could provide for a pretty interesting competition for that spot.
Ankiel's deal involves an invitation to spring training, and one can assume that Rizzo would like to at least retain Ankiel's services in the minor leagues, where he would be ready for major league call-up.  Ankiel, after all, possesses the strongest arm of all the Nationals outfield options.
Camerson also has signed a minor-league contract with an invitation to spring training.  Cameron's deal includes a $1 million bonus if he makes the Opening Day roster, and he can earn $750,000 in incentives as well.
Obviously, both players want to fill that center field role for the Nats, currently held by Roger Bernadina, according to the team's depth chart.
It would appear that this is a three-dog race.
Cameron, who is 39 years old, actually has  the best overall offensive numbers going back to 2008.  Rick Ankiel has the second-best, followed by Bernadina.  The irony being  that their offensive finish came in accordance to their age from oldest to youngest.  
Here is a look at their basic batting lines:
| | | | | |
| --- | --- | --- | --- | --- |
|   | AVG | OBP | SLG | OPS |
| Cameron | .241 | .327 | .438 | .765 |
| Ankiel | .243 | .309 | .416 | .725 |
| Bernadina | .242 | .304 | .364 | .668 |
At the plate, it is obvious that no one hits for average much better than the other.  The difference is minute.  However, Cameron shows the ability to get on base more often, and when he does get a hit, it usually it results in multiple bases.
Ankiel is your median player pretty much across the board.  He will be  32 years old to start the season (and will turn 33 in mid-season) and is pretty even-keeled across the board.  There is nothing that will blow your mind.  The same can be said for Bernadina.
Looking a bit more closely at the figures, Ankiel has played in 438 games since 2008.  That is 43 more than Cameron and 184 more than Bernadina.  However, Cameron has managed to eclipse Ankiel in plate appearances by 63 (1,585 to 1,522) while Bernadina is not even in that conversation.  
Actually, the only conversation in which Bernadina belongs is age and batting line.  His offensive numbers will fall short unless prorated due to his lack of games played.  To be fair, I will do just that: prorate his numbers, which will be indicated with an asterisk from here out.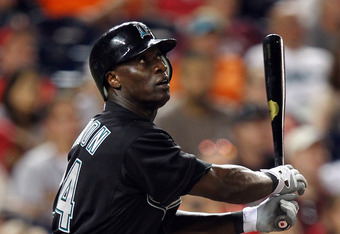 Ned Dishman/Getty Images
While Ankiel leads the charge with hits, Cameron is just one hit behind him:  335 to 334. Bernadina would fall short at 291*.
For power numbers, Cameron leads in home runs, hitting 62. Ankiel has managed 51 and Bernadina 27*.
In runs scored and RBI, not surprisingly, Cameron finished first as well: 198 runs, 182 RBI. Ankiel had 192 runs and 170 RBI, and Bernadina 155* runs and 114* RBI.
On the other side of the ball, age could  prove to be a negative for Cameron and Ankiel.  They have many more miles on their legs than Bernadina.  Though Ankiel has the strongest arm, he is also, as I mentioned, almost 33 years old.  Bernadina is just about four years his junior.
The three-dog race during spring training should prove to be a very interesting one.  While Cameron appears to be the top choice on paper (including an impressive resume consisting of three Gold Glove Awards), his age makes him susceptible to injury.
I find it highly improbable to not see Bernadina on the major league roster, either as the starting center fielder or fourth outfielder.  The true race comes down to Cameron and Ankiel.
Without knowing the exact parameters of Ankiel's deal, it is hard to gauge whether the final decision will be a financial one.  While Cameron historically has been the better player, the team could opt for Ankiel if  that saves money without seeing a drastic drop in offensive numbers.
Then again, who knows? Maybe Bryce Harper comes in and  takes the job away from all three of these guys.