Detroit Red Wing Tomas Holmstrom Earns 1,000 Game Milestone
February 10, 2012

Christian Petersen/Getty Images
The Detroit Red Wings will play against the Anaheim Ducks tonight, looking for their 19th straight home victory to continue the franchise record previously set at 14 back in 1964-65. A win tonight would also bring the Wings that much closer to the all-time NHL record of 20 set by the Boston Bruins in 1929-30 and Philadelphia Flyers in 1975-76.
While Tomas Holmstrom and his team work for a 'W,' he will be working in his 1,000th NHL career game.
Holmstrom will become the 271st player to reach this milestone and sixth Red Wing. Admittedly, becoming the 271st person to accomplish a task is not inherently impressive; however, the way in which Tomas Holmstrom put 1,000 games under his belt is nothing short of miraculous.
Detroit drafted Holmstrom in the 10th round (247th overall) in 1994. By 1996, a young Holmstrom was given his chance to play in the big leagues and don the winged wheel sweater.
For most of his career, Holmstrom could more easily be defined by what he was not than what he was.
He is not a stereotypical Swedish player. He is not a shooter or a playmaker. He is not a puck handler or a fighter. He is not defensively minded. He is most definitely not a skater.
What Tomas Holmstrom is, however, is an agitator. "The Demolition Man," as he is known to be called, has made a career out of standing in front of the opposing team's net to screen the goaltender and tip incoming shots.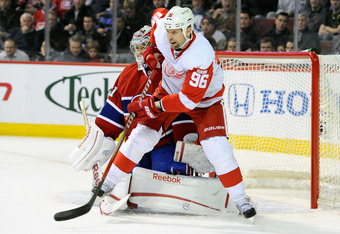 Richard Wolowicz/Getty Images
What Tomas Holmstrom is, is determined. Standing in front of the net—or "his office," as Red Wing announcer Ken Daniels often refers to it—is no easy job. Holmstrom is the constant target of never-called and seldom-retaliated crosschecks, slashes and even punches from defensemen and goalies alike on a nightly basis. Soon to be 1,000 nightly bases, in fact.
It is not easy to take that kind of abuse. It is not easy to have the patience to not take a penalty by retaliating. It is not easy to tip a slap shot coming at you while someone is trying to push you to the ground. What Tomas Holmstrom is, is be the best at what he does.
In his career so far, Holmstrom has totaled 240 goals and 284 assists, equaling 524 career points. This excludes his 90 points from 40 goals and 50 assists in 175 playoff games.
One might expect higher totals from a man who has played so many games, but Holmstrom's style is different. He plays a different kind of hockey, and it works.
What Tomas Holmstrom is, is a four-time Stanley Cup Champion, two-time Olympic team selectee and one-time Gold Medal winner.
What Tomas Holmstrom is not has made him one of the most underrated players in the game. What he is, however, has made him one of the most appreciated players within his team and fan base.
What Tomas Holmstrom is, is an iron man.