Houston Texans: Predicting Which Players on the Roster Won't Be Back Next Season
February 12, 2012

Bob Levey/Getty Images
It's always a painful time trying to predict which guys won't be a part of a team, especially when it's stuffed with players that you like.
But with free agency looming and the draft right behind that, the time is nigh for such events to take place for the Houston Texans.
For the first time since the creation of the franchise, the roster is stacked with NFL-caliber talent at every position. This was proven by how well the team continued to perform even after enduring more injuries than a retirement home in 2011. 
With several key free agents—including a couple of really big fish—this team is going to have to make some tough decisions in free agency. To bring them all back, they're going to have to get creative. It's possible, but highly unlikely. Then you have to think about needing roster space for the new additions through the draft and any possible free-agent additions.
With this in mind, I'm going to run through the roster and predict a handful of guys that will either be wearing a new uniform next season or watching from their sofa in their living room.
Instead of listing every player and why they'll be back, I'm going to focus on the ones I believe will be casualties and what the team can do to try and fill the void they'll be leaving behind.
Let's begin.
Jason Allen
This one, to me, is the easiest to predict. Some team will look at his interception numbers from the past two years and not only offer him more than Houston will be willing to offer, but also convince him that he will receive more playing time with their franchise.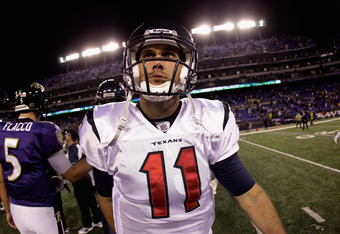 Rob Carr/Getty Images
Splitting time with Kareem Jackson couldn't have been fun for the former first-round pick.
To replace him, Houston won't have to look far. With 2012 not being nearly as deep of a draft at cornerback, it's clear why they doubled up in 2011 by selecting Brandon Harris in the second and Rashad "Roc" Carmichael in the fourth. 
Those two, combined with the improved play of Brice McCain and Sherrick McManis, will get more opportunity after Allen walks.
This one is easy. If the team isn't down to their third-string quarterback at the end of the season, Delhomme stays on his ranch all of last year. But in his one game of opportunity, he looked pretty good against a team playing for it's playoff lives in the Tennessee Titans.
This was enough for them to likely bring him back in 2012 for minimal pay, but he has already said he is retiring.
Matt Leinart
I really feel bad for Leinart because this was his one big opportunity to redeem himself and prove that he belonged in the NFL. Unfortunately for him, another broken collarbone shelved that hope.
Then, the guy on the depth chart behind him came in and played very well, likely supplanting him as the back up to Matt Schaub in 2012. It makes no sense for the team to keep him around at his salary as the third-string guy and I believe the team gives him his walking papers.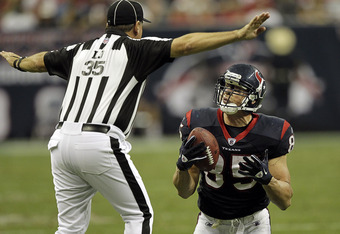 Bob Levey/Getty Images
With Leinart and Delhomme gone, the team will likely draft a late-round quarterback to come in and compete with another veteran drifter in camp. If a quality guy falls to the late rounds, as Yates did, Gary Kubiak won't hesitate to bring in another project.
Joel Dreessen
I hate this one, but someone is going to offer Dreessen an opportunity to be their starter and he would be a fool not to take it. This is the problem that good teams have; they lose guys that they'd really like to keep.
Everyone likes to make the tight end draft jokes, but with Garrett Graham still on the roster and James Casey being able to slide back over if needed, I wouldn't expect them to fill this need with another draft pick.
Matt Turk
Do I really have to explain this one? Given that Brett Hartmann recovers from his injury as expected, you'll see "The Hitman" back booming punts in 2012.
Kevin Walter
Unless Walter is convinced to reduce his salary in a total reworking of his contract, I have him at the top of my list as a "cap casualty" headed into camp. I understand why the team ponied up the cash to keep him around, but being virtually no downfield threat whatsoever doesn't justify the money he is making. He does a lot of the intangibles in the blocking game, but he has to be more than that for his contract.
It's no big secret that the Texans will be looking to fill the role of a second option at wide receiver as well as a slot guy. Expect them to look for both in the 2012 NFL Draft. 
Jacoby Jones
Even before his great moment of failure in the playoffs, I expected Jacoby to be wearing another uniform in 2012. He once again proved that he brings little to the table in the passing game and he can be a liability in the return game.
After the fan backlash, I'm not sure there is a way for him to succeed here now. Fans will always remember that one play. He'll need a change of scenery and with his contract no longer guaranteed, he'll get it.
As mentioned with Walter, I see the team drafting a guy to play the slot who can also return punts in this year's draft.
Bryant Johnson
I'm not so sure that Johnson was really ever supposed to make the team. Dorin Dickerson turned out just to be a seventh-round talent and Lestar Jean had to go on IR.
With the draft, as well as Jean and Jeff Maehl still on the roster, Johnson will fade into NFL obscurity once again.
Derrick Ward
It's been mentioned several times that Derrick Ward enjoyed his role as a mentor to the two young running backs in front of him last year, but he wants an opportunity to play.
I see him being replaced by a younger model in the late rounds of this season's draft.
Mario Williams
Ah, yes—the big one.
I really thought that the team would find a way to bring him back, as no guy drafted number one overall and been as successful as Mario has even left the team that picked him. But I think he falls victim to a numbers game in Houston.
The team will opt to sign restricted free agent Arian Foster to a long-term deal and that leaves little cap room to bring them both back. They'll use the extra money to resign Chris Myers, Mike Brisiel, Neil Rackers and a lower-tier free agent wide receiver like Robert Meachem.
It will also keep them from having to do something like cutting DeMeco Ryans to clear up the salary space, which is more of a possibility than most think.
As far as replacing Mario, let's be honest: You don't replace a Mario Williams. You just hope to find a band-aid to cover a wound that needs a tourniquet. Expect to see them using one of their first two picks in the draft to bring in a talented outside linebacker. Perhaps Whitney Mercilus, Nick Perry or Vinny Curry.
What the average football fan doesn't understand is that these things happen when you have a good team. It's impossible to keep a star player at every position, especially when you have Matt Schaub, Duane Brown and Connor Barwin all up for new deals in 2013 (as well as Arian Foster, should they not be able to work out a long-term deal).
It's a messy situation and I'm glad I'm not the one making the decisions. Because one like choosing between Mario or Arian isn't going to be popular if the answer is anything other than "both."
Mike Kerns is a Featured Columnist for the Houston Texans at Bleacher Report. Feel free to follow him on Twitter and catch his latest Texans podcast on iTunes.