Miami Dolphins: Predicting Which Players on Roster Won't Be Back Next Season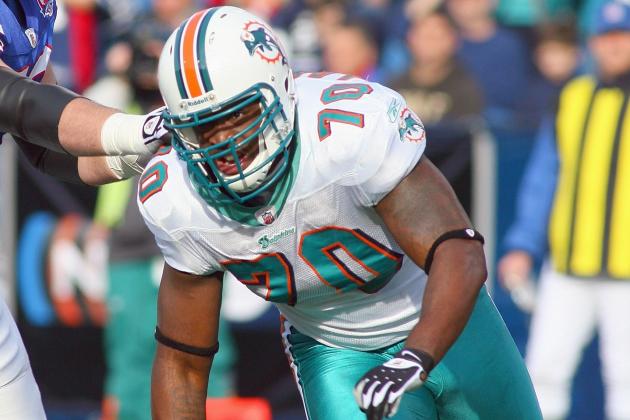 Rick Stewart/Getty Images

Before the Miami Dolphins can start constructing their draft board, they must conduct an internal review and figure out who will flee for greener pastures and who will return to Miami for the 2012 season.
There are a few big names slated for free agency, but Miami won't be able to afford many of those players. Moreover, there are quite a few players that don't warrant a return.
So, which current Dolphins won't don aqua and orange in 2012? Here are 10 players who may have played their final downs in Miami.
Begin Slideshow

»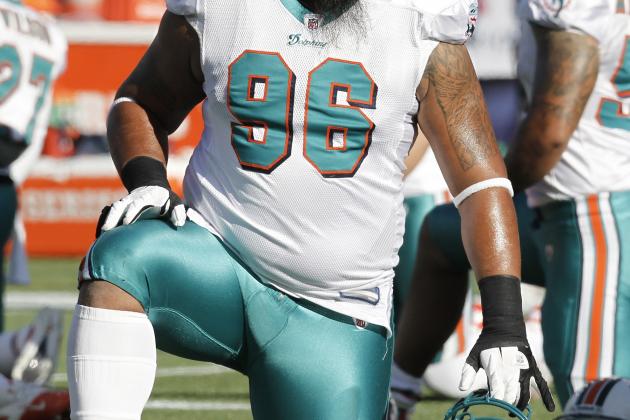 Winslow Townson/Getty Images

Paul Soliai has developed into one of the league's premier nose tackles over the last two seasons. Unfortunately, Soliai's rapid progression means the Dolphins won't be able to keep him.
Soliai is a free agent this offseason, and he will be one of the most sought after players on the market. Dominant nose tackles are very hard to come by, but Miami simply doesn't have the cap space to offer "Big Paul" the kind of money other teams will.
Instead, it looks like the 'Fins may switch to a 4-3 and allocate their money towards a quarterback and some other free agents to fill out the starting lineup.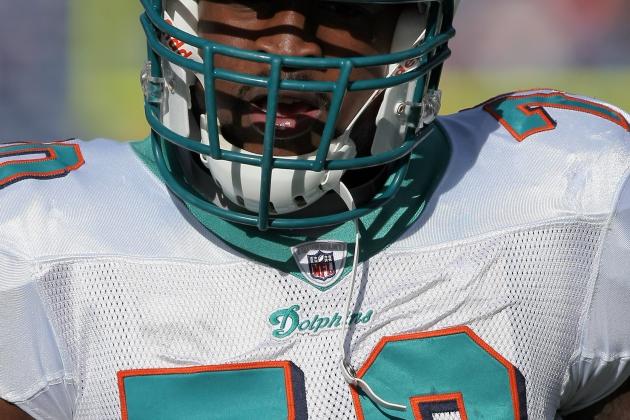 Doug Pensinger/Getty Images

Sometimes, the most consistent players are the most overlooked. Kendall Langford is a perfect example.
Since the Dolphins drafted him in the third round of the 2008 NFL Draft, Langford has been a symbol of reliability for Miami. Despite his anonymity, Langford figures to draw the attention of plenty of teams when he hits the open market this offseason.
Such productive and dependable 3-4 defensive ends are hard to find, but the Dolphins probably won't keep Langford around. With Tony McDaniel, Jared Odrick and Randy Starks already in the fold, Miami can afford to part with him.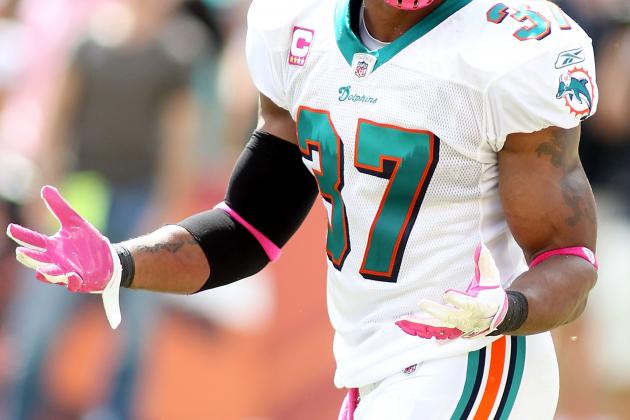 Marc Serota/Getty Images

Yeremiah Bell has registered over 100 tackles in each of the last four seasons. His production, physicality and leadership have made him a fan favorite, but as Omar Kelly of the Sun-Sentinel points out, Bell is making a lot of money for a player who doesn't cover much ground.
Subsequently, Bell could be on the chopping block this offseason.
It's tough to envision the Dolphins cutting a team captain, but it's also tough to dispute that Bell is overpaid. Let's hope Bell is willing to restructure his deal. Otherwise, he could play elsewhere in 2012.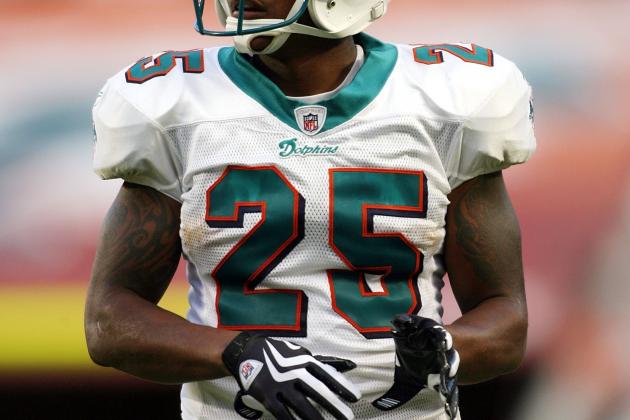 Marc Serota/Getty Images

Despite missing most of the 2009 and 2010 seasons with injuries, Will Allen bounced back and enjoyed a respectable 2011 campaign. Allen served as Miami's nickelback corner, and while he wasn't outstanding, he was never a liability.
However, Allen is slated for free agency this offseason, and there's a good chance he won't return. He will be 34 years old next season and the Dolphins need to upgrade the backend of their secondary.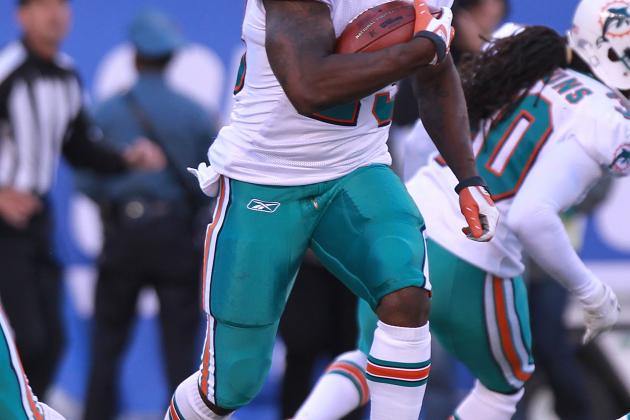 Nick Laham/Getty Images

Last season, Reggie Bush proved that he can be an every-down back, but there is still uncertainty surrounding Miami's running back corps.
Can Bush carry a full workload and stay healthy again? Will Daniel Thomas make strides from a disappointing rookie season? This uncertainty will force the Dolphins to acquire another quality running back.
Consequently, Steve Slaton's short tenure with the team will come to an end. Even though he showed signs of life in Week 17, Slaton's ceiling is rather low at this juncture in his career. Look for the Dolphins to replace him with a young back with upside.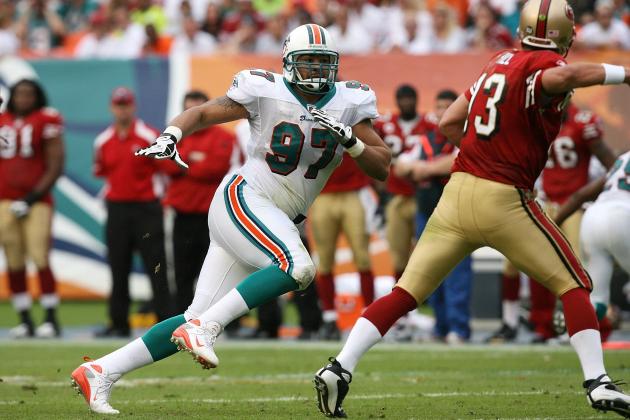 Doug Benc/Getty Images

After four unproductive seasons with the Dolphins, Phillip Merling is likely on his way out of Miami.
The former second round draft pick appeared in only 15 games over the last two seasons, and recorded a dismal seven tackles in that span. At this point, it is very unlikely that Merling will develop into the playmaker he once projected to become.
Merling is a free agent this offseason, and there's little chance the Dolphins bring him back.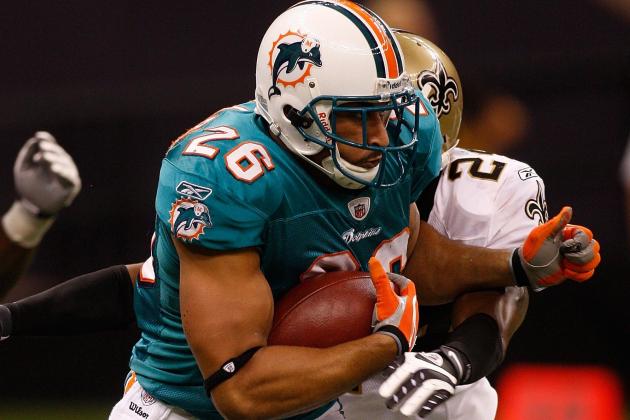 Chris Graythen/Getty Images

Give credit to Lex Hilliard.
For the last three seasons, the former sixth round draft pick has continually found ways to stay on Miami's roster. However, his tenure with the "Fins" may soon come to an end.
Hilliard will be 28 years old next season, and he has little room for growth. Even though he was a reliable short-yardage back in 2011, there simply isn't enough reason to keep Hilliard onboard. The Dolphins would be better suited bringing in a young back with upside.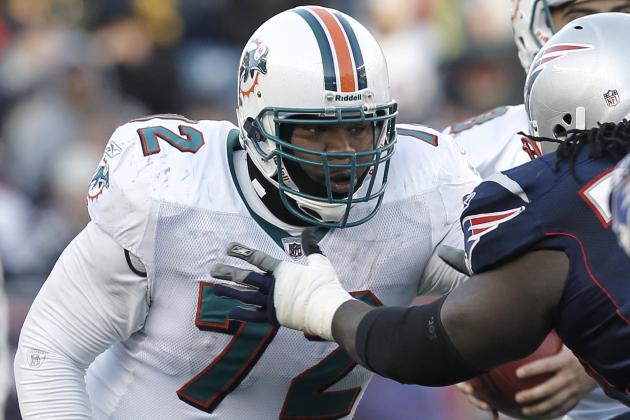 Winslow Townson/Getty Images

Vernon Carey has been a staple on Miami's offensive line since 2004, but he may have played his final game as a Dolphin.
Carey will be 31 years old next season, and the Dolphins do not seem fully confident in his skills. After all, the team bumped him from right tackle—where he played for the last six seasons—to right guard just prior to the season.
Carey was reliable but unspectacular, and Miami will probably look for a younger player who can provide an upgrade.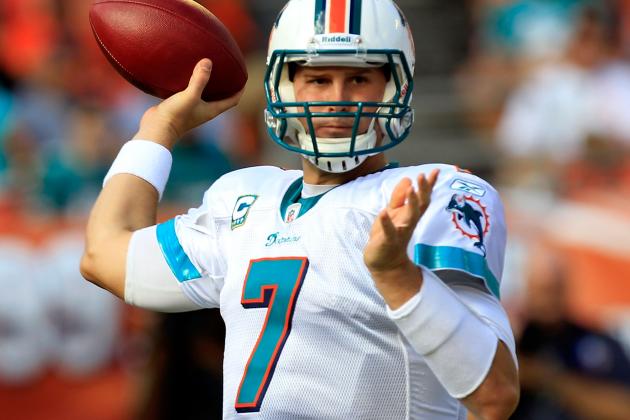 Sam Greenwood/Getty Images

This one is rather obvious, no?
Chad Henne has become the scapegoat for Miami's recent failures. The player who once symbolized hope now symbolizes disappointment, and the Dolphins won't even consider bringing him back.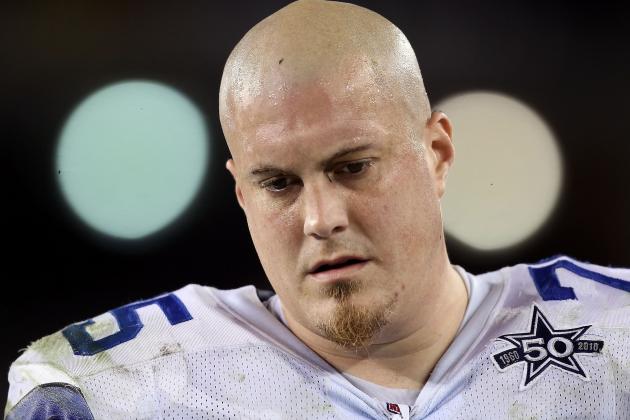 Christian Petersen/Getty Images

Another obvious one.
The Dolphins signed Colombo at the outset of the preseason, but it proved to be a mistake. Colombo was a liability in pass protection for most of the season, surrendering a team-high 10.5 sacks.
After such a rough 2011 season, Colombo might call it quits. Either way, he won't suit up for the "Fins" in 2012.