MMA's Michael Chandler Determined to Help Children Who Battle Through Cancer
February 10, 2012

"Be more concerned with your character than your reputation, because your character is what you really are, while your reputation is merely what others think you are."
These words spoken by the late, great coach John Wooden still have the power to change lives to this very day.
This has proved to be true in the life of Bellator's lightweight champion, Michael Chandler.
In a recent interview with Bleacher Report, Chandler goes off the record and shares how his life extends far beyond defending his world championship.
"It all really started during my days at the University of Missouri," said Chandler. "I always wanted to make a difference but I really didn't know how to do that.
"I really have a heart for children who suffer from cancer. I can't imagine having to go through that at such a young age," stated Chandler. "So, I decided that I wanted to play a part in their process and come up with a way to get their mind off what was going on in their life even if it was in the smallest way."
Chandler's desire to play a part in the fight against cancer ultimately escalated into the production of t-shirts which display the word "Blessed" on the upper left-hand corner of the shirt.
"I actually have a tattoo on the left side of my chest that says 'Blessed.' It represents how blessed I've been in my life and how thankful I am for all that I have.
"So, I decided to put the logo in the same location of my tattoo. It's just a reminder that we're all blessed in some way or another," said Chandler. "Not only that, but I want to spread blessings to children who have to battle through the hardships of life."
Chandler's efforts have resulted in the organization Blessed Threads.
Through Blessed Threads, fans and individuals across the globe can play their part in easing the pain of children who suffer from cancer.
Blessed Threads offers the opportunity for men, women and children to purchase a "Blessed" t-shirt and help fight the battle against cancer.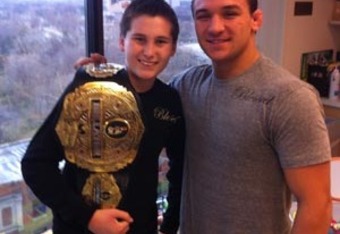 "For every shirt that is bought, our organization makes a donation to Friends of Kids with Cancer. Every shirt can bring happiness and joy to a child who has to suffer and battle through this awful disease," said Chandler. "Every child needs someone by their side as they go through this battle."
Chandler's organization bases it's beliefs around three principles: Much is expected from those to whom much has been given; ordinary people can accomplish extraordinary things; and, your best days and blessed days lie just ahead.
"This is an opportunity for someone to buy a t-shirt for a small price and make an enormous difference in the life of a child who desperately needs it," stated Chandler. "I really believe this organization can provide children with the support they need to get through their battle.
"I'm just a normal guy, no better than the rest of them. But, I know I have to do something," said Chandler. "I had so much growing up and I'm so thankful for all the people who invested in my life."
Every t-shirt bought provides emotional and recreational support to children who need it in the simplest of ways.
"These kids are about to enter in on the hardest challenge of their life. They're kids who are about to go through chemotherapy," shared Chandler. "My ultimate goal is to get their mind off what they're about to go through.
"I want these kids to be happy because that's really what we all deserve," said Chandler. "Even something small like being able to play Xbox 360 or have some candy before going into chemo can make the biggest difference."
Chandler concluded by stating, "I've been blessed so much in my own life and I want to spread that blessing to others who need it."
To purchase a "Blessed" t-shirt and make a difference in the life of a child battling through cancer, visit Blessed Threads.
To learn more about Michael Chandler and his life-changing movement, follow him on Twitter.
For additional information, follow Garrett Derr on Twitter .