NBA Rumors: Bucks' Problems Mount as Brandon Jennings Explores Exit Strategy
February 10, 2012

Mike Zarrilli/Getty Images
Milwaukee, the once great beer brewing capital of America, has been on the decline in recent years.
The city's former championship basketball team is also facing a number of it's own problems as well.
Brandon Jennings, the team's young point guard, leading scorer and marquee attraction, made it clear yesterday that he's exploring his options and could move to a bigger market and a town with brighter lights when his contract is up.
According to ESPN's Chris Broussard, Jennings is not 100 percent committed to staying with the team that drafted him No. 10 overall in the 2009 NBA draft.
"I am going to keep my options open, knowing that the time is coming up,'' Jennings said in an email interview. "I'm doing my homework on big market teams.''

He continued, "I'm not saying I won't (sign an extension with the Bucks) and I'm not saying I will,'' he said. "I'm just keeping my options open.''
This is terrible news for a team that had to be hoping to ink the guard to a long-term deal this summer.
It's looking more likely that he will sign a one-year qualifying offer instead and hit the open market in the summer of 2014.
Meanwhile, the budding star says it's strictly a basketball decision.
"It has nothing to do with the city of Milwaukee or anything like that because that's where I started my career," Jennings said. "They've been nothing but good to me. (Coach) Scott Skiles and (general manager) John Hammond have been good to me. It's just that I'm understanding the business of basketball now."
Unfortunately, the timing could not be worse.
Jennings' interview comes on the heels of second-leading scorer Stephen Jackson's benching by Skiles, and he is becoming discontent with his role on the team.
While Jackson hasn't come out and publicly said he wants a trade, he did not deny it. Indeed, this quip he gave to Milwaukee Magazine's Howie Magner seethes with dissatisfaction.
It's a shame that the team, currently 11-14, good for the No. 8 seed in the East right now, is falling apart. Remember they lost starting center Andrew Bogut indefinitely a few weeks ago as well. 
They are less than two years removed from an improbable and epic seven-game playoff series with the Atlanta Hawks and seemed to be on their way back to the postseason this spring.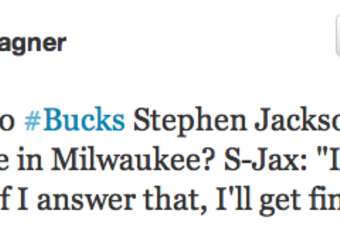 GM John Hammond assembled a solid roster built around Jennings, Jackson and Bogut and the future was looking bright in Cream City.
Just like the Old Milwaukee beer brand is being revived by Will Ferrell's genius marketing campaign, it seemed the Bucks would also turn themselves back into winners because of Jennings and company.
The past couple of days have been rough, but Milwaukee is a tough town and has seen its ups and downs in the past. Hopefully they can weather this storm and right the ship.