Wrestlemania 28 Preview: A Realistic Card and Match Predictions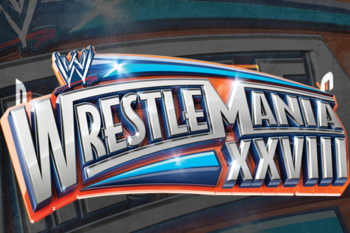 The Grandest Stage Of Them All.
Wrestlemania XXVIII will emanate live on pay-per-view from Miami, Florida on April 1, 2012. With one huge match already in place and two more matches as good as confirmed, Wrestlemania XXVIII is shaping up to be one of the best events of all-time.

But, in order to make sure that the event delivers, it needs to have a strong undercard as well, which won't get overshadowed by its plethora of main event matches.

So, what are the matches we'll get to see at WrestleMania? And who'll come out on top? Let's find out!
The Money in the Bank Ladder Match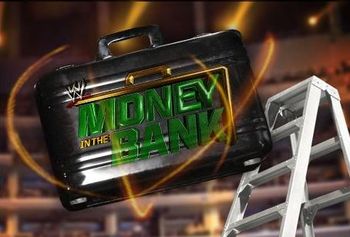 After being conspicuous in its absence last year, the Money In The Bank match will return to its birthplace, WrestleMania.

It has always done the job of setting the tone for the show, and this year, I see it doing just the same.

The eight participants would be Wade Barrett, Kofi Kingston, Dolph Ziggler, Christian, Zack Ryder, Kane, Ted Dibiase and Drew McIntyre

I think Dolph Ziggler will get the win over here, as he's had a remarkable past year and he deserves the briefcase. Wade Barrett, though, has a decent chance too.

Winner: Dolph Ziggler
Dark Horse: Wade Barrett.
Cody Rhodes (c) vs. Goldust (Intercontinental Title vs. Career Match)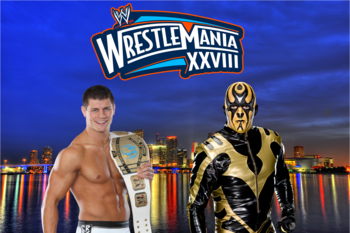 This match has been asked for by Dustin "Goldust" Rhodes himself, and it seems that it will happen.

The seeds for this match were already planted a few weeks ago on SmackDown, when Dustin got involved in Cody's feud with Booker T. It ended with Cody giving a Beautiful Disaster kick to his half-brother.

This match is easiest to predict. Cody Rhodes gets the win, building further momentum and ending Goldust's career.

Winner (and still champion): Cody Rhodes
The Miz vs. R-Truth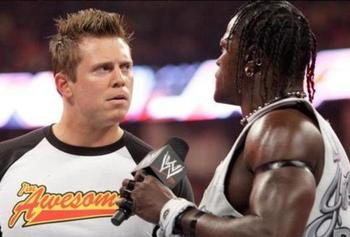 These two superstars' rivalry began immediately after Survivor Series, when The Miz turned on his tag team partner, Truth. Since then, they have been back and forth, but there hasn't been any momentum in this feud.

This rivalry has potential, as both of these superstars are top notch on the mic and quite decent wrestlers.

Both of them will take part in the Raw Elimination Chamber match, and one of them, preferably The Miz, needs to eliminate R-Truth. This can lead to a stipulation match at WrestleMania.

The Miz needs to pick up the victory and build momentum considering how fast he has fallen from the top of the card. Besides, R-Truth is already 40 years old and near the twilight of his career, so giving him the win wouldn't make sense.

Winner: The Miz
Big Show vs. Shaquille O'Neal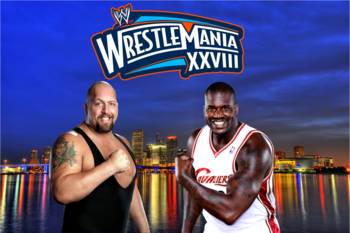 When it's WrestleMania, celebrity involvement is an absolute must. There have been some celebrities like Iron' Mike Tyson and Floyd Mayweather making an impact on the past years' matches.

Considering that Shaq's a fan of the business, and has been following WWE for ages, there's a chance that this might actually be a fun match to watch.

Big Show should get the win in a dirty fashion, thus turning heel. He can have a long last run as monster heel before he calls it a day.

Winner: Big Show


Beth Pheonix (c) vs. Natalya vs. Kharma for the Divas Championship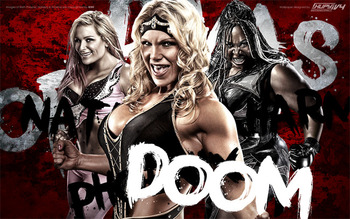 Kharma returned at the Royal Rumble, much to the delight of all fans.

Beth Phoenix is Divas Champion.

Natalya is one of the best woman wrestlers on the rosters.

Pretty easy match to book, and if given a decent amount of time, they could put on one of the best Divas matches in the past year.

Kharma wins this one and has a lengthy reign as champion.

Winner (and new champion): Kharma
Daniel Bryan (c) vs. Sheamus vs. Randy Orton for the World Heavyweight Championship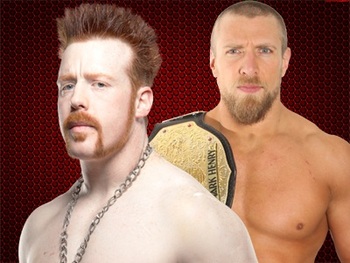 and Randy Orton too...
This will be the first of the four main events of the evening.

Daniel Bryan will somehow manage to hold on to his title at Elimination Chamber, and Royal Rumble Winner Sheamus will choose the World Heavyweight Champion as his target for the title.

The WWE might just add Randy Orton to the mix, as this match lacks a bit of star power. Also, Orton has no direction now, as his already long feud with Wade Barrett just ended.

I expect the three of them to go at it for around 15 minutes, with Sheamus getting the win after pinning Bryan and starting his first World Heavyweight Championship reign.

Winner (and new champion): Sheamus
CM Punk (c) vs. Chris Jericho for the WWE Championship
The Best Wrestler In The World versus The Best In The World At What He Does.

This match will steal the show. Expect both these superstars to bring their A-game on April 1st and put on a five-star match.

The rivalry that we have all been waiting for since Jericho returned has just kicked off. We're in for a treat all the way till WrestleMania. Both men have stellar promo skills, oodles of charisma and top-notch wrestling skills.

I don't know about anyone else, but this is the match that I am looking forward to the most at this year's WrestleMania.

Chris Jericho gets the victory and the championship here, hopefully continuing the feud all the way till SummerSlam, where Punk can regain the belt.

Winner (and new champion): Chris Jericho
The Undertaker vs. Triple H with Shawn Michaels as Special Guest Referee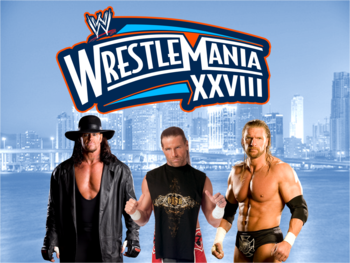 The Streak WILL continue...
The Undertaker will defend his WrestleMania streak, in what should be his last match, against Triple H in a rematch from last year. But this time around, Shawn Michaels will be the special guest referee to spice things up.

Michaels has already been announced to appear on a few episodes of Raw, so the chances of him getting involved are extremely high. Either way, it's always good to see Shawn. Besides, it'll become a bit bland if we see the same kind of match for the third time now. (Yes, WWE, they did wrestle at WrestleMania 17.)

Predicting this match is easy as well. The streak can't be broken. Simple as that. And surely not by a semi-retired veteran.

Towards the end, Michaels will turn on HHH, saying that if he couldn't do it, nobody can. The Sweet Chin Music will hit The Game and The Phenom will make it 20-0, riding into the sunset.

Winner(the streak continues): The Undertaker
The Rock vs. John Cena
This is it: the main event. The biggest match of all time. The reason why WrestleMania 28 is expected to have the largest pay-per-view buy rate ever.

This match was made just the night after last year's WrestleMania. Since then, Cena and Rock have taken potshots at each other only through social media, with Survivor Series being the rare exception where they finally had any physical contact.

Hopefully, with Rocky being heavily advertised to appear for the lead-up to WrestleMania, finally this feud can kick start in the real sense.

I think Cena will win this match, (stop jeering at me, Rocky marks) whether we like it or not.

Giving Rocky the win will not achieve anything. He has retired, whatever he may say. He's not going to come back except for the one-off appearances here and there.

The WWE creative team will book Cena to win clean and remain the goody-two shows he is in the hope that he can gain some respect from his detractors. But, in my opinion, the effect will just be the reverse, and that would just be plain stupid. Also, there would be riots in Miami that night.

That leaves only one possibility remaining, the thing we have all been waiting for for eternity: Turn him heel.

Let him beat Rocky clean, and when they shake hands after the match, Adjust his Attitude. Come out next night on Raw and say that he has had enough with the Cenation and that even beating The Rock wasn't good enough for them. Then he can have a heel run for around a year.

And the IWC can breathe a sigh of relief.

Winner: John Cena


Conclusion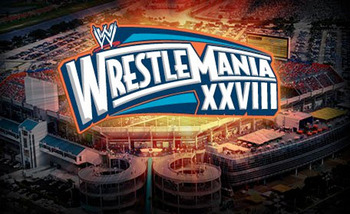 Let's hope WrestleMania lives up to its expectations.
Thank you for reading!

Your feedback is always welcome!
Cheers!
Keep Reading