Manchester United vs. Liverpool Preview: Pick of the Premier League This Weekend
February 10, 2012

Alex Livesey/Getty Images
This Saturday's derby looks to be as exciting a spectacle as ever, as 'King' Kenny repeatedly defends his star striker Luis Suarez ahead of Liverpool's clash with United.
With Fergie's side still in the title race, they will hope to amend for their fourth round FA cup defeat to their bitter rivals, and keep up the pressure on city. Liverpool meanwhile, are struggling to even make fourth, with every minute they continue to play the human traffic cone and serial threat to the well-being of all that sit in row z behind the goal, Andy Carroll.
The big talking point approaching this game, as it was when the two teams met in the FA Cup on January 28, is how Patrice Evra will cope playing against Liverpool. Turns out—not well, was the consensus.
However, this time, Suarez is free for selection having completed his eight-match ban after being found guilty of racially abusing a Manchester United full-back. Liverpool defender Glen Johnson said he believes the Uruguayan forward's strength of character will steer him through taunts from the Old Trafford faithful; and judging by the disgraceful response the Kop afforded Evra, Suarez can be almost certain the abuse coming his way won't be pretty.
The fact that he claims he has nothing to be apologetic about, according to Sky Sports, is likely to inflame United fans further. Wise move, Luis.
Concerning footballing matters, the teams are coming in on opposite ends of the spectrum: Liverpool have won only three of their last nine Premier League fixtures, while United have only tasted defeat twice in its last 11 matches.
In that period, Rooney, Welbeck and company have put 29 goals past their opponents, but Liverpool—missing top scorer Suarez—have managed only eight, shipping the same number.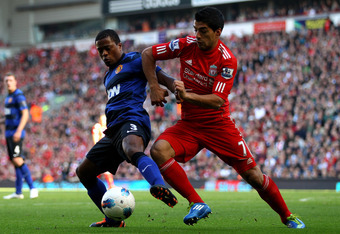 Clive Brunskill/Getty Images
Good news for the Kop though, Carroll did manage a goal against Wolves, taking his season tally to three. However, I'm sure he's fairly chuffed he's now notched one more than last season. Onwards and upwards, as they say. Literally, for some of Carroll's efforts on goal.
Every cloud does have a silver lining, however, and for Liverpool that gleam of inspiration has come in the form of their feisty Welshman, Craig Bellamy.
He's found the net six times in the league, but his incisive inside runs from out on the left wing cause havoc for opposing full-backs. With a low centre of gravity, quick feet and eye for goal, he's been the most exciting player for Liverpool in the absence of Suarez.
Kenny will also be pleased that Gerrard has largely managed to maintain fitness since returning from a lengthy ankle injury, and will likely face a United midfield that, although has improved of late, is still not a classic lineup.
Fergie, on the other hand, has had his injury worries trouble him slightly less of late, as Ferdinand returned to marshal the defence against Chelsea, while Ashley Young also made his first start since December, and Tom Cleverley is reportedly close to returning to the squad.
The man under the spotlight, United interim captain, Patrice Evra said he was amazed by the spirit shown by United to have been hit with so many injuries and still be in touching distance of league leaders Man City.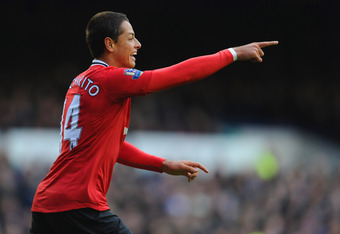 Michael Regan/Getty Images
With injuries to Smalling and Jones in recent weeks, the United backline has had their work cut out, but it is United's forward line that have relieved the pressure by keeping an impressive goal-scoring form.
Rooney bagged a brace against Chelsea, while young Welbeck has continued to impress with goals in big games against Arsenal and Man City. Even more encouragingly for United coaching staff and fans alike is the prolific form of 'Chicarito' coming off the bench. He grabbed a late equaliser earlier in the season, in the 1-1 draw at Anfield, and more recently, snatched another in the 3-3 draw with Chelsea.
De Gea looks set to continue in goal for the champions; partly down to Anders Lindegaard's absence, but partly down to an assured showing against Chelsea that culminated in a truly world-class save from Ramires at the death.
Liverpool fans may draw comparison with Barthez's wonder-save from Dietmar Hamann in the 2002/03 campaign—a game which saw the Scousers sunk by a rare brace from Diego Forlan, prompting the still popular Old Trafford chant "Diego! Diego! He comes from Uruguay, He made the Scousers cry!" King Kenny will be hoping that, for all his defending of Suarez, it will Liverpool's own resident Uruguayan that steals the plaudits this Saturday.
Valencia looks set to keep his place in the starting line-up, with the most obvious option being Park Ji-Sung coming into the set-up on the opposite wing to neutralise the threat posed by Johnson.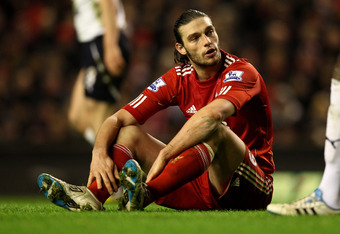 Clive Brunskill/Getty Images
Nani is also in contention for a start, though a bench spot is more likely for him alongside Ashley Young. Rooney and Welbeck are both in form and are the expected forward pairing, though with Hernandez's recent form, the little Mexican could push for a place.
In defence Rio is expected to start, with Evra and Rafael (who has been solid in recent weeks) occupying the flanks. If available, one would expect Smalling to partner Ferdinand, but that role may be fulfilled by Jonny Evans.
For Liverpool, Jose Enrique will return, allowing Glen Johnson to return to the right-back berth occupied by Martin Kelly of late. The big question is whether Suarez should start, and if he does, will he be partnered by Carroll? Liverpool will likely switch back to a 4-4-1-1 to allow Suarez to come deep while the lumbering Carroll will be expected to hassle the United center-backs. Otherwise, a 4-5-1 may be employed, with Carroll the lone striker and Bellamy and Kuyt manning the wings.
The FA has encouraged Evra and Suarez to shake hands and move on from the incident, and United manager Sir Alex Ferguson has "no problems" that the pre-match handshake will go ahead. Though, all eyes will be on the two players upon kick-off, the match has enough going for the attention to soon switch to the quality of football.
Possible Starting XIs
Manchester United: De Gea; Rafael, Ferdinand, Evans, Evra; Valencia, Park, Carrick, Giggs; Welbeck, Rooney.
Liverpool: Reina; Johnson, Skrtel, Agger, Enrique; Adams, Gerrard, Bellamy, Kuyt; Carroll, Suarez.
Kick-off, Saturday 11th February, 12:45pm, Sky Sports HD 1.