NHL Trade Rumors: Chicago Blackhawks 'Ain't Putting the Band Back Together'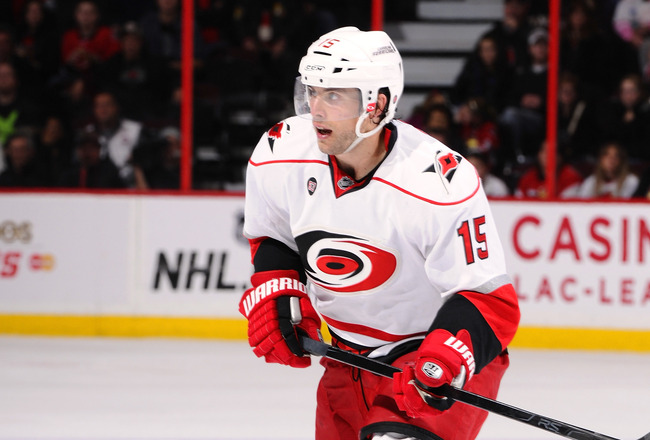 Phillip MacCallum/Getty Images
The Chicago Blackhawks have to live in the now. Let the past be the past, to quote the wiser-than-his-years Randall Graves.
Those of us that are holding out hope that GM Stan Bowman is going to reunite some of our recently departed alumni for a magical ascension to past glories are delusional. It would warm one's heart, but the 'Hawks ain't putting the band back together.
That hasn't stopped fans from tossing out some familiar names, especially in light of a faith-shaking road trip.
The Blackhawks are still looking for their first win going into Friday night's game in San Jose.
Let's take a closer look at some of the possibilities and their chances of donning the Indian head sweater again in the near future.
Troy Brouwer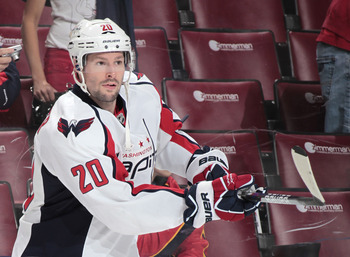 Joel Auerbach/Getty Images
So long as were in the pining mood, I'll start by giving a shout out to Brouwer, who was too expensive for the team to hang onto, then signed for Michael Frolik-type money after his rights were traded to Washington.
This is a cautionary tale, folks.
All last season, all we did is pick at Brouwer and focus on what he wasn't instead of appreciating what he brought to the festivities—kind of how Viktor Stalberg's worth is being questioned at times this season.
Both guys lack the hands to become premier scorers and have been slid up and down the lines by Joel Quenneville. Washington has kept him in their top-six and Brouwer is having a season we could only hope to get out of Frolik.
Brouwer has 15 goals on the year—more than Andrew Brunette and Frolik combined, by the way. His stats are on par with Stalberg. There is no use spending any more time on this, as Brouwer's gone and won't be back this way.
I do think we should hang on to Youngblood unless Bowman decides to start selling for some unexplained reason. We can use the talents Stalberg does bring to the club down the stretch.
Chris Campoli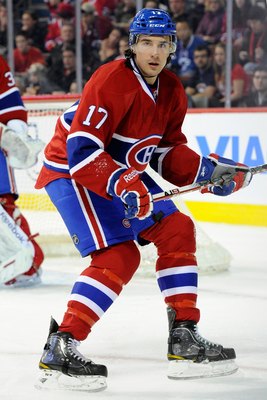 Richard Wolowicz/Getty Images
Well, he ought to be rested, having missed the first 30 games with a knee injury.
Campoli was a consolation prize at last year's trade deadline, though he did fill a spot on the third pairing. I just don't see how re-acquiring Campoli is anything but a lateral move for the defense.
Quenneville has a guy that can play a similar game to Campoli languishing in the team box in Sami Lepisto. If Quenneville doesn't believe a comparable bottom pairing defenseman can't get it done despite respectable numbers in the few games he has played, why would Campoli be considered a solution?
Picking up Campoli just changes the faces at the bottom of the defensive corps. He's been a scratch in nine of the 25 games he's been available for action in Montreal. He's been the Canadiens version of Lepisto.
I'd rather Bowman saves a buck and tells Quenneville to put Lepisto in for the rest of the road trip to see if he can't at least eat up minutes on the third pairing, especially if Steve Montador misses any time.
Tumo Ruutu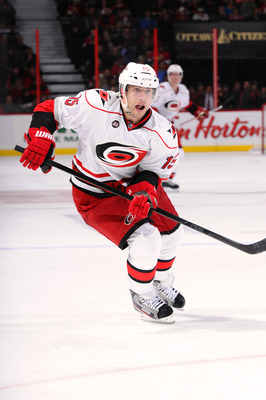 Phillip MacCallum/Getty Images
He is a former Blackhawk by way of an era we are encouraged to forget by the present front office. Ruutu is a bit pricey, but at this point the team could handle the rest of his $3.8 million cap hit.
Ruutu is one of the few top-six level forwards that could be had, though I'm not certain of what the price would be to Carolina. He doesn't address Chicago's defensive needs, but he'd be an upgrade at forward.
This is one move I would view as something more than a change for changes sake. Ruutu could come in and add secondary scoring and that physical nature that Quenneville seems to prefer.
Though Ruutu has spent much of his recent past on the wing, he does offer the possibility that he could handle a top-six role between Marian Hossa and Patrick Sharp.
Nikolai Khabibulin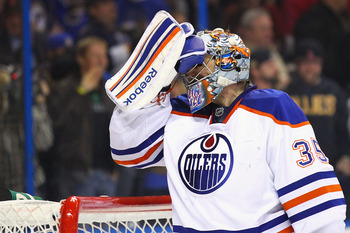 Dilip Vishwanat/Getty Images
Let me get this straight. We pick up the guy we ran out of town for his inconsistency and count on the 39-year-old version of that player to solidify our net?
A lot of supporters will point to the 2.50 goals against average and the .916 save percentage, but after his hot start to the season, the Bulin Wall has shown every one of those 39 years.
He is 1-10-1 with a 3.48 GAA and a .899 save percentage in his last dozen appearances since mid-December. Unlike a player like Evgeni Nabokov, Khabibulin hasn't played well as of late and does not carry with him an expiring deal.
The 'Hawks don't need his contract, which runs through next season. Khabibulin is a more expensive, late-model goalie who doesn't really improve Chicago's situation in net.
Adam Burish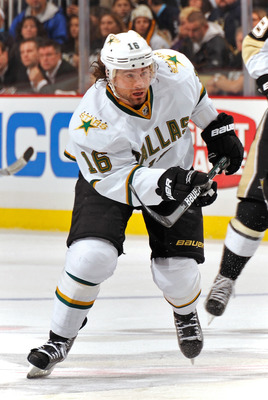 Jamie Sabau/Getty Images
Burish is having himself a solid year down in Dallas with four goals and eight assists. Just the same, why give anything up for Burish when you could pick him up at the end of the season when his deal expires?
Jamal Mayers has played Burish's role quite capably this season and we have plenty of guys who can fill fourth-line minutes if needed. On the other hand, Burish may loosen things up in the locker room enough to be worth losing whatever it took to bring him back.
Like several other players on this list, a trade involving Burish brings a smile to the faces of the fans, but isn't really a big impact move. Chemistry can't be overlooked, and the Chicago media would love the oft-quoted Burish.
Just the same, Adding Burish doesn't vastly improve the club.
Conclusion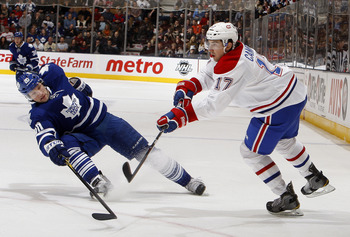 Abelimages/Getty Images
I wouldn't hold my breath for a parade of returning 'Hawks.
Bowman held off big signings this summer in hopes that he could pick up what he needed close to the deadline. So far, it hasn't happened.
You might see players like Burish or Campoli back in the team colors, but only as face-saving moves. Campoli was a plan B last year and doesn't come close to fitting the current defensive needs now.
Re-acquiring Ruutu could be seen as a big move for Bowman, though it still doesn't address the back end issues. Still, the ship may have sailed on the possibility of such a deal.
Bowman may get stuck with extra money in his pockets come March. If he is able to complete a swap before then, I'd think he be making moves to the future as opposed to the past.
Who knows, though. Anyone have Brent Sopel's number?
Keep Reading

Chicago Blackhawks: Like this team?