The Undertaker: Best Attributes of Mark Calaway's Career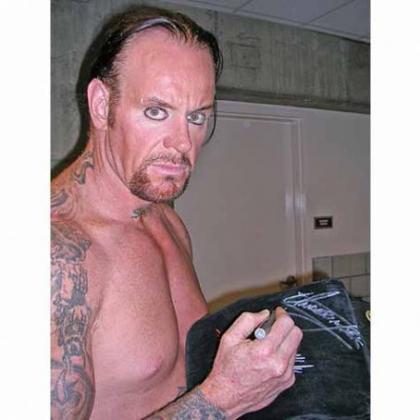 This list is an ode to the man who brought "The Undertaker" to life.
Instead of showing his greatest moments, I will be showing some things you hopefully didn't know or fully appreciate about one Mark William Calaway.
Here are 8 videos that illuminate the life of the man behind the gimmick.
Begin Slideshow

»
Calaway is an athlete of a higher level.
He has always been praised as being a high-flying yet imposing figure.
In his early WWE tenure, however, he turns that term into an understatement, as this video demonstrates.
Calaway has been known to appear on television along with being accompanied with his own sense of humour.
Conventional as it is, it makes obscure television compared to his usual in-character outings.
Calaway had come to Jimmy Kimmel Live!, showing that Calaway is indeed human and The Undertaker is hinting to be also.
Will we see a pillow fight in this coming Wrestlemania?
P.S. The show leaves a lot to be desired.
Calaway is a leader of the locker room due to many credible things and being respected among his younger peers is one of these attributes.
Calaway is blessed with a certain winning streak, which we will come to later on. This said winning streak has foundations that aren't really discussed by many of the IWC. The majority believe that this said streak is out of this world, leaving no one to question its roots.
The first few wrestlers who fell to the streak were reputable performers such as Jimmy Snuka, Jake Roberts, King Kong Bundy and many others. These wrestlers were already wrestling at a main-event level and were willing to put over the younger Calaway.
It can be argued that this attitude instilled within Calaway became prominent in his later years, as he has feuded with many up-and-coming wrestlers such as Muhammad Hassan, Jon Heidenreich, Randy Orton and a host of other younger talents.
Calaway doesn't hog the spotlight, keeping the business and the careers of other peers to a high level of potential.
This match with Jeff Hardy is a good example for the theory.
The Undertaker is as tough as they truly can come.
However, Calaway is probably viable to be in that same realm of toughness. He will literally come through fire to entertain the people who paid to see him.
In all seriousness, he is a true American Bad Ass.
This is a slide that will surprise no one.
Calaway has a long list of accomplishments, probably as long as all of Vishnu's arms combined.
As The Undertaker in WWF/WWE, he is a seven-time WWE/World Heavyweight Champion, a six-time WWE Tag Team Champion and a former WCW Tag Champ during the infamous Invasion angle.
He is also a former WWE Hardcore Champion and the winner of he 2007 Royal Rumble Match, becoming the first-ever entrant to win with the number 30 slot.
That is a lot of championship gold.
Is a risk still a risk, even if a said risk is used as a signature move?
Who knows?
All I know is that Calaway uses his trademark athleticism to spectacular effect when he goes for a legendary suicide dive.
Calaway is not known for helping charities outside of the ring, especially due to his in-ring character rarely breaking kayfabe.
However, that hasn't stopped Calaway from helping out society and the things that he cares about.
Along with his ex-wife, Sara, Calaway founded and established The Zeus Compton Calaway Save the Animals Fund at the Texas A&M College of Veterinary Medicine and Bio-Medical Sciences to help pay for life-saving treatments for dogs of a larger breed.
Calaway is a former amateur basketball player and has a strong passion for MMA, being spotted at several UFC live events.
The video is fairly descriptive on Calaway's view on MMA, not to mention pretty infamous due to a certain confrontation with the man formerly known as the "Next Big Thing."
Calaway also invests in real estate and constructed, along with business partner Scott Everhart, a building they dubbed as "The Calahart".
It wasn't a vocation taken lightly, as the building is worth an astounding $2.7 million dollars.
That's all, folks.
I hope you learned at least a little from this article.
If you have any other moments or little-known facts regarding Calaway, please share them via the comments section.
I will leave you with one of the many returns made by "The Undertaker."