Michigan Football Recruiting: Weekend Visitors to Attend Hoops, Hockey Battles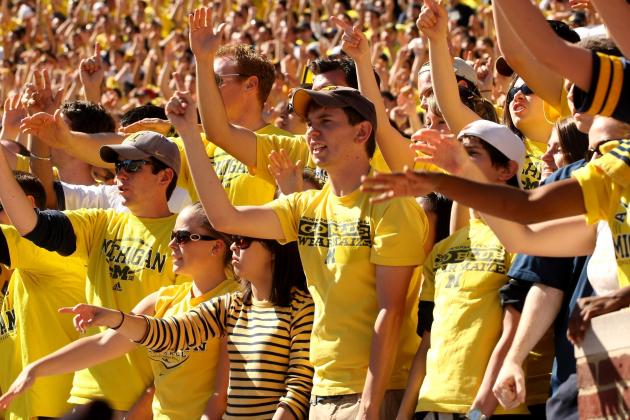 Stephen Dunn/Getty Images

The summertime BBQ at the Big House has recently become one of Michigan's most successful recruiting events.
In the fall, key football games like Michigan State, Notre Dame and Ohio State have also attracted several prospective recruits.
This weekend is shaping up as quite a recruiting bonanza, too. Several visitors from the potential 2013 football class will be on hand for a full schedule of events.
Yost Ice Arena will be the site for a pair of crucial CCHA hockey games between Northern Michigan and the Wolverines. ESPN's College GameDay will set up shop at Crisler Center on Saturday morning.
The crew will be previewing the day's college basketball action, including the Big Ten matchup later that evening between Michigan and Ohio State.
While the basketball game will be compelling enough, a few of the visitors may be close to selecting Michigan.
Let's take a look at who's leaning toward the Wolverines, the list of top prospects and who's already committed.
Begin Slideshow

»
Jake Butt, TE/DE—Pickerington North, Pickerington, Ohio
One of several visitors this weekend, Jake Butt has his eyes set on Michigan's future pro-style offense. He also sees top-notch quarterback Shane Morris down the road, too.
"You know you are coming in with a pro-style quarterback," Butt told scout.com. "You know you are going to use tight ends."
At 6'3", 220 pounds, Butt has played both defensive end and tight end. He plans on committing before football season begins.
Taco Charlton, DE—Pickerington Central, Pickerington, Ohio
Another Ohio State fan as a youth, the 6'6", 240-pound defensive end was sold on Michigan when he attended the Wolverine-Irish night game last fall. He'll be back this weekend taking another look at the campus, visiting with the coaches and taking in the basketball game.
Helping close the deal on Charlton is former high school teammate Tamani Carter, a Wolverine freshman defensive back. Charlton has also been offered by Notre Dame and UCLA, but not as yet by the Buckeyes.
Logan Tuly-Tillman, OT—Manual HS, Peoria, Ill.
Seems like Tuly-Tullman can't get enough of Ann Arbor. The 6'7", 300-lb offensive tackle has already seen two football games, a basketball game and a hockey game. He'll be back in town this weekend, but is in no hurry to make a decision.
Ohio State, Alabama, Notre Dame and several other schools have offered. Deciding will be tough, but Michigan is definitely in the lead.
"The coaching staff is phenomenal," Tuly-Tillman told scout.com. "They are real up front with me and the Michigan offer represents a lot of tradition, so I don't know how anyone couldn't be excited about it and want to be a part of it."
Michigan set the tone for the 2013 class by landing 5-star, ESPNU 150 quarterback Shane Morris.
A 6'3", 195-pound southpaw from Warren De La Salle, Morris will either redshirt his first season, or immediately battle Devin Gardner and Russell Bellomy for the starting quarterback job.
In recent years, Chad Henne and Tate Forcier both started at quarterback for Michigan as true freshmen.
As a high school junior, Morris passed for 1,658 yards, 19 touchdowns and seven interceptions.
The first Michigan commit offered by both Brady Hoke and Urban Meyer, Dymonte Thomas will immediately get a taste of the off-field struggles between Michigan and Ohio State.
Not only will Thomas get calls from Meyer, he'll also get them from his cousin, Bri'onte Dunn.
Dunn, who earlier decommitted from Ohio State and might have joined the Wolverines, is now back with the Buckeyes and enrolled in the school.
Thomas, too, is not wavering. "I'm staying committed," Thomas told Scout.com. "I've already given (Michigan) my word."
A 4-star safety, the 6'1", 180-pounder could play cornerback considering his 4.53 speed. On the other hand, Thomas gained 801 yards on 91 carries as a running back.
A 6'2", 230-pound tight end/H-back, Khalid Hill becomes the third commit of the 2013 class. Hill caught 29 passes for six touchdowns as a junior, while tallying 55 tackles and six sacks as a defensive end.
"I've always lived in Detroit." Hill told the Free Press. "I watched Michigan as a kid and hoped one day it would be me."
Michigan is also looking at wide receiver Jourdan Lewis and offensive tackle David Dawson of the Detroit Public School League.