Big Ten Basketball: Under-the-Radar Players for All 12 Teams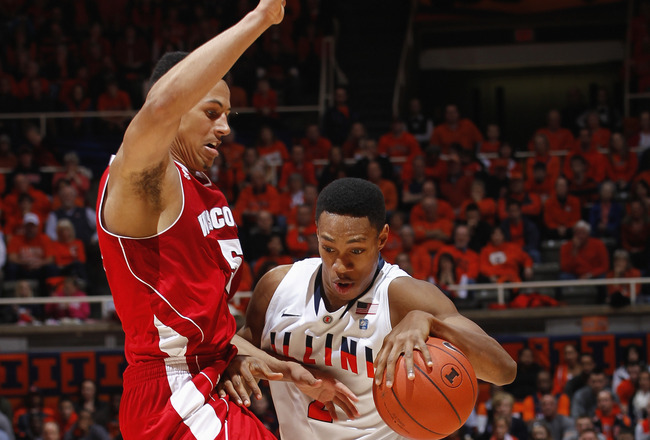 Joe Robbins/Getty Images
With just a few weeks to go in the Big Ten regular season, followers of the conference have a pretty good understanding of each team's go-to players, as well as the other key contributors who play a role in each team's success.
However, there are still some guys making valuable contributions who have been overshadowed by those other key players who receive the bulk of attention from fans and media.
This piece will look at one player from each Big Ten team who has played a role in the team's success (frequent or infrequent as it may be), and why they may become a bigger factor down the stretch for their respective teams.
Nick Colella, Penn State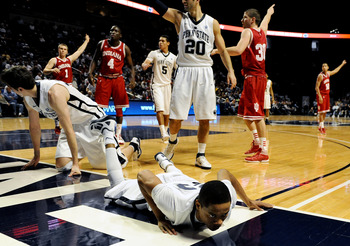 Colella, #20 pictured
Patrick Smith/Getty Images
Penn State is not exactly an offensive juggernaut.
With only one real consistent scorer—Tim Frazier—the Nittany Lions have struggled to score enough to win in the Big Ten.
At just 2-10 in Big Ten play, Penn State has scored more than 60 points in a game just four times in 12 conference games. The team can use all the scoring help it can get.
Nick Colella, a junior reserve guard, could provide a bit of a spark down the stretch for Penn State. After being seldom used through the season's first two months, Colella has made an impact over the last several games for the Nittany Lions.
Colella scored nine points against Michigan State on Wednesday, hitting three shots from long range. He also scored 10 points against Iowa last weekend, and 11 against Indiana back on Jan. 22.
Coach Pat Chambers has given Colella a significant spike minutes the past couple games, with 29 minutes against Iowa and a career-high 37 minutes against Michigan State.
Perhaps Chambers sees Colella—primarily a long-range threat for now—as someone who can get the Penn State offense going a bit through the team's last six games, and into the Big Ten Tournament.
Dylan Talley, Nebraska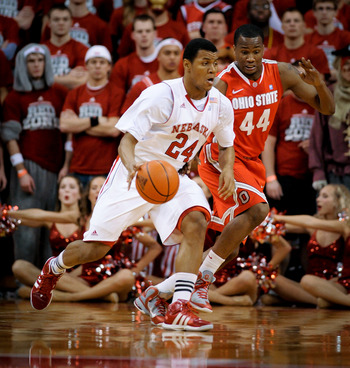 Talley, #24 pictured
Eric Francis/Getty Images
As much as Penn State has struggled offensively, Nebraska has only been the slightest bit better.
Nebraska is averaging 62.2 points a game, just 0.4 points more than Penn State. In five of the Huskers' nine Big Ten losses, they have scored less than 50 points, including their most recent loss—a 62-46 loss to Michigan.
Like with Penn State, Nebraska—at 3-9 in Big Ten play—is looking for some of its bench players to step up and provide a bit of an offensive spark. The best option the Huskers' have to bring off the bench is guard Dylan Talley.
Talley, a junior, is currently the team's third-leading scorer at nine points a game. The scoring production Talley has provided has come while playing just under 24 minutes a game off the bench.
Against Michigan, Talley was right on with his normal production, with nine points on a trio of 3-pt FG's in 25 minutes of action.
Perhaps coach Doc Sadler will give Talley a few more minutes, and the opportunity to score about consistently in double-figures. At this point, it seems worth trying given Nebraska's lack of consistent offense.
Zach McCabe, Iowa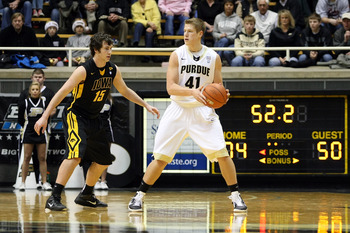 McCabe, #15 pictured
Chris Chambers/Getty Images
With the exception of leading scorer Matt Gatens and point guard Bryce Cartwright, Iowa is a very young basketball team.
Freshman Aaron White has already shown he is on track to become a standout player. Sophomores Roy Devyn Marble and Melsahn Basabe have shown they are capable of making things happen when the ball gets in their hands.
Meanwhile, Zach McCabe has quietly rounded out McCaffrey's starting lineup—and has usually been effective in doing so. McCabe is averaging 8.5 points a game and almost five rebounds, a solid increase in production from last year, his freshman season (5.8 points, 3.6 rebounds per game). He stepped up in a big way for the Hawkeyes recently in back-to-back games, scoring 20 against Purdue and Nebraska, respectively.
Despite the overall talent of White, and the length and athleticism of Basabe, McCabe is arguably the most versatile player Iowa has. At 6'7", he can play closer to the basket, but he is also very capable of stepping out and hitting shots. McCabe is shooting 47 percent from three-point range (15-of-32) this season, a significant improvement from a year ago.
Reggie Hearn, Northwestern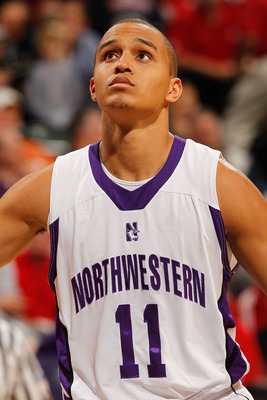 Jonathan Daniel/Getty Images
In Bill Carmody's Princeton offense, it is not uncommon for players to see infrequent playing time early in their careers as they get acclimated to the system.
Reggie Hearn is a prime example.
In his first two years in Evanston, Hearn averaged just two minutes a game.
This season, however, Hearn has gradually become a very important part of this Northwestern team and earned his way into the starting lineup after an injury to sophomore JerShon Cobb.
A former walk-on, Hearn has complemented Northwestern's two main scorers, John Shurna and Drew Crawford, very well. He has scored in double-figures in four of his last seven games. He was particularly huge in the Wildcats' win over Illinois last weekend, scoring 20 points on 7-of-8 shooting from the floor. He followed that up with 15 points in Thursday's 19-point win over Iowa.
At 6'4", Hearn is capable of playing a bit bigger than his size. He can post up guards when the defense is spread out. His aggressive play—both in attacking the basket and in rebounding on both ends of the floor—is a nice element not typically in abundance on Northwestern teams.
Hearn's ascent this year will mean he is relied upon heavily next year to help offset the loss of the senior Shurna.
Andre Hollins, Minnesota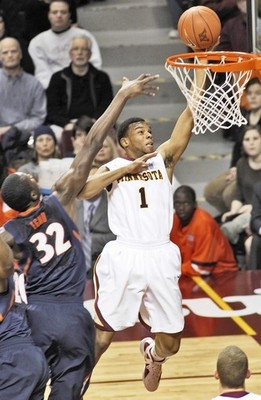 photo from Chicago Tribune
Since losing Trevor Mbakwe to a season-ending injury back in November, Minnesota has seen several different players step up to share the burden of his loss. The most recent of those players appears to be freshman Andre Hollins.
While Austin Hollins (no relation), along with Julian Welch, are the team's primary outside shooters, Andre's emergence has given Minnesota another scoring weapon that can help stretch opposing defenses a bit further.
Hollins made quite a statement against Wisconsin this week, scoring a career-high 20 points and leading Minnesota's charge from a 13-point deficit late in the second half. He made 5-of-6 from three-point range, with four of those coming in the game's final 10 minutes of regulation and overtime.
This was not the only recent late-game scoring ability Hollins has shown. Against Illinois on Jan. 28, Hollins scored 10 of his 12 points in the game's final nine minutes (including overtime), helping fuel another Gopher late-game rally. Unlike against Wisconsin, Minnesota pulled out the win over the Illini.
Keep an eye on Hollins over the final few weeks of Big Ten play, and at the conference tournament in Indianapolis. He may just be the key to another big comeback for Minnesota.
Travis Carroll, Purdue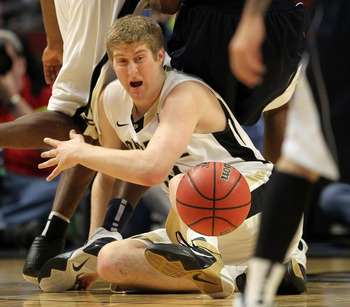 Jamie Squire/Getty Images
Last year, Purdue was a smaller team—and that was with JaJuan Johnson. This year, Purdue is a really small team.
In many games, Robbie Hummel, at 6'8", is the biggest starter for Purdue. For the last two games, however, Travis Carroll was the biggest man in Matt Painter's starting lineup.
Only a sophomore, the 6'9" Carroll is hardly a go-to scorer in the post at this point in his career. However, he is a pretty good defender and gives Purdue a little better ability to match up against bigger teams.
In the Big Ten, "bigger teams" means just about everyone else, save maybe Northwestern.
Carroll has generally averaged between 10 and 20 minutes a game in Big Ten play. What has kept him from potentially logging more minutes has been his fouling tendencies at times. In the last two games—against Indiana and Ohio State—Carroll picked up four fouls in just nine minutes and three fouls in 17 minutes, respectively.
However, with more minutes and development, Carroll should further grow into his role and have a good opportunity to be a valuable front-line player for Purdue.
Joseph Bertrand, Illinois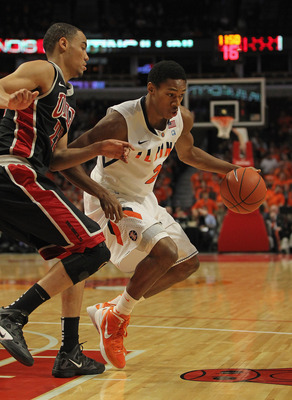 Jonathan Daniel/Getty Images
Meyers Leonard commands quite a bit of attention as one of the top frontcourt players in the Big Ten. Brandon Paul and DJ Richardson can score in bunches, and will typically take a large portion of the team's shots to do so.
Because the Illinois offense is so reliant on these three, others—particularly backcourt players—can be forgotten at times. One of those is sophomore guard Joseph Bertrand.
Bertrand made a splash for Illinois back in December in the Bragging Rights game against Missouri, scoring 19 points on 9-of-9 shooting in the loss. Four games later, Bertrand was the difference in a tight win against Nebraska, scoring 25 points on 11-of-12 shooting. For a guard to score that efficiently is extremely impressive.
Unlike Paul and Richardson, Bertrand is not much of an outside shooter. He prefers to drive the ball inside the three-point line, and can pull up and hit around the foul line or get to the rim and score.
At 58 percent shooting overall this season, Bertrand should be further utilized in the Illinois offense. With additional opportunities to drive with the ball, it may open up better looks for guys like Paul and Richardson.
Stu Douglass, Michigan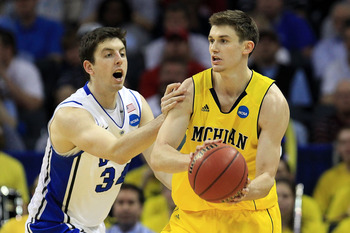 Streeter Lecka/Getty Images
With Trey Burke and Tim Hardaway Jr. commanding much of the opposing defense's attention, another guard can have the opportunity to step up and maintain the offensive production.
For Michigan, that guard is Stu Douglass.
Douglass stepped up in Michigan's latest win at Nebraska this week. With the Huskers' above-average defense keying on Burke and Hardaway, Douglass came through with 13 points, including three 3-pt FG's.
A senior, Douglass has quietly been a consistent cog in John Beilein's system throughout his four years in Ann Arbor. While his value has usually been greater on the defensive end of the floor, Douglass can also spell Burke at the point guard position when needed.
Douglass' experience and quiet leadership ability should prove meaningful as Michigan makes its push to finish near the top of the Big Ten, as well as in postseason play.
Derek Elston, Indiana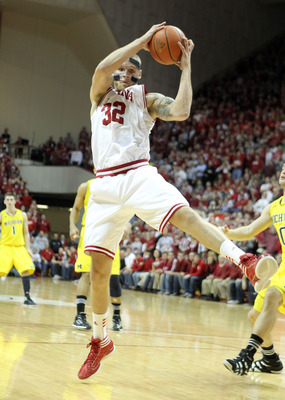 Andy Lyons/Getty Images
Cody Zeller has been terrific in his first year in Bloomington, helping lead Indiana's resurgence into Big Ten and college basketball relevance. Meanwhile, Christian Watford, Victor Oladipo and Jordan Hulls have all been vital in giving the Hoosiers the necessary balance to stay competitive at a high level.
All four of these players are averaging double figures, with Zeller leading the way at over 15 points a game. The foursome has not lost a step with their other normal starter, Verdell Jones III, out the last two games with a shoulder injury.
With Jones on the sideline, Coach Tom Crean has given Derek Elston a shot in the starting lineup. The change has given Indiana a bit different—and bigger—look than they had before with Zeller being the only true frontcourt player.
Elston, a 6'9" junior, has understood his role on the court well in his three years in Bloomington.
His physical play inside helps Zeller a bit down low, which can help keep him out of foul trouble.
Though not nearly as athletic as Zeller, Elston can get himself in good position to grab rebounds and draw charges. He can also step out and knock down the occasional three, always a nice asset on a Hoosier team.
With Indiana having defeated Purdue and Illinois in back-to-back games—both by double digits—Elston has given the Hoosiers the ability to play well with a little different combination of personnel.
Ryan Evans, Wisconsin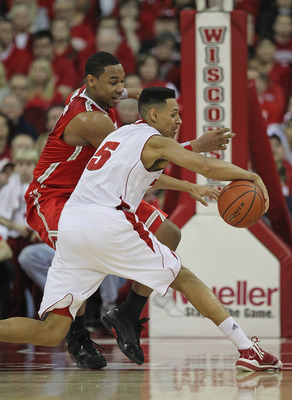 Jonathan Daniel/Getty Images
A staple of Bo Ryan's Wisconsin teams has been good outside shooting. At times, all five of his players on the court have been capable of knocking down a long-range shot. This is a key element in the success of the inside-out swing offense that the Badgers utilize.
Jordan Taylor is certainly capable, as are fellow guards Ben Brust and Josh Gasser. Forwards Jared Berggren and Mike Bruesewitz have also hit plenty of threes in their time in Madison.
The one player who does not is Ryan Evans.
However, he does almost everything else, and has played a big part in Wisconsin's success this season.
Evans has blossomed in a big way in his junior season at Wisconsin. After being a role player his first two seasons, Evans is now averaging over 10 points and nearly seven boards a game as a starter. He is also averaging 1.6 assists along with one steal and one blocked shot a game, making him a little like Wisconsin's version of Draymond Green (without the ability to hit threes).
At 6'6", Evans is very comfortable posting up wing players and scoring on them down low. He can also drive the ball from the wing pretty well, and can swing the ball back outside to an open man.
If Evans continues to produce like he has been of late—averaging nearly 13 points a game over his past six games—Bo Ryan should be just fine with him not taking or making any long-range shots.
Adreian Payne, Michigan State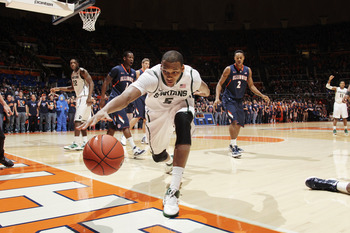 Payne, #5 pictured
Joe Robbins/Getty Images
Due to Draymond Green's enormous contributions, both from a statistical and leadership standpoint, Michigan State's other starting big man often gets overlooked.
Adreian Payne is that other starting big man. Payne, a 6'10" sophomore, has handled his increased responsibility well after coming off the bench in his freshman season.
Payne took advantage of a bit of a match-up advantage against Penn State on Wednesday, scoring 12 points in 21 minutes of action. He got to the foul line 8 times in the game, tying a season-high.
While Payne's biggest role is to allow Green to play farther from the basket, his ability to score inside when the opportunity presents itself makes him an important part of Michigan State's game plan.
Shannon Scott, Ohio State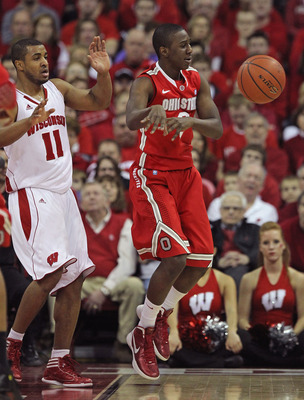 Scott, #3 (center) pictured
Jonathan Daniel/Getty Images
Aaron Craft is arguably one of the top five point guards in the country, even though he is only a sophomore. Craft's decision-making ability and hard-nosed defense make him almost as indispensable as All-American Jared Sullinger.
Because of what Craft does for Ohio State, his time on the bench—either due to foul trouble or just for a rest—makes the team a bit vulnerable. However, with an emergence of back-up in freshman Shannon Scott, the team does not lose too much in the way of production.
Scott understands his role well despite his relative lack of collegiate experience. He has a pass-first mentality, and is a very selective shooter to say the least. Scott is very effective in transition, perhaps even a bit better than Craft in that area.
On defense, Scott is not on Craft's, but not many are. However, he has shown some ability to make plays on the ball, which help create the transition opportunities he excels in.
With several key games coming up for Ohio State, Scott will likely be relied upon to provide even more meaningful minutes. Keeping Craft fresh for March will be very important, and Scott can help ensure the team does not suffer in Craft's absence.
Keep Reading