"Why is he even on the floor?" my brother Jeremy asked, as he stared with disgust at the image of Oklahoma City Thunder center Kendrick Perkins on the television.
"He's a good defender," I said. "He's one of the nastiest players in the league."
Jeremy, a junior business major at Northeastern State and former college quarterback, didn't understand.
"What does he do defensively that is so special?" he queried.
This is the part where I should've schooled him on basketball intangibles that he just could not understand. You see, Jeremy doesn't necessarily need numbers, but he needs substance. He can't make an investment—emotional or monetary—in an entity that is completely unfounded. Growing up, this kid was good at literally everything he tried: football, baseball, basketball, golf, tennis—it didn't matter.
But he was never a sports nerd quite like myself. The only favorite teams that I can ever remember him having were the Dallas Cowboys and Arkansas Razorbacks, neither of which are NBA teams. He couldn't possibly have a veteran's feel for this sort of thing.
By contrast, I have lived on SportsCenter for as long as I can remember. No matter the sport, I have inadvertently committed a large portion of my brain to storing statistics, alma maters and transactions; I assume those are the file cabinets that would have otherwise been reserved for things like cooking, changing a headlight or understanding the stock market. I still haven't forgiven Leon Lett (an Emporia State alum) for robbing my Cowboys of what would have been the biggest blowout in Super Bowl history in 1993. I still blame Jerry Stackhouse for breaking Joe Johnson's orbital bone and costing the Suns—my favorite NBA team before I was re-assigned by Clay Bennett and David Stern—the 2004-'05 NBA Championship. The image of Scotty Thurman suspended in mid-air, NCAA Championship-clinching three-pointer en route, is permanently embedded into my brain.
So when the prior asks the latter "what's so special?" about Kendrick Perkins—a player I was ecstatic about acquiring last February, by the way—the latter should be able to provide a defensive response of some sort.
I couldn't.
Gradually thereafter it began to occur to me: There is nothing special about Perk. At all.
Truthfully, he is not a great defender. He was a good defender for the Celtics in 2009-'10—the best season of his career—but not as good as we all think we remember. The Celtics were a half-court, grind-it-out, defensive-oriented basketball team. Perkins, a 25-year-old junkyard dog fighting for clock, was a solid defender in an excellent system, but never a great defender. Most of his legend grew from the season-ending right knee injury that he suffered during Game 6 of the 2010 NBA Finals. Ask anyone familiar with the series (including myself) if his injury swung the Finals in the Los Angeles' favor, and they'll tell you that it did. But did it really?
In Games 1 through 5, Pau Gasol and Andrew Bynum averaged 28.4 points per game, 9.6 of which belonged to Bynum. In Games 6 and 7, Gasol and Bynum combined for only 20 PPG, two of which belonged to Bynum. For those of you scoring at home, two is far less than 9.6. Further, Boston's offensive rebounding percentage for Games 6 and 7 (21 percent) was nearly identical to its offensive rebounding percentage in Games 1, 3 and 5 (22.3 percent). In reality, the C's were simply out-defended by a veteran Laker squad and dropped two consecutive chances to win the title. Perk's absence may have had something to do with that, but not nearly as much as we may have believed.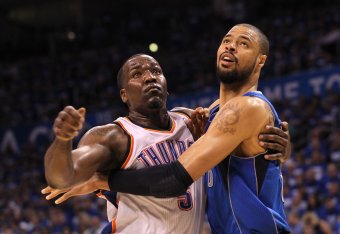 Ronald Martinez/Getty Images
When he arrived in Oklahoma City last winter, he was nursing another nagging knee injury, so his lethargic lack of court presence was overlooked. In last summer's playoffs, he was a liability versus Denver and Memphis and merely graduated to non-factor in the Dallas series. Again, because of his knee, the lackluster performance was overlooked.
This winter he arrived considerably leaner and presumably meaner. Unfortunately, he has been all bark and no bite.
"You act like Perk is last year's Kendrick," Oklahoma City sports radio personality Bob Barry, Jr. told me. "He's not."
As it turns out, Barry is absolutely right. Perk is not "last year's Kendrick," as he put it. His points and rebounds per game are actually down from last year, while his turnovers are up. But, a life-long Celtics fan, B.B.J. need not be inundated with statistics.
"I love Perk, always have," he said. "He's great. If you heard him on (Jim) Rome today, you'd know how much he leads OKC."
The problem with Barry's argument, and he is far from alone, is that modifying adjectives like "great" and "solid" come without a modified noun. Leadership is not quantifiable, and while I do not doubt Perkins is a solid teammate (his Celtics teammates still haven't gotten over his departure), there is no evidence the Thunder would be left wanting in the leadership department without him. In spite of the team's relative youth, players like Kevin Durant, Nick Collison and even James Harden consistently exude leadership-ish tendencies on the floor.
And what about his defense? When I was presented with the task of defending Perk, I immediately went with the "good defender" response. However, I only did that because that is the description I have been force-fed by those affiliated with the Thunder. When asked to back it up, I couldn't.
A few nights ago, Oklahoma City was in Portland for its second meeting of the season with the Trail Blazers. Blazers front-court mates LaMarcus Aldridge and Marcus Camby combined for 47 points and 21 rebounds. It was the second time this season Aldridge has gone for 30-plus points and the Portland front court has combined for 20-plus rebounds versus the Thunder.
Having said that, Perkins did do an excellent job of defending Aldridge on the game's final possession, and he did come from behind to get a piece of Jamal Crawford's 15-footer after Aldridge sunk to the corner. But a guy he spent a large portion of the game covering went for 39 points, and head coach Scotty Brooks feels convicted to tell us about Perkins' above-average performance on defense? On a night when the trio of Durant/Westbrook/Harden combined for 80 points, 14 assists and 22 rebounds, FSN Oklahoma elects to interview the guy on the receiving end of a large portion of 47 opponent points and 22 opponent rebounds? I didn't notice anyone rushing to congratulate Harden and Daequan Cook for their defensive prowess following Monta Ellis' 48 points on Tuesday.
Thunder officials, players and fans alike spend an inordinate amount of time searching for ways to praise Perkins without any tangible support.
Why? Because he may be the first mistake of Sam Presti's illustrious career. Trading for Perkins was a no-brainer, but the four-year, $34.8 million extension was not. Presti—whom I revere—jumped the gun, locking Perkins up for the long term. The size of his contract will likely prevent Oklahoma City from re-signing both Harden and Serge Ibaka in 2014. In essence, as Perkins' ineptitude on the court becomes more and more glaring, we feel responsible for showering him with invisible attributes in a futile effort to disguise a rare error from the genius GM.
If you think this dunk was cool, Perk thinks you're wack. I'm talking to all 1.4 million of you that Tweeted about it. Not just LeBron. Kobe, you're cool. Apparently you're allowed to talk about it – so long as you don't Tweet about it.
Not surprisingly, Barry blindly disagreed with these sentiments, as well.
"I trust in Sam," he said. "I would say that Perk was a great move. The only one that Sam Presti wasn't able to develop was Byron Mullens, in my opinion."
Funny he should mention Mullens.
Perkins, who appears to have a slightly taller vertical leap than my two-year-old niece, ranks third on his own team and last among Western Conference centers in rebounds per game. The only center in the entire league to grab fewer rebounds is Miami's Joel Anthony, who does so in approximately 21 minutes per game. Only three centers in the NBA have worse rebounds per 40 minutes than Perkins: Anthony, DeJuan Blair and Byron Mullens.
Most will remember Mullens as the Ohio State product that just never seemed to figure it out in Oklahoma City. He was shipped to Charlotte in a deal that brought Nazr Mohammed to the Thunder and, frankly, Barry is right on the money in his assessment: Mullens is a stiff.
Yet, the Bobcats center has a player efficiency rating nearly three points higher than Perkins (10.4 to 7.8) and averages 10.8 PPG at a 46 percent clip to accompany 4.5 RPG, while playing an average of five fewer minutes per game than our guy.
By no means am I making an argument for Mullens as a legitimate NBA center. I'm simply pointing out the fact that—albeit on paper—a guy that was meant to serve as the failure-to-develop poster child actually compares favorably to the "great" Kendrick Perkins.
I assume the tune will change when Ibaka is a Dallas Maverick because a guy who may or may not be slightly more talented than B.J. Mullens is signed through 2014. But what do I know? Apparently, what Perkins brings to the table cannot be seen with the naked eye, and my feeble mind may never fully grasp it.
"He's great," they'll tell us.
At what, no one is exactly sure.